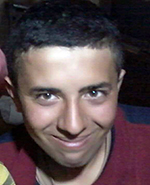 On Saturday morning, 22 July 2017, at about 7:00 A.M., 'Udai Nawaj'ah, 16, his brother Diaa', 18, and his uncle D'as, 33, all from the Palestinian community of Khirbet Ibziq northeast of Tubas, set off to graze their flocks in al-Makhbah, an area that lies some 1.5 kilometers away. At about 10:00 A.M., they returned home to eat and give their flocks water. 
At about 2:00 P.M., they set out again to al-Makhbah, where they met Sa'ed Fawadlah, 21, a member of the community who was grazing his cattle. 
In a testimony he gave to B'Tselem field researcher 'Aref Daraghmeh on 23 July 2017, D'as Nawaj'ah related:
Around midday, we headed east with our flocks towards al-Makhbah, where there's a bit of dry grass and some areas that are good for grazing. You have to be careful when you go out there, because sometimes the military trains there without warning us. This was a Saturday, so we thought the military wouldn't be training and decided to go.


D'as Nawaj'ah shows where his nephew was killed. Photo by 'Aref Daraghmeh, B'Tselem, 23 July 2017

I was with 'Udai and Diaa', the sons of my brother 'Aziz, and we also met a shepherd called Sa'ed there. We followed the flocks around as they wandered and grazed. At one point, I was standing between maize seedlings and some pretty tall plum trees, about forty meters away from 'Udai. He was by a terebinth tree and Diaa' was about twenty meters away from him. Suddenly, I heard an explosion. At first, I thought that a mortar shell had landed between us and the flock. I started running towards 'Udai and so did Diaa'. I saw him lying on the ground. I couldn't believe my eyes. Diaa' and I started looking for a spot where we could pick up a phone signal and call for help, but we didn't find one so Diaa' ran home.

'Udai's brother Bahaa came as didmy nephew 'Ali, my sister's son came. About an hour later, a Red Crescent ambulance arrived and I went with 'Udai to the Turkish Hospital in Tubas. He was dead when we got there. I totally forgot what we'd been doing – we left our flocks behind and the sheep scattered. I barely remembered that we had to go gather them.
After 'Udai was taken to hospital, Sa'ed Fawadleh, who remained on the scene, gathered the flock and led them back to Khirbet Ibziq. 
In a testimony he gave to B'Tselem field researcher 'Aref Daraghmeh on 7 August 2017, Diaa' described the moment his brother 'Udai was killed: 
I was about thirty meters away from 'Udai, who was standing under a terebinth tree. I was trying to drive the sheep away from a pile of straw that belongs to a neighboring family when suddenly, I heard a loud explosion. I looked at 'Udai and ran over to him. I found him lying on the ground. He made a choking sound once or twice and died. It was a terrible, horrifying sight. I didn't know what just happened or how it had happened – it was over in seconds. One moment he was standing there, and the next he was dead.

This life is full of fear. My brother 'Udai meant everything to me. We were always joking around with each other. We were brothers, but more like best friends. Now he's gone forever. No place is safe, for us or for our flocks.

I couldn't look at my brother, it was too terrible. The sight was too horrific to describe. But what can I say? Thank God for what we have. We still haven't taken it all in and accepted that 'Udai has gone. All our extended family came to stay with us and spent days and nights helping us get through it all. The unexploded ammunition took 'Udai away without any warning. I don't know who will be next – every day there are new victims.
The residents of Khirbet Ibziq suffer from incessant military training near their homes. Since January 2014, the military has evicted them from their tents 29 times, citing the need to hold maneuvers nearby. On some occasions, the residents were evicted in harsh weather and forced to spend the night out in the open. These temporary displacements have caused serious financial losses and psychological problems, particularly among the children.
The Israeli military deliberately selects its training areas in the Jordan Valley: Maneuvers are never held close to settlements or on land under their control, and the military ensures that training does not endanger settlers or disrupt their routine. Settlers are never asked to vacate their homes, temporarily or for good, to allow for military exercises. 
The military does not confine itself to driving Palestinians from their homes and exploiting their environment. Despite insisting on training near communities and on their farmland, no effort is made to comb the areas afterwards to remove unexploded duds. This results in deaths and injuries to both people and livestock, and also incurs loss of income. According to OCHA (UN Office for the Coordination of Humanitarian Affairs) figures, since 2014, at least two other Palestinians were killed and at least five injured when duds exploded in the Jordan Valley. In addition, hundreds of animals have also been killed there by unexploded ammunition left behind.
Israel's policy in the Jordan Valley has turned vast swathes of land into military training grounds. The Palestinians who live there are treated as extras and their homes as a mere backdrop. Israel pursues this policy although, as the occupying power in the West Bank, it is prohibited from using the territory for general military needs such as training for combat. Evicting residents from their homes to enable military maneuvers also contravenes international humanitarian law, which permits the occupying power to act in the occupied territory in two circumstances only: for the benefit of the local population or to meet immediate military needs that relate to military action within the occupied area.
Israel's selective choice of military training grounds in the West Bank and the implications for Palestinian communities – danger to lives, repeated evictions, harassment, destruction of farmland, loss of livelihood and disruption of daily routine – expose the true goals of this policy. Israel is seeking to remove Palestinians from their land in the Jordan Valley in order to advance Israeli interests. This policy regularly violates the rights of these residents and makes their lives a misery. In some cases, as described here, it costs them their lives.