Nihad Bani Maniyah, 40
I come from a family of farmers in Aqraba. I married Zuheir Bani Maniyah 23 years ago and came to live with him, here, at Khirbet 'Ein Karzaliyah. My husband is from a family of sheep herders. His entire family lives in the Jordan Valley and his brothers live here in Khirbet 'Ein Karzaliyah. Life here isn't easy. It's very cold and the terrain is hilly. Still, we don't complain. I've had all my children here and only God has given me the strength to get through it.
The military started hounding us more than ten years ago. It was then that they destroyed our tents for the first time. After that, there were a few problem-free years, but about three or four years ago we got demolition orders. My husband and brothers-in-law went to a lawyer and he handled it. About two months ago, the lawyer said he couldn't handle our case anymore because there was nothing left that he could do. Since then, our lives have changed and we've been fearful and anxious about the threatened demolitions.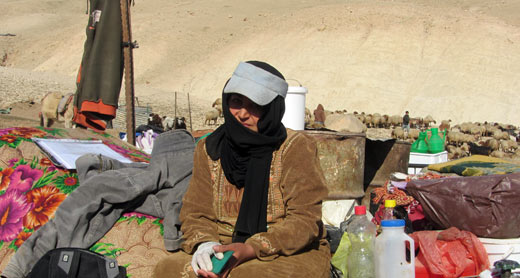 Nihad Bani Maniyah. In the background: her property, stacked after the demolition, and the community's herd. Photo: 'Atef Abu a-Rub, B'Tselem, 12 Feb. 2014
About a month ago, the military first came to carry out these demolition orders. They destroyed everything my family and my brothers-in-law had. Later, we put up tents we got from the Red Cross . Five days went by and the military came again. They demolished whatever we'd rebuilt and confiscated the tents from the Red Cross. We went through some very rough days. We did some deep thinking about the situation and my husband and his brothers decided we should move higher up into the hills. We moved here and started slowly rebuilding our lives. We barely managed, mostly because the Red Cross stopped giving out tents.
On Sunday, 9 February 2014, when I was here and my husband in the town of Aqraba, a Civil Administration officer arrived. He introduced himself as Tareq. He asked where my husband was. I said he wasn't there. The officer asked us about the tents: "Where did you get these tents? From the [Palestinian] Authority?", and I said, "No. We brought them". He had a camera and he started taking pictures of the tents. When he was done, he went back down the hill and left. After that day, we again started worrying about what could happen.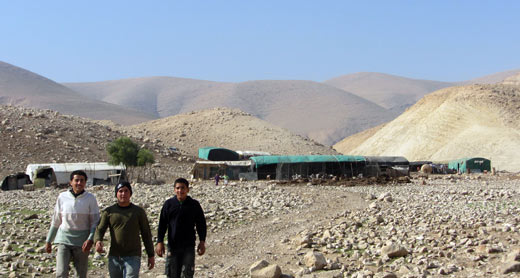 The Khirbet Khirbet 'Ein Karzaliyah community before this year's demolitions. Photo: 'Atef Abu a-Rub, B'Tselem, 12 Feb. 2014
As you can see, they destroyed everything. The saddest thing is that they destroyed the doghouse we left behind in the old location for because our dog recently had puppies. They even destroyed her doghouse. Look, all our belongings are outside. The sheep have no pen. The mattresses are on the ground, the clothing in the dirt and the food is all outside in a pile. They even slashed the tents with knives before they destroyed them.

Nihad Bani Maniyah and her property after the demolition.  Photo: 'Atef Abu a-Rub, B'Tselem, 12 Feb. 2014
So far, no one has come to help us. We don't know what to do now. We're afraid the military is going to confiscate our cars too, because they've already asked where the keys were. We're afraid that if we drive out to get a tent or wire to build pens for the sheep, our cars will be taken. Our 300 sheep and lamb are out in the open. We're afraid the little lambs will be exposed to the rain and die.
When they finished the demolition, the officer Tareq walked over to the homes of my brothers-in law Zahi and 'Atiyyah. Their homes are located in a spot the bulldozer couldn't reach. He told them that he would bring a bulldozer with chains next time, so that he could reach them and demolish their homes too. I don't know if he'll really come back or if it was just a threat.
Nihad Ahmad Muhammad Bani Maniyah, 40, a married mother of eight, resident of Khirbet 'Ein Karzaliyah in the northern Jordan Valley. Testimony taken by 'Atef Abu a-Rub on 12 February 2014 in Khirbet 'Ein Karzaliyah.