Al-Farisiyah, a village in the northern Jordan Valley that existed since before Israel occupied the West Bank in 1967, and was completely demolished by Israel in 2010: The community currently comprises five compounds. About 300 people live in the community year-round, and another 200 live there only in winter. All the residents live in tents or shacks and earn their living as shepherds and farmers. The compounds of the communities compounds are not connected to the power or water grids; and average water consumption is just 20 liters a day, far short of the World Health Organization's recommended minimum of 100 liters per person per day. There are no schools in al-Farisiya, so the children must walk about five kilometers every day to reach school in the village of 'Ein al-Beida. There are two schools in 'Ein al-Baida, one for boys and one for girls, each combining an elementary school and a high school.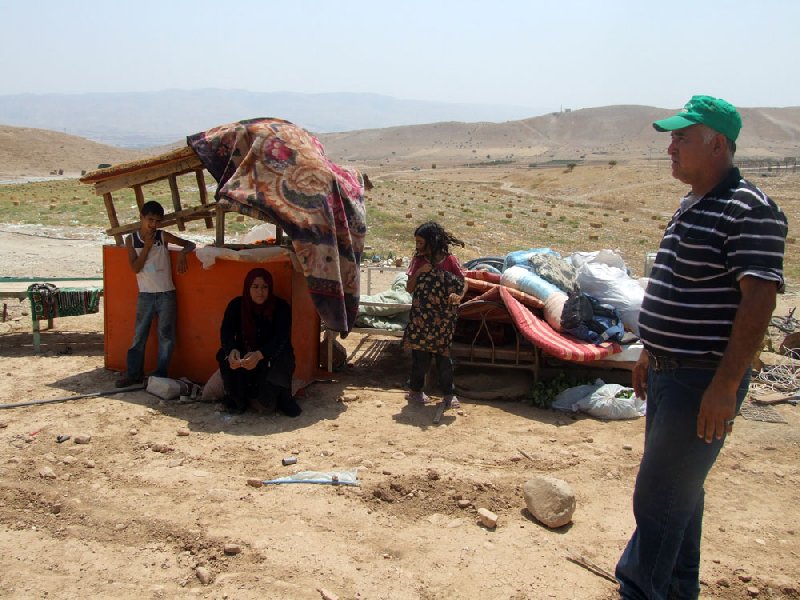 Alan Dagharmeh and members of his family, residents of al-Farsiya, with the remains of their property. Photo: 'Atef Abu a-Rub, B'Tselem, 10 August 2010. 
Settlements and settlement outposts completely surround the community: Giv'at Sal'it and Mehola to the north of al-Farisiyah; Shadmot Mehola and Rotem to the east; and Maskiyyot to the south. The military has also declared the village and extensive areas to its south, north, and west as a firing zone. Other nearby land has been declared part of the jurisdiction or municipal area of nearby settlements. Israel uses these designations to completely block off access by al-Farisiyah residents to most of the surrounding land, where they have grazed their flocks for years.