Tanks on your doorstep: Israeli military training part of daily life in northern Jordan Valley
Israel increased the frequency of training exercises in the area beginning November 2017. Since then, training has taken place near 11 Palestinian communities and three Palestinian villages in the northern Jordan Valley, which are home to some 7,500 residents. The military has been conducting the exercises closer to residents' houses than before, and using more armored vehicles. Over the last few months, B'Tselem has documented military exercises involving infantry and tank deployment, mortar shelling and use of live ammunition on cultivated farmland, pastureland and near homes. While the training is underway, the military blocks access roads to the communities with large concrete blocks.
In recent years, the military notified residents ahead of field exercises in their area and demanded that they evacuate and take their livestock with them. This practice was burdensome, disruptive and dangerous for the residents. Yet since November 2017, even this minimal precaution has been abandoned, and the military has been training in close proximity to residents' homes without warning, putting their lives at risk. Over these months, B'Tselem has documented at least six military exercises that took place near residential areas, two of them right between homes in the community. For example, on 12 December, armored forces and infantry trained in between homes in the village of 'Ein al-Bida. On 27 December, soldiers were observed at a distance of some 200 meters from homes in the village of al-'Aqabah and on farmland south of it, and later that day, just several meters away from the local school at the village of Tayasir. On 5 February 2018, the military held training exercises near the village of al-Farisiyah, which included the firing of multiple mortar shells about 100 meters away from residents' homes, causing damage to groves.
The frequent training on pastureland and cultivated farmland reduces the area available to shepherds and destroys crops. Reduced pastureland hurts residents' livelihoods, as they must buy animal feed as a substitute for natural grazing. Also, farmers cannot reach their crops and tend to them while military exercises are underway, and some crops are trampled by tanks and other armored vehicles.
One of the dangers associated with military training near Palestinian communities is unexploded ordnance left behind. At least three Palestinians have been killed, and five have been injured since 2014 when unexploded ammunition detonated. In testimonies given to B'Tselem field researcher 'Aref Daraghmeh, Palestinian shepherds from the northern Jordan Valley expressed their deep concern over potential injury from unexploded ordnance when they take their livestock out to pasture following a military field exercise.
The training is part of Israel's longstanding policy aimed at driving Palestinian communities out of the area. Instead of openly loading residents onto trucks and removing them, Israel is going to great lengths to create impossible living conditions that will, eventually, push them to leave the area, seemingly of their own accord. Inasmuch as they manage to hold on to their land, residents living in this area suffer the daily impact of Israel's callous policy toward them, whether it be repeated military field exercises or other measures such as demolitions, settler violence, or denial of access to basic services such as electricity and running water. If residents succumb to the pressure and leave their homes as a result of this policy, Israel will have perpetrated a war crime and those responsible for the policy, including the minister of defense and the prime minister, would be personally liable.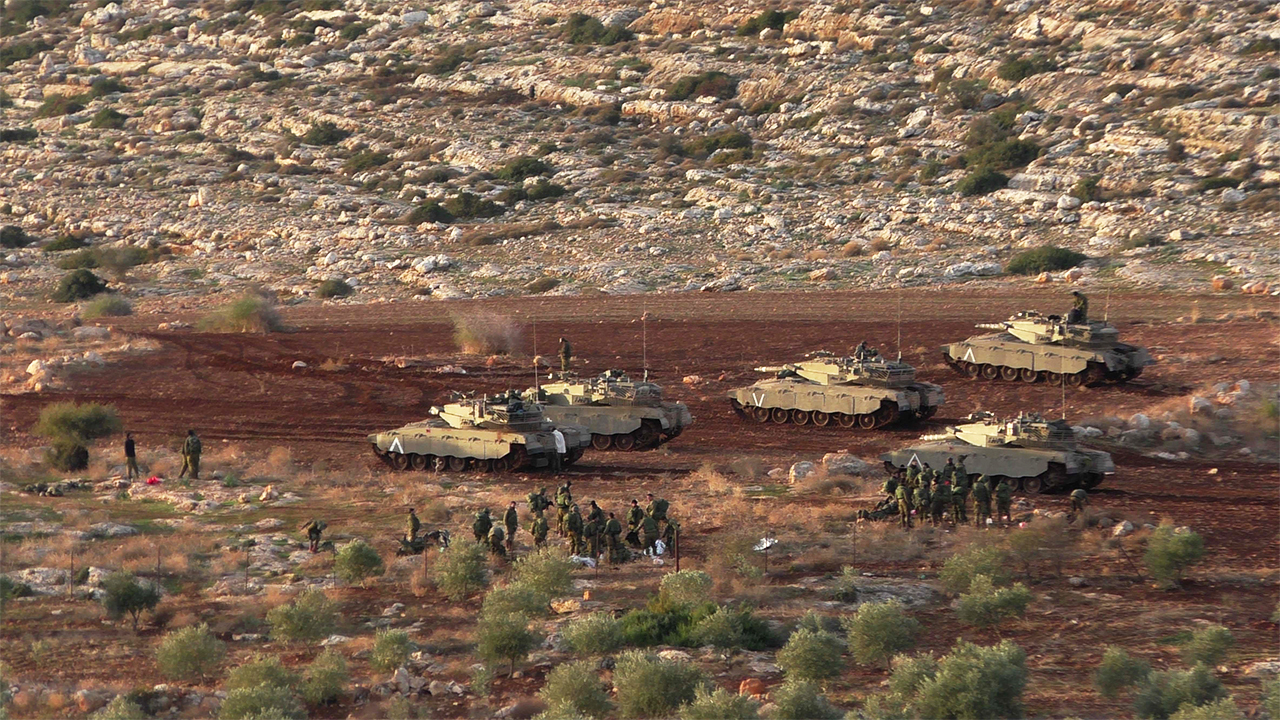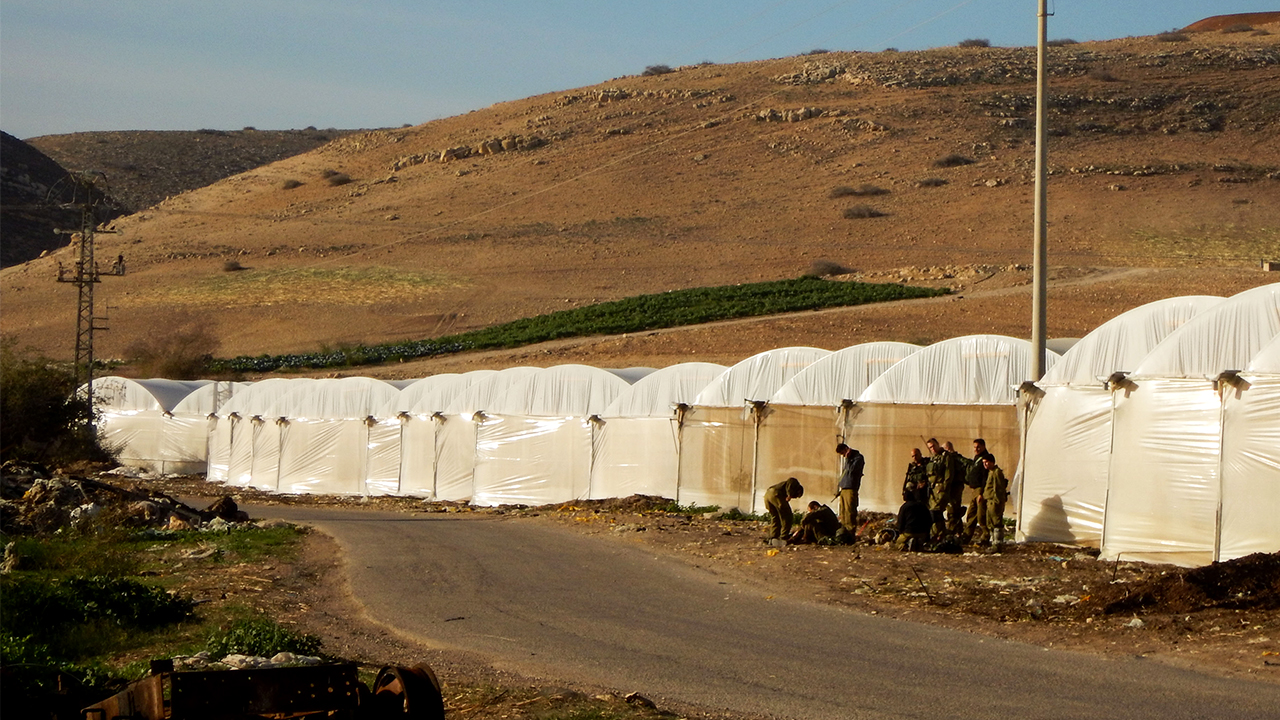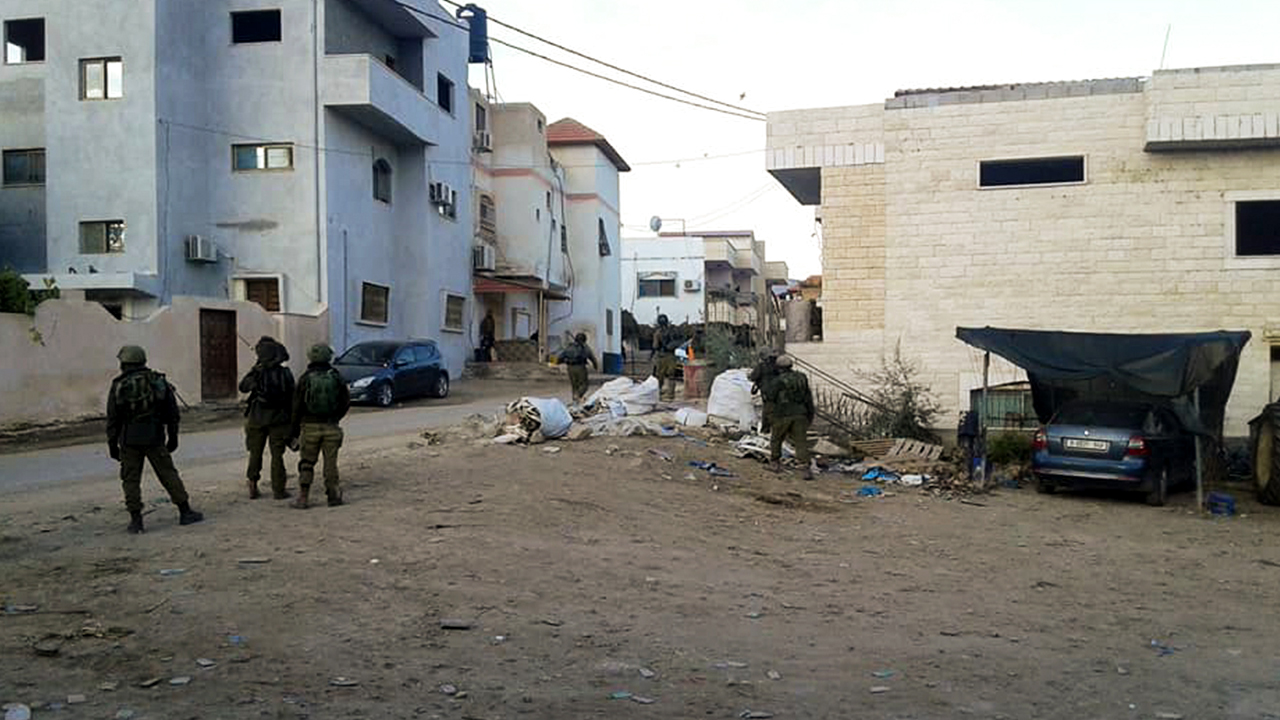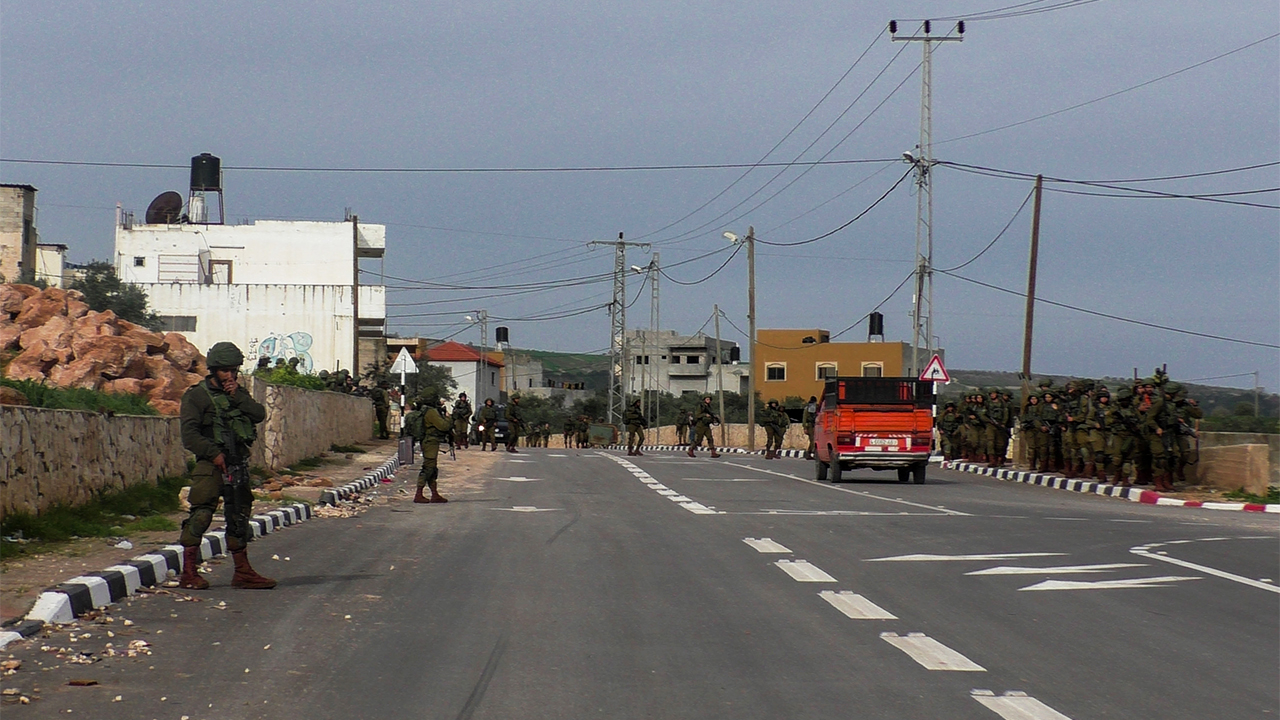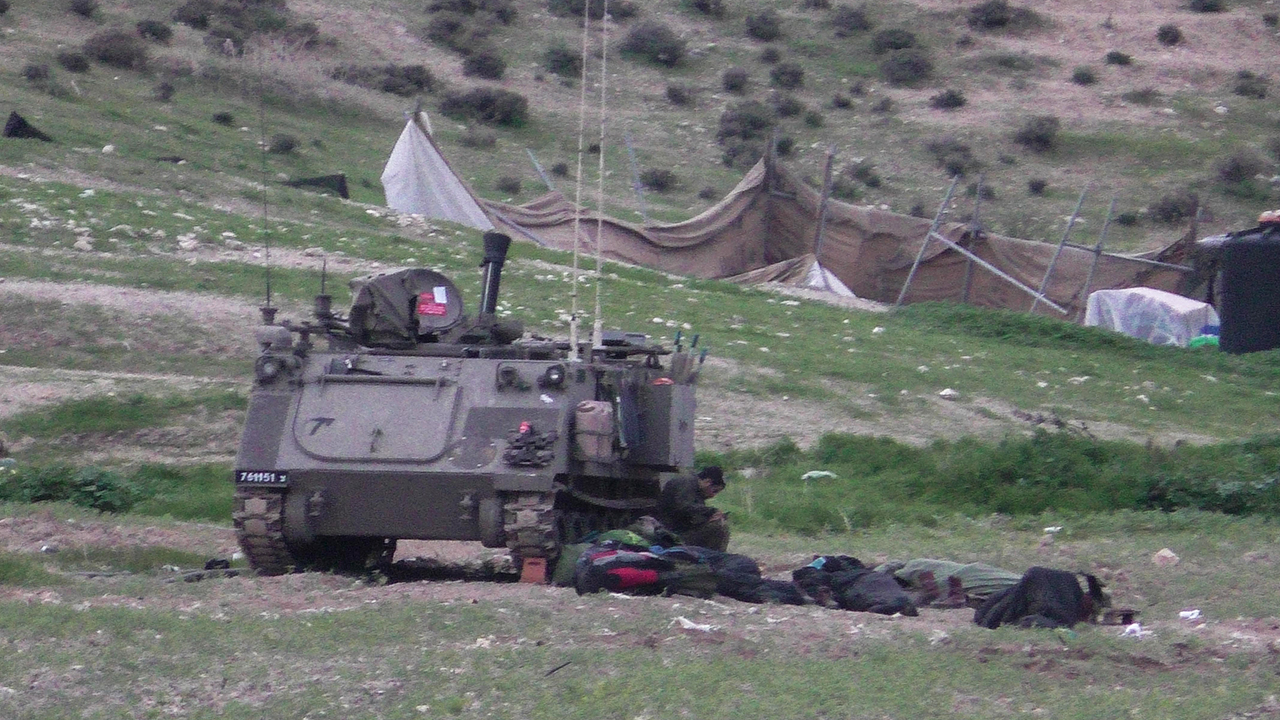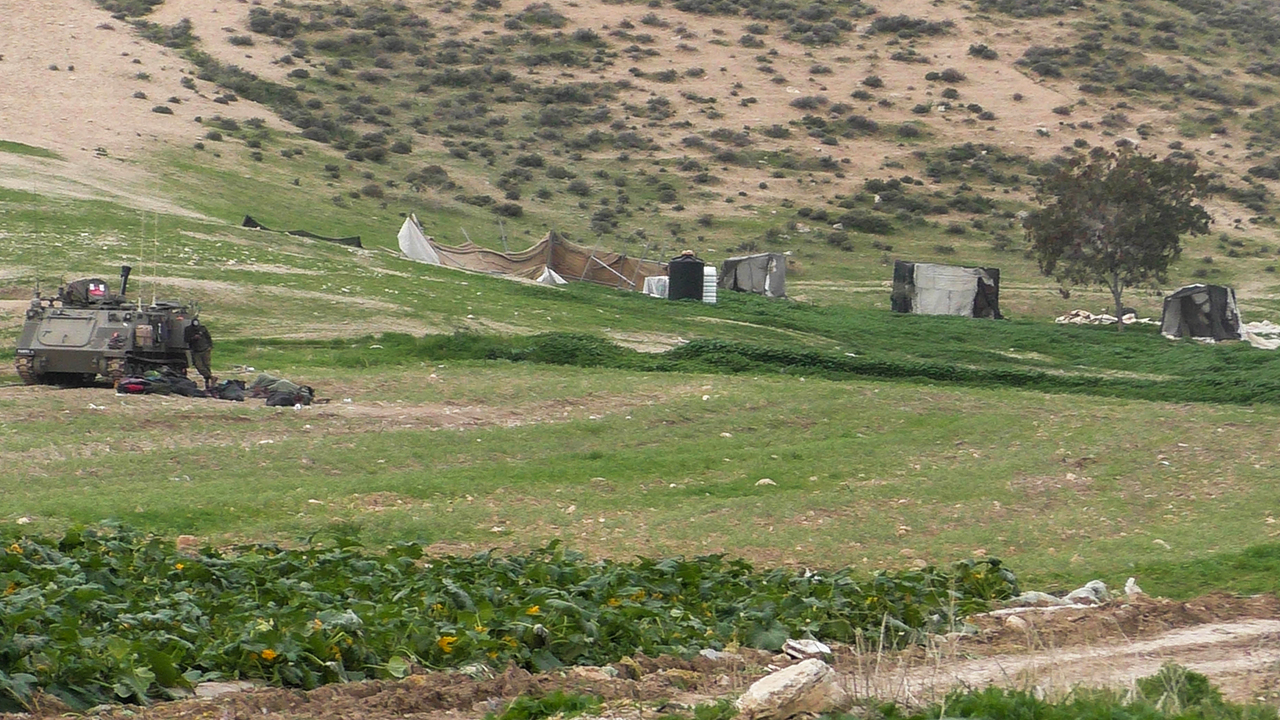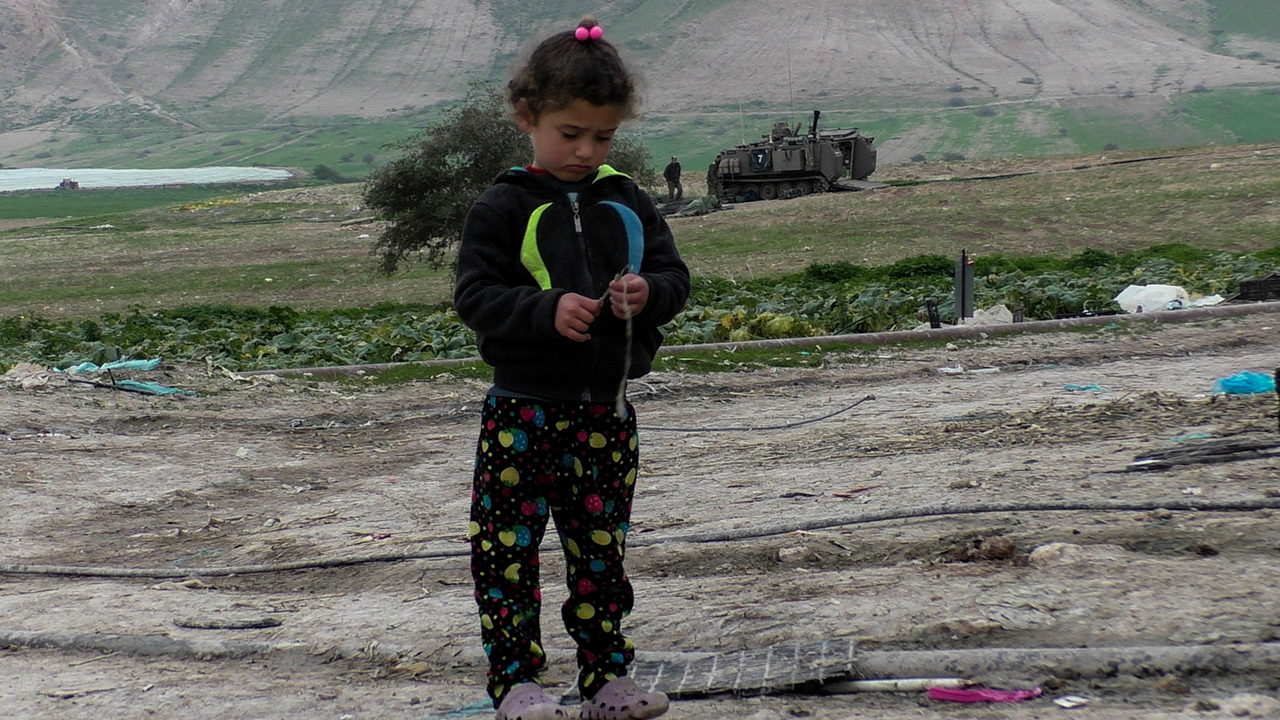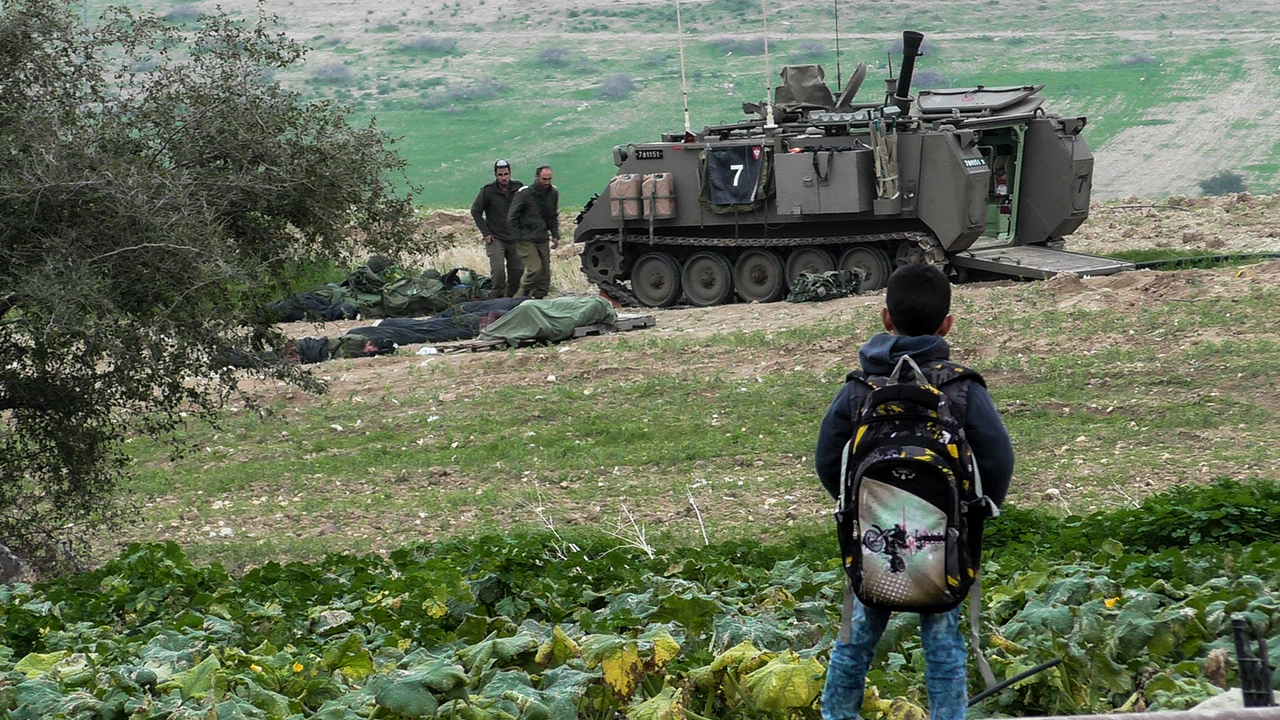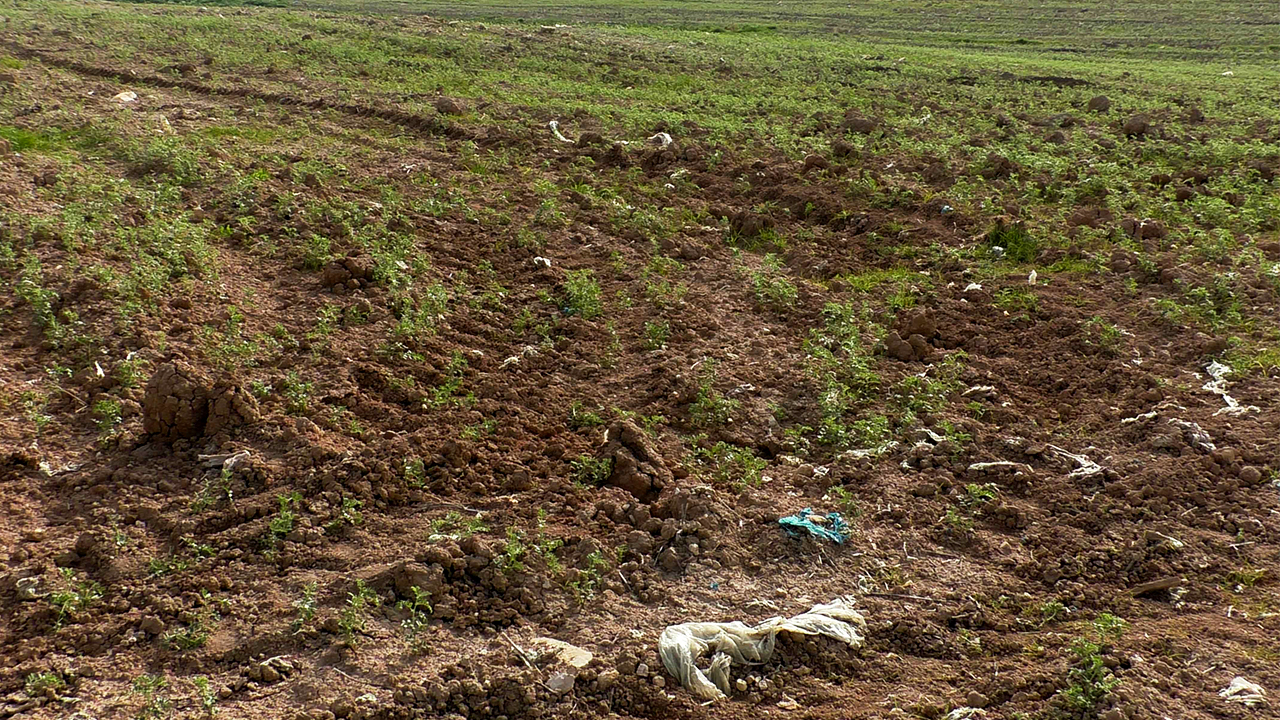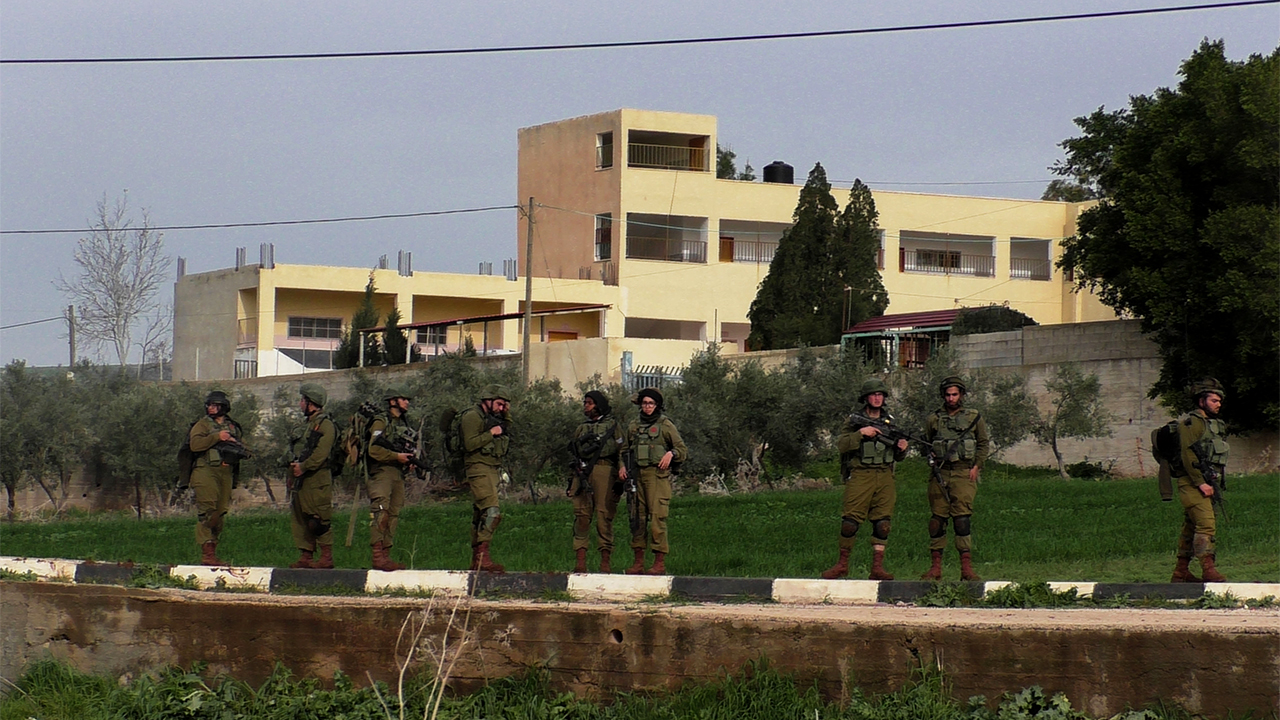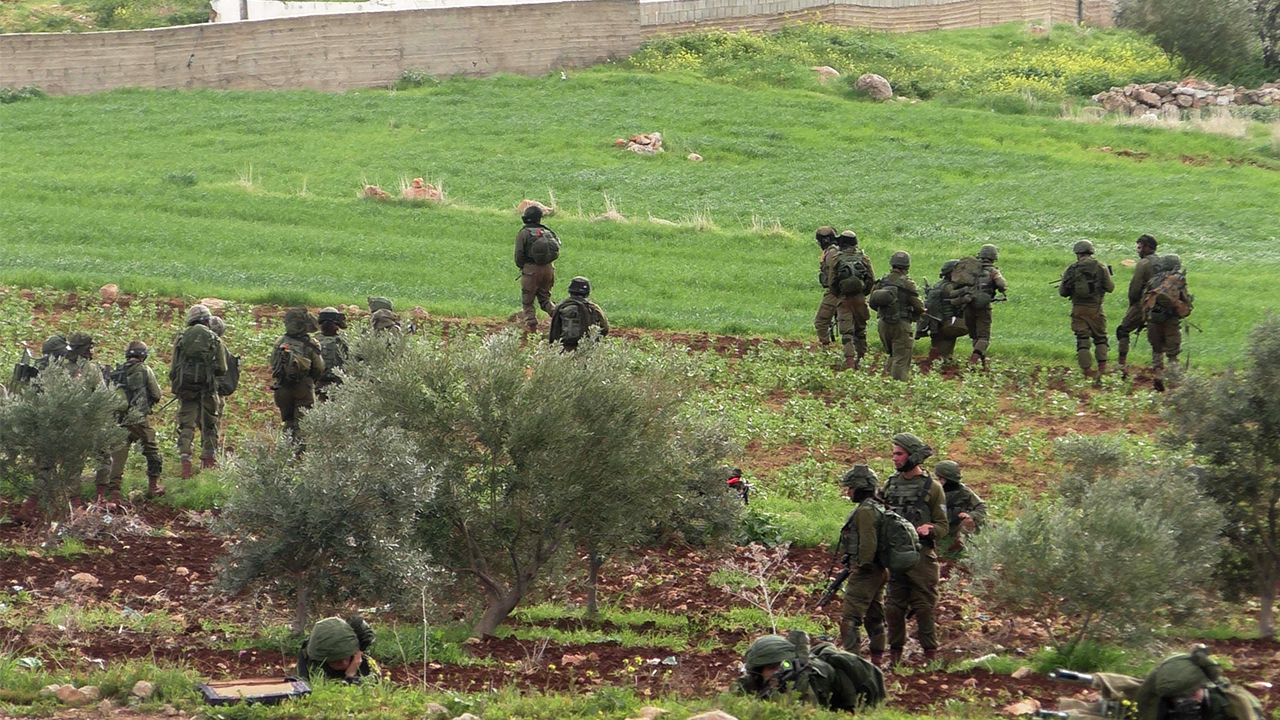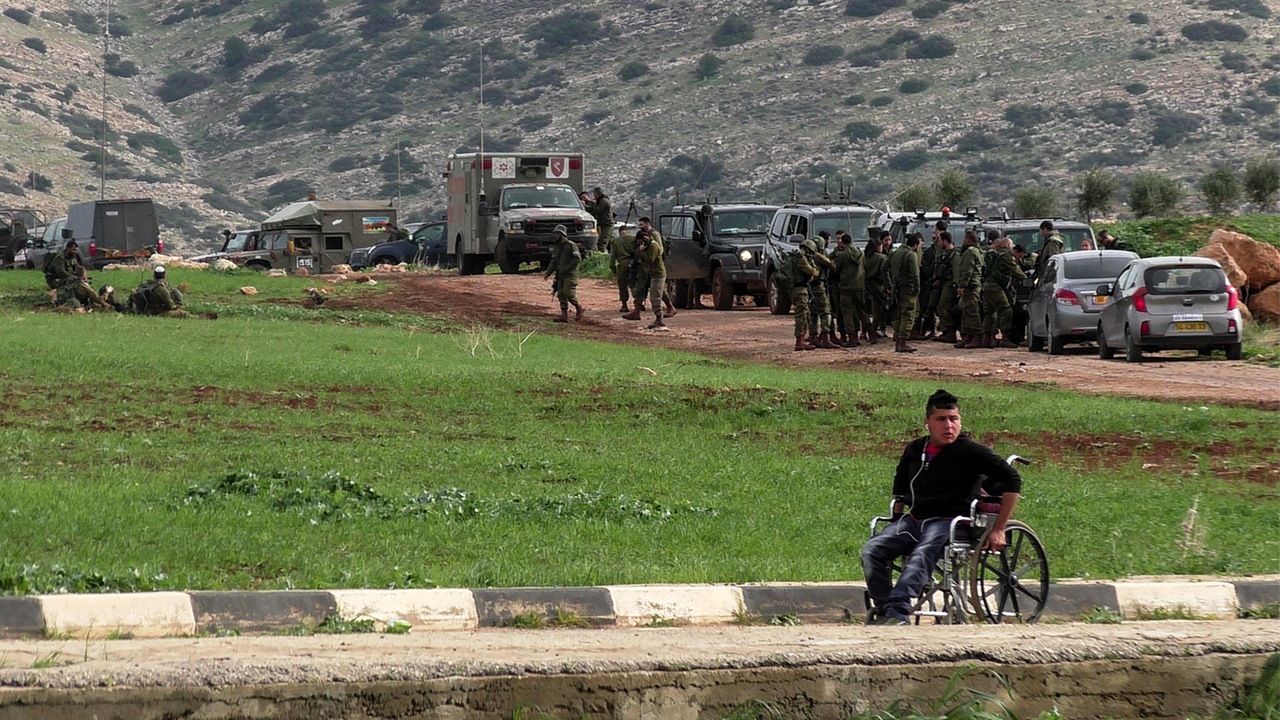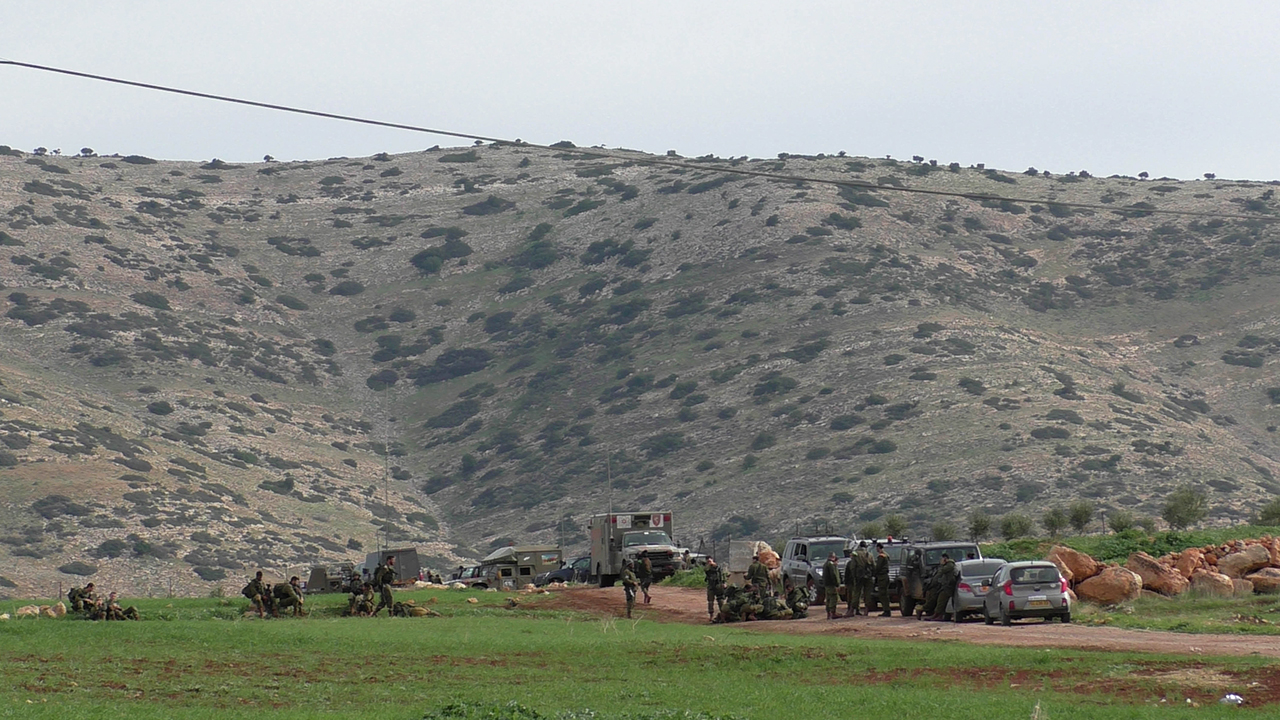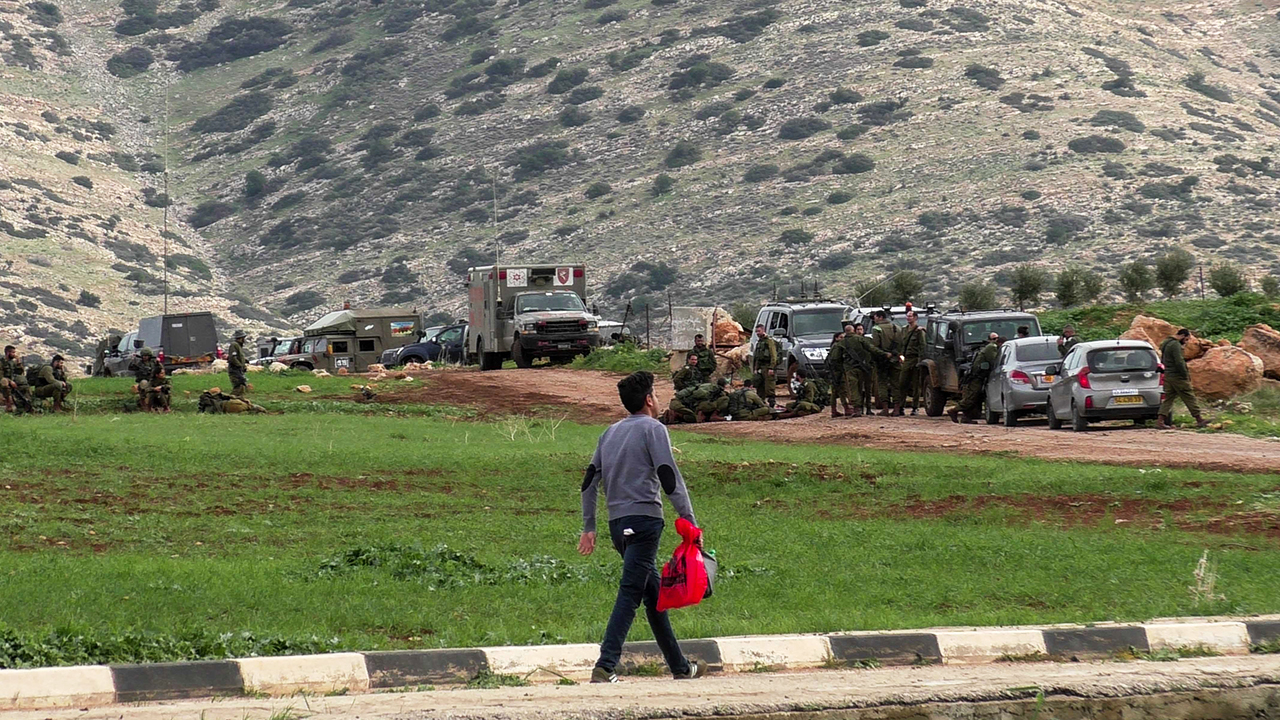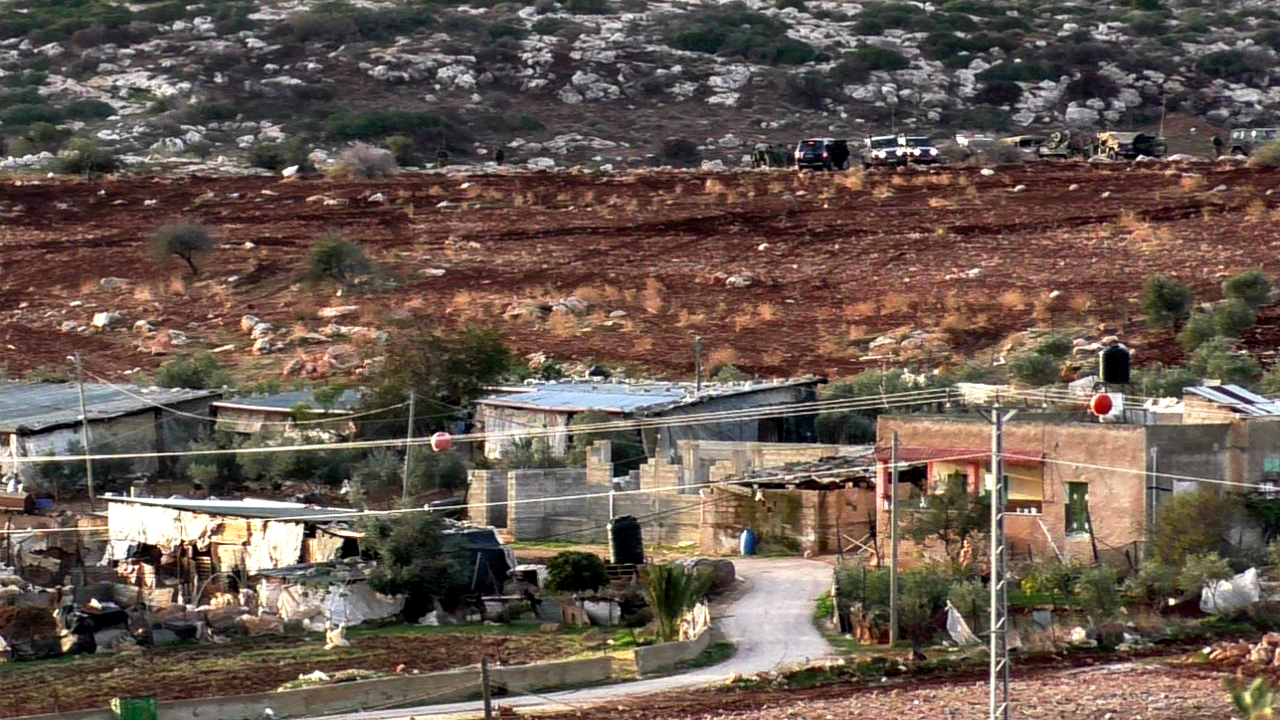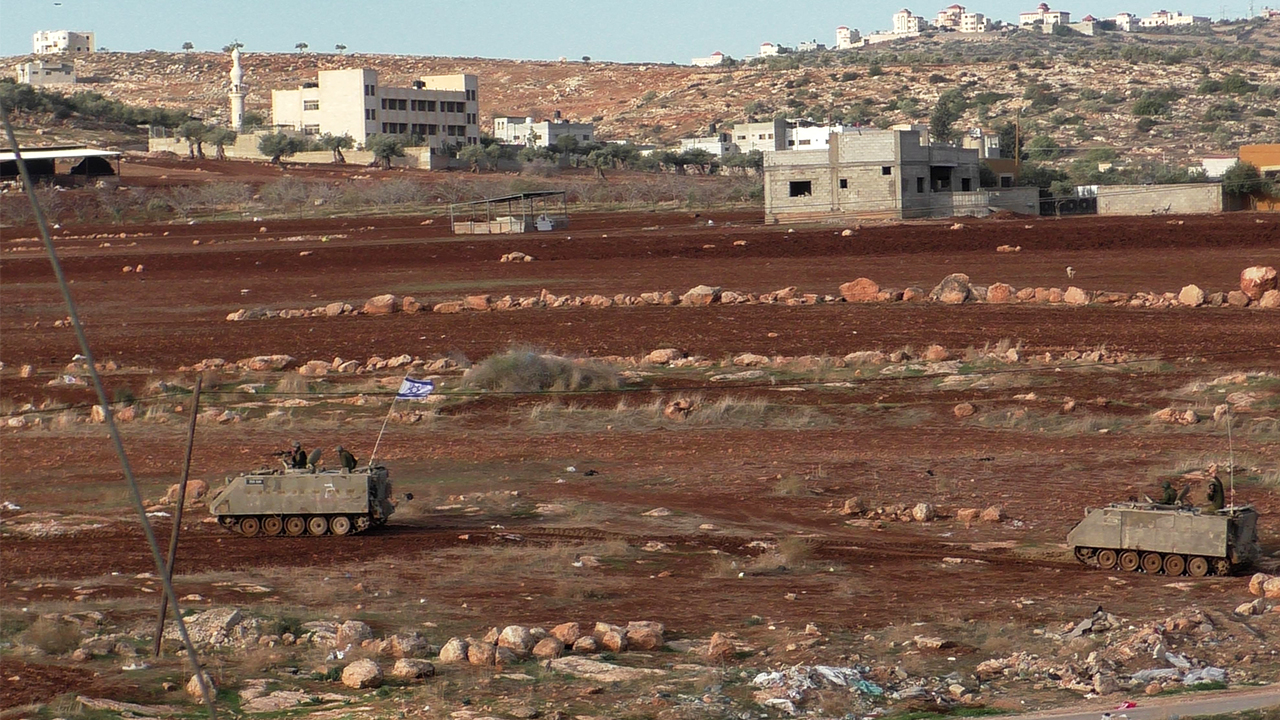 To view full photos click here.
B'Tselem field researcher 'Aref Daraghmeh collected testimonies from residents of the area:
Ruqayah Daraghmeh, a 28-year-old farmer from Ahmir (a Palestinian community that is part of al-Farisiyah) described how the military training terrifies residents in a testimony she gave on 12 February 2018:
My family and I work as hired farmhands. On Monday, 5 February 2018, a tank suddenly drove up and stopped less than 100 meters away from our tents in Ahmir. It stopped on a plot where we'd planted chickpeas for our personal use. Everyone was scared. I was afraid something would happen to the children. That day, in the afternoon, the tanks suddenly started firing mortars west. It felt like a strong earthquake. Every time they fired, my young children lay flat on the ground or ran to find somewhere to hide. They were so scared.

When it started, I quickly went into the tent to see that everything was okay with my baby, 'Alan, who's less than two months old. He looked very frightened and was trembling. I picked him up, went outside and yelled at the soldiers to stop. They started talking among themselves, and one of the officers told me in Arabic: 'We're staying here for at least two days. When you hear shelling, put your fingers in the baby's ears, and tell your children to plug their ears too".

We live in unrelenting fear of training. This is an agricultural area, not a military training zone. It's not reasonable to have tanks maneuver every day in front of our tents, on cultivated land.
'Abd a-Rahman Khalil, a 62-year-old shepherd from al-Malih, married and father of nine, described the financial difficulties he suffers as a result of the military exercises in a testimony he gave on 30 January 2018:
I've lived in the al-Hamamat area for twenty years. I'm originally from the village of Sir. My wife is from al-Malih, and I moved here after we got married. My wife's family has lived here for decades. I raise livestock – sheep and cattle.

The military exercises mostly come out of the blue, and then I have to change course and take the livestock somewhere else, but there's nowhere to escape. There's always live-fire training going on in the area. The bullets fly over our heads, covering great distances. They land near grazing areas and put us in real danger. Still, we have to go out to pasture, because that's the main source of food for our sheep. I can't afford to buy feed because of my difficult financial situation. I already owe more than 40,000 ILS (~11,500 USD) to animal feed suppliers.

About two weeks ago, my son Ahmad took the sheep out to graze in an area called Sahel al-Burj. He was surprised to find military forces training there. The bullets flew around him, and he went back to grazing closer to our community, in al-Malih. I was supposed to meet him in Sahel al-Burj with the rest of the flock. I set out, and after I'd gone about two kilometers, he called to warn me there were soldiers around, so I took the sheep back to a smaller pasture close to home.

About ten days ago, the military parked a jeep near the livestock pens at the foot of the valley and blocked off the eastern part of al-Malih. I couldn't even get the sheep out of the pens. There's training every day in our area, every time in a different direction: in the north, in the south, in a-Salameh (north of our tents). Wherever we go, my children, me or other shepherds – we come across soldiers training.
Ahmad Daraghmeh, a 53-year-old farmer, married and father of nine, from Tayasir, described the damage to his pastureland and farmland in a testimony he gave on 5 January 2018:
My family is originally from the area of Tubas and Tayasir. I live in Tayasir. I farm and raise livestock in different parts of the Jordan Valley with my brothers. I have seven children. Six of them have already got married and left home. They're all close to me. We all work in farming on our land in the areas of a-Shak, al-Malih and al-Farisiyah. We grow wheat, barley, chickpeas and other crops.

The pastureland across from the farmland I cultivate has turned into a sort of military battleground. I've seen some of it go up in flames because of training with live ammunition. For us, that land is a source of livelihood. .

A week ago, there wasn't much rain in the area so I decided to plow my land and my son Hussein's land in a-Shak and al-Farisiyah. I sowed chickpeas in some of the land, which is more than 4 hectares, and was planning on plowing and sowing other seeds in the other parts. I went there with my brother and found it had become a highway for tanks. I couldn't go anywhere near the land. Two days later, the tanks moved south, near al-'Aqabah and Tayasir, so I went back to the land and found it had become solid and dense as a rock. It can't be plowed now. The tanks destroyed everything we planted.

The soldiers train everywhere, without taken us into consideration. They leave unexploded ammunition behind. We don't know what to do. There's training almost every day. We have nowhere to go. This is our land, and we want to live.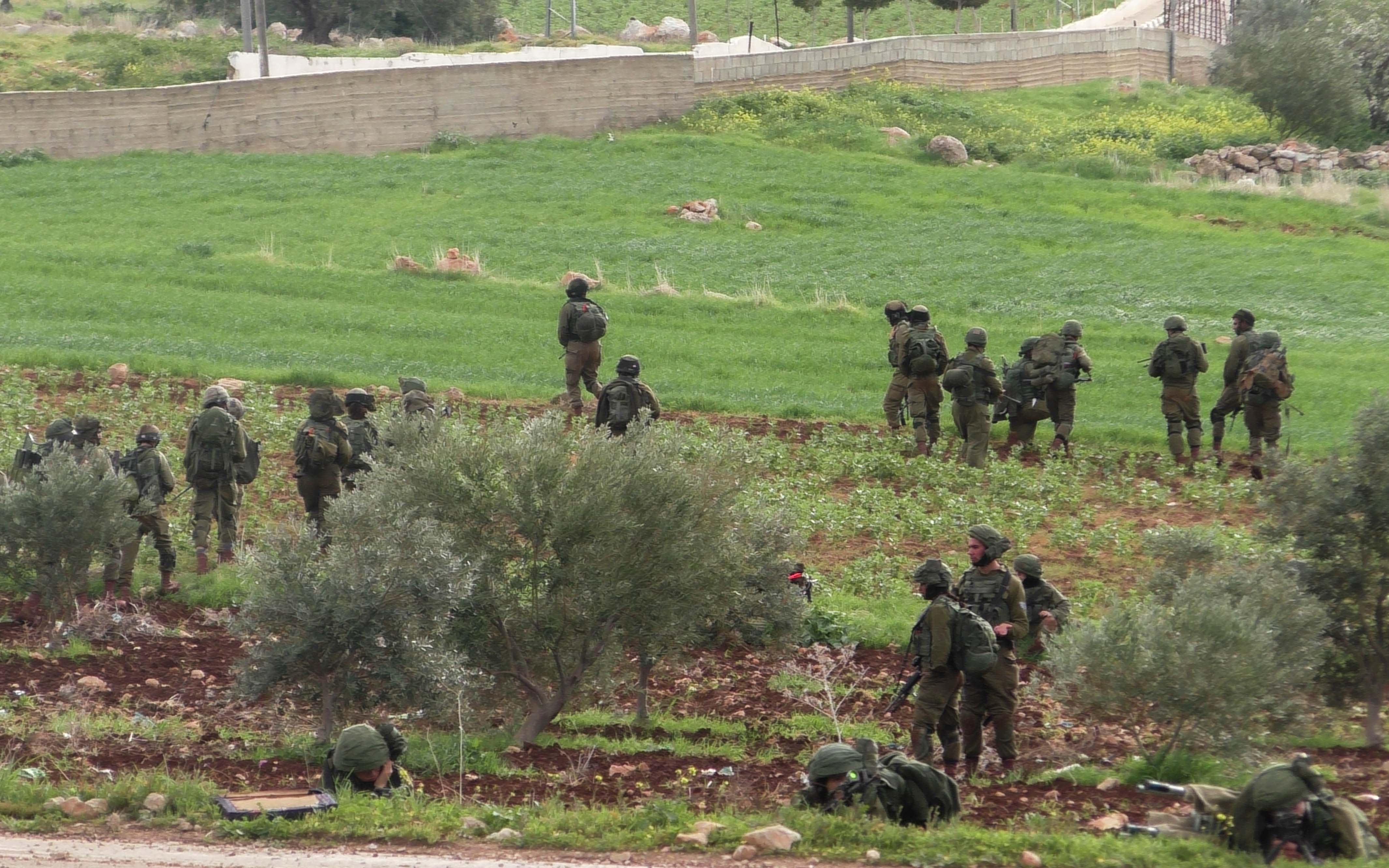 Ibrahim Daraghmeh, a 50-year-old farmer, father of seven , from Tayasir, described the damage to agriculture that the military training is causing in the Jordan Valley:
Twenty days ago, I sowed some crops, expecting rain, but nothing grew because large military forces passed through the land, crushing it and destroying everything. No one can say a word to them. If you try to file a complaint or talk to them, you always get the same answer: "It's a military zone!". What does that mean 'military zone'? This is our land, our families' land, which we've been cultivating for years.

There are nine people in my family. If I sit for one day without working, we'll have nothing to eat. I work the land to feed my family. Why don't they train somewhere else?

I know they're trying to make us leave so they can take over our land. Is there really nowhere else to train? They know each and every one of us works very hard to get the money for seeds and to work the land, to make sure our children have food. No one dares say anything or ask, 'why are you training on my land?'. They destroy the land and leave unexploded ammunition, so we won't be able to go in and cultivate it. It's a catastrophe.