Israel destroys Palestinian farmland in Gaza again, allegedly for security
After the second intifada broke out in September 2000, Israel began restricting Palestinian presence in the Gaza Strip in areas bordering the perimeter fence with Israel, which mostly consists of farmland. Among other things, Israel bars Palestinians from working this land and places blanket bans on entering them. Over the years, the military has occasionally changed the extent of the no-go zone. Sometimes, farmers are barred from accessing land up to 500 meters from the fence; at other times, they are not allowed within 1,000 or even 1,500 meters of the fence, depending on the area. The military is ambiguous about the precise size of the no-go zone and has never provided residents with accurate information.
Israel enforces these restrictions with various means – including the use of live, sometimes fatal fire at Palestinian farmers or spraying the land with herbicides. From 2015 to 2020, Israel destroyed crops by the border, mostly by spraying them. According to the Palestinian Ministry of Agriculture, Israel destroyed nearly 14,000 dunams of farmland [1 dunam = 1,000 square meters] along the border during this period, damaging the livelihood of 1,402 Palestinian farmers . Israel also regularly razes land in Gaza up to 100 meters from the fence.
In 2015, after "Operation Protective Edge", the Hamas government paved the Jakar Road, which runs parallel to the fence, about 300 meters away, and placed permanent guard positions along the road. Since then, farmers have been allowed to access land up to 100 meters from the fence.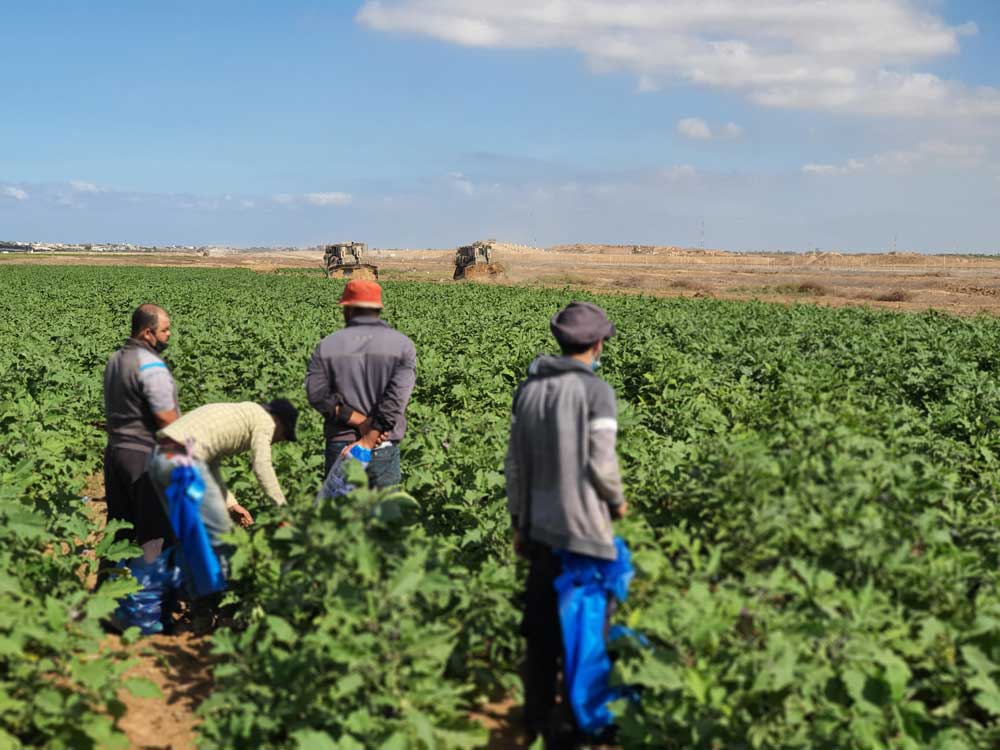 On 13 October 2020, in the early morning hours, Israel demolished crops and farming equipment to an extent that exceeds even its standard policy towards Gaza. That morning, four bulldozers and a digger entered the Gaza Strip through a gate in the perimeter fence east of the town of Khuza'a, and razed farmland about 150 meters west of the fence. Soldiers supervised the work from tanks and military jeeps on the Israeli side of the fence. According to the Palestinian Ministry of Agriculture in the Gaza Strip, that day the military destroyed a total of 25 dunams of parsley, dill, zucchini, okra, and eggplant crops and damaged the irrigation systems serving them and another 20 dunams. In doing so, they destroyed the livelihoods of 13 families, numbering 90 people in total, half of them minors.
These actions are illegal under international law, which prohibits the destruction of private property barring extremely exceptional circumstances – which do not exist in this case. Moreover, they reveal the absurdity of Israel's claim that the Gaza Strip is a separate "hostile state entity". Israel relies on this claim to shirk any responsibility for Gazans' lives and well-being, utterly disregarding the terrible outcomes of its policy. Israel's conduct in this case – one of many – demonstrates its continued control over Gaza: freely sending in forces, destroying livelihoods at will and deciding which residents may work where. As long as Israel maintains this policy towards Gaza, including more than 14 years of blockade, it cannot hide behind false claims.
The following testimonies were collected by B'Tselem field researchers from farmers whose crops and only source of income Israel destroyed that day.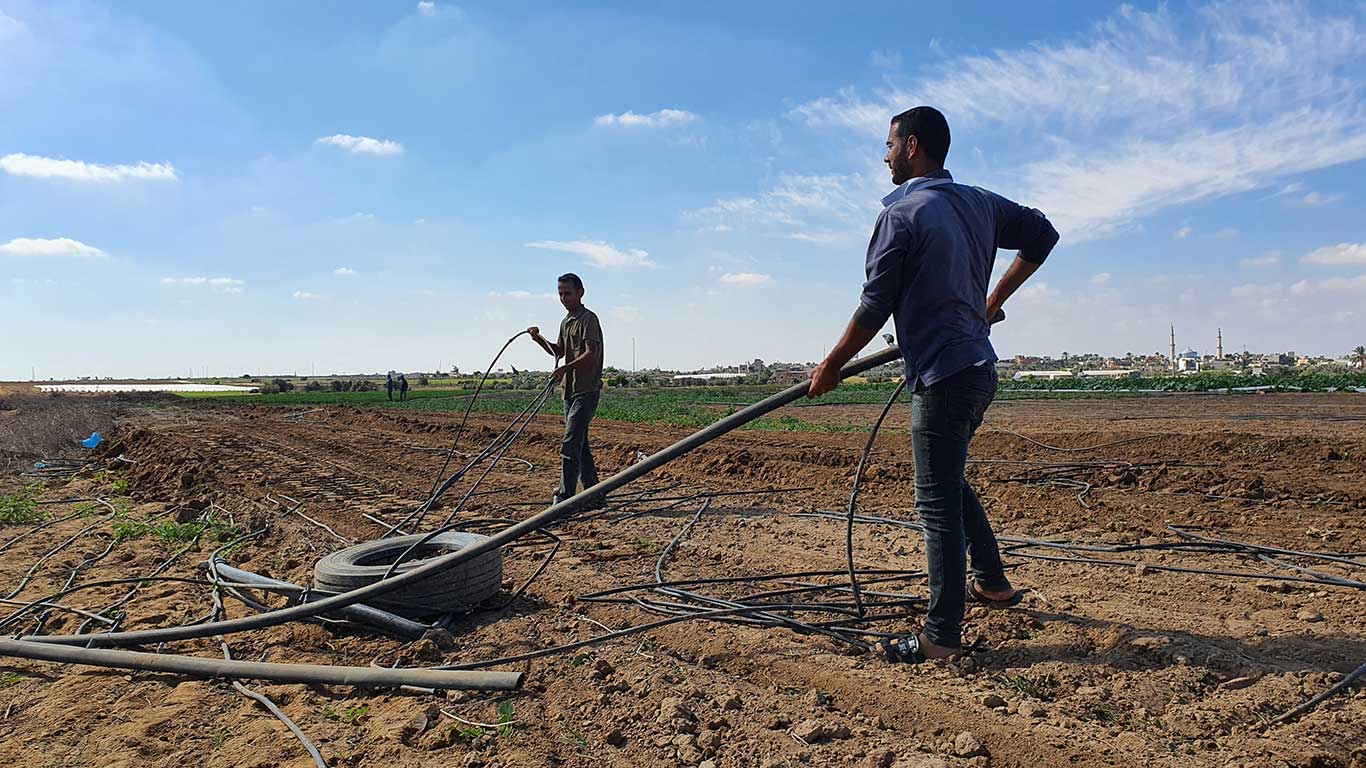 In a testimony he gave B'Tselem field researcher Khaled al-'Azayzeh on 13 October 2020, Isma'il Abu Ta'imah (39), a married father of seven from of 'Abasan al-Jadidah (a-Saghirah), related:
Six years ago, I rented 10 dunams of land east of 'Abasan al-Jadidah along with my brothers Fuad, a father of five, and Husam, a father of four. Working this land is our only source of income. The land lies near the al-Farahin gate, about 100 meters from the perimeter fence.

Before 2014, we rented other land right next to the border. At that time, the military forbade us to go within 500 meters of the fence, so we couldn't work a lot of the land. After the war in 2014, the restriction was reduced to 100 meters from the fence, so now we can work more of the land. Of course, whenever there's rocket fire at Israel or an Israeli response, we're careful not to go there.

We grow zucchini and spinach on that land. About six months ago, we planted parsley and today it was almost ready for harvest. This morning, at around 6:00 A.M., I went to the land and started working with several laborers. I turned the drip system on to water the crops.

At around 8:45 A.M., I saw four Israeli bulldozers and a large tractor heading our way from the south, near Khuza'a. They were inside the Palestinian territory, razing land along the border. Several military jeeps were watching from the Israeli side of the fence. They didn't open fire.

The broken pipelines on Isma'il Abu Ta'imah's land. Photo courtesy of the witness.

The bulldozers reached my land and drove over the parsley field. They also destroyed the irrigation system. All in all, they destroyed fields in four dunams and irrigation systems in six dunams. It took them about half an hour.

When I saw what they were doing, I felt completely helpless against the huge machines that were destroying my crops. I just stood there in the field, watching my investment go down the drain before my very eyes. I put about six months of work and a lot of money into that crop, in the hopes of selling it to make a living.

We have about 100 more dunams of farmland next to that plot where we also grow zucchini, spinach and parsley. Luckily, the bulldozers didn't harm them.

As a farmer who works land near the border, I suffer a lot of harassment by the occupation forces. In January and February last year, their planes sprayed my land with herbicide. They ruined 30 dunams of spinach fields about two months after I planted them. The crop was almost ready for harvest and sale. It was a huge loss of my money and time. Israeli soldiers also shoot at us sometimes. The last time was just two days ago. They opened fire at us at around 7:00 A.M. It was a foggy day and suddenly, military jeeps drove up and the soldiers started fire in volleys and individual shots. The laborers and I had to leave the land and come back after the jeeps had left.

Now I'm very worried. I'm afraid the bulldozers will come back and destroy the rest of the crops. I'm also afraid the occupation authorities will spray our crops with herbicide again. Winter is coming, and almost every winter they spray along the entire border.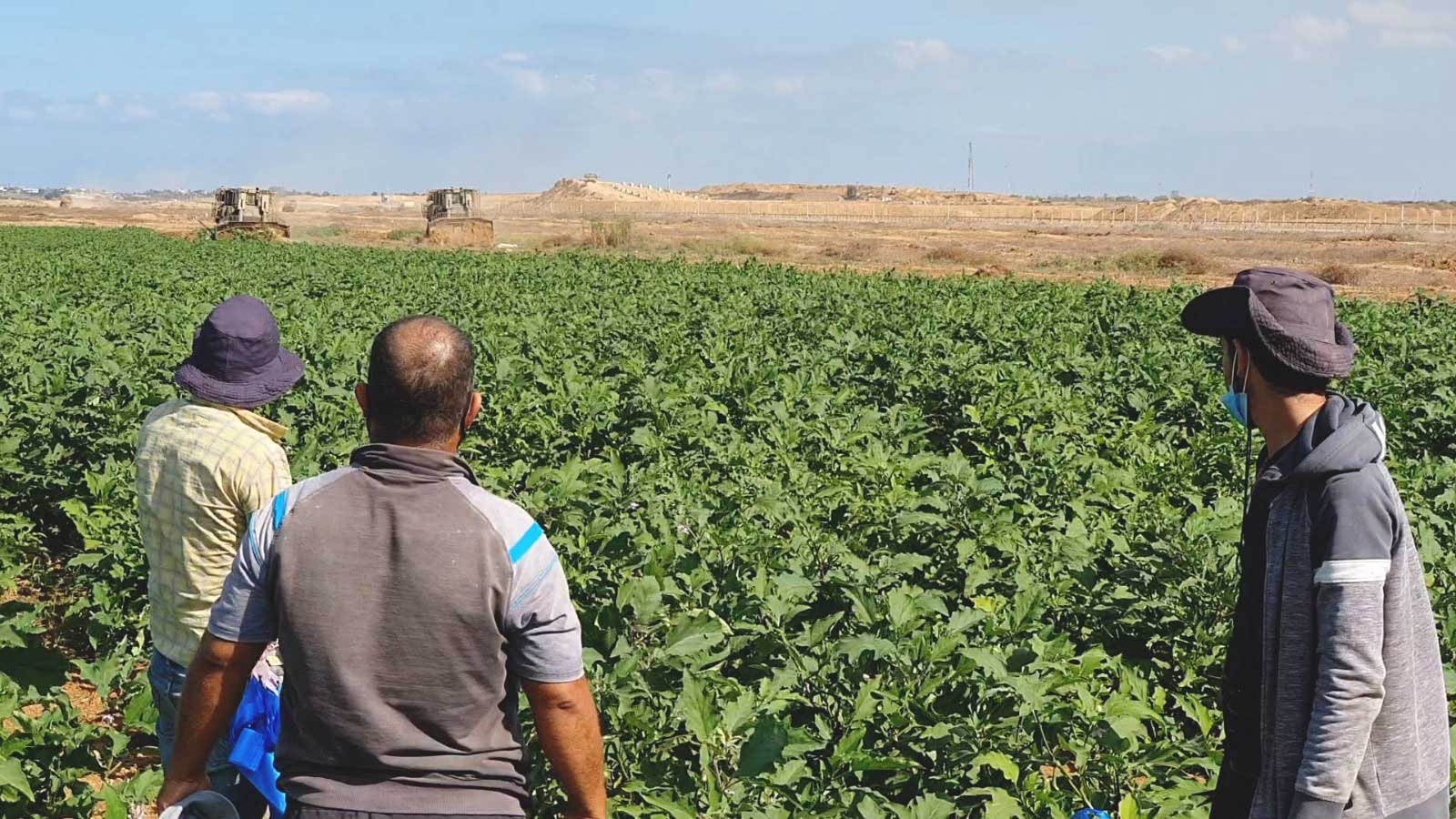 In a testimony he gave B'Tselem field researcher Khaled al-'Azayzeh on 13 October 2020, Yusef Shahin (44), a married father of five from 'Abasan al-Jadidah (a-Saghirah), recounted:
I've been a farmer for more than 20 years. I own 20 dunams of land east of 'Abasan al-Jadidah, about 100 meters from the border fence. In early August I planted eggplants in all of it.

On Tuesday, 13 October 2020, I started working the land at 7:00 A.M. I had 12 laborers with me, helping me pick the eggplants. It was the second time we were picked the fruit this year.

At around 9:45 A.M., three bulldozers appeared from the south, from the direction of Khuza'a. They were driving inside the Palestinian territory, razing land along the border. Military jeeps were watching over them from the Israeli side and there were two tanks stationed on dirt mounds behind the fence. I thought it was a routine razing operation, like they always do up to 100 meters from the fence. I didn't think the bulldozers would reach my plot.

I was surprised when two of the bulldozers advanced into my land. They razed the eastern part, destroyed some of the eggplants and damaged the drip system and the water mains.

I tried to block them with my body but when I saw they weren't stopping, I stepped aside and they kept on destroying my land for no reason. It went on for about 20 minutes. They flattened about four dunams of eggplants and damaged the irrigation system in 10 dunams.

I stood there, angry and sad. They destroyed my only source of income in front of my very eyes. I paid about 13,000 shekels (~3,820 USD) for the seedlings and spent a lot more money on pesticide, laborers, spraying costs, fertilizers and irrigation. I still owe money for all these expenses, which I have to pay other businesses after harvesting and selling the crops. Now, because they destroyed my fields, I can't repay my debts. I'm really worried and don't know what to do.

Later, I heard from my laborers that the bulldozers also wreaked havoc in my neighbor Isma'il Abu Ta'imah's land. The occupation forces don't make do with razing land. Every year, the occupation planes spray herbicide along the border. Last year, they sprayed in December and January and ruined about 20 dunams of my spinach crops that were about to ripen. I lost a lot of money because of that. The whole crop was ruined and I couldn't sell it.
In a testimony he gave B'Tselem field researcher Muhammad Sabah on 8 November 2020, Zaher Samur (30), a married father of five from Bani Suheila, related:
I've been working in agriculture since I was 14. My father, God rest his soul, rented land by the border, sowed it and sold the produce. After he died, I kept on renting plots of land and working them. I'm currently renting 23 dunams in the 'Abasan al-Jadidah (a-Saghirah) area where I grow dill, spinach, arugula and parsley. I sell the produce in the markets of Khan Yunis and Gaza City.

I take care of the land, clean it, spray it and water it so the crop will be of good quality. I get there every morning between 7:00 and 8:00 A.M. to weed. I spray the crops at around 10:00 A.M., when it's not too hot, and in the afternoon I harvest the ripe crops. The land I work is about 250 meters away from the border, and we don't stay there after sundown because its dangerous.

The Israeli military keeps harassing us again and again: razing land, shooting and spraying crops with herbicide. Last year I lost more than 10 dunams of spinach crops because of the spraying. I lost all the produce and had to clear all the land, throw everything out and replant the crops. I lost the profit from the crop and a lot of work hours.

On 13 October 2020, bulldozers came in through the al-Farahin gate in the fence and started razing land. At first, I thought they'd only raze the area near the fence, so I went to make myself a cup of coffee until they were done. I came back about 15 minutes later and found they'd destroyed about five dunams of my parsley crops and the irrigation system. I was shocked and couldn't believe my eyes. I don't understand why they did that and why I was bothering anyone. I planted low-growing crops on purpose because the land is close to the border, so why did they raze it all? I lost thousands of shekels.

I'm now waiting to sell the spinach to make some money, and then I can go back and tend to the destroyed fields.

We farmers work very hard all year round, and then the bulldozers come and destroy everything within minutes. It's our livelihood. We don't have any other job or way to provide for our families. We work in a dangerous place: one time there's shooting, another time they spray, but we keep on working and tending to our land because we have no other choice. The economic situation in Gaza is tough enough as it is.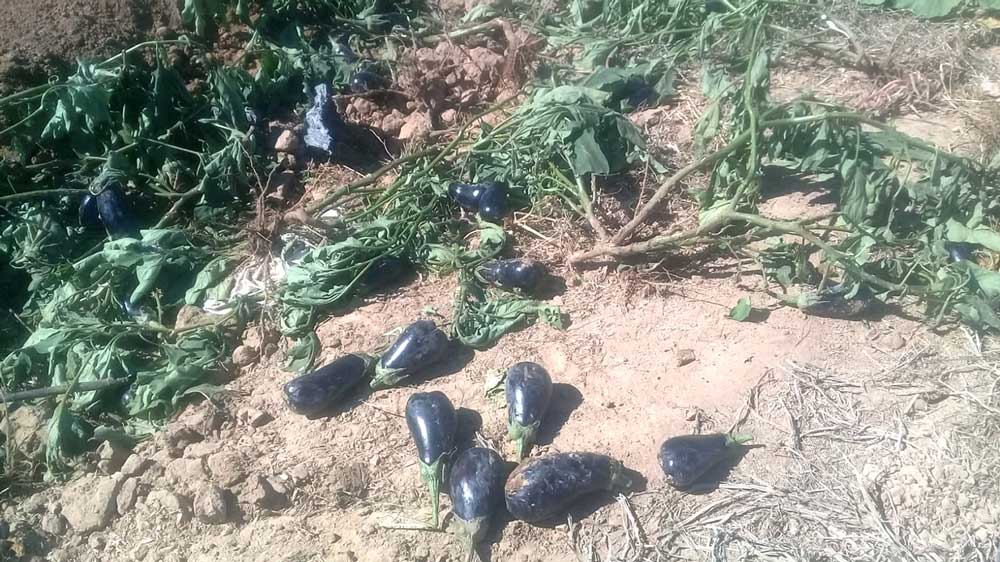 In a testimony he gave B'Tselem field researcher Olfat al-Kurd on 7 November 2020, Haydar Abu Sabt (45), a married father of eight from al-Qararah, related:
I've been working in agriculture since I was a kid. I own three dunams east of al-Qararah, a town in Khan Yunis, where I planted okra. The plot lies about 150 meters from the fence. I go there every morning at around 5:00 A.M. Sometimes, when it's foggy, I only go at 7:00 A.M. because I'm afraid of the Israeli military's gunfire. At midday I go home for a lunch break, and I go back later to continue working if I have to. My wife Hiyam (44) and my children work with me.

The Israeli military has razed my land before. In 2008, for example, they razed all my olive trees because they were too tall and close to the fence. Since then I've grown "short" vegetables such as okra, zucchini, peas and fava beans.

Even though I fear for myself and my family every time we go to the land, we have no choice because it's our only source of income.

On 12 October 2020, we went to the land as usual. We went home to rest at midday and didn't go back to the plot that day. The next day I went there around 6:00 A.M. and found that bulldozers had razed some of it – two dunams of okra and an irrigation system. I called the Ministry of Agriculture to report it. I lost about 2,000 dollars. With that money I usually buy everything I need, such as containers, seedlings and fertilizer. Because the soil was wet, the bulldozers made holes in it, and it's going to take a lot of work to straighten it and replant everything. I pray that God will compensate me for my land and the money I lost. I hope I can get the soil back to the way it was before.
Video filmed by Muthana a-Najar