Settlers attack farmers, damage chicken coops and kill over 300 chickens in the village of Qusrah
On Saturday, 26 September 2020, at around 11:00 A.M., settlers threw stones at five members of the Ziad family who were working their land southeast of Qusrah, a village in Nablus District. About 30 minutes later, the settlers cut off the branches of 12 three-year-old olive trees belonging to another family, located about 150 meters away. About an hour later, dozens of settlers came to the southern outskirts of the village, where they threw stones at two chicken coops. The settlers entered one of the coops, ran after the chickens, kicked them, vandalized a water containers and pipes and caused the death of 200 chickens and more than 100 chicks. They also set fire to a tractor and a truck, but the owner managed to put out the flames before the gas tanks exploded. While the attack was underway, dozens of other settlers arrived and joined in.
Soldiers escorted the settlers on their rampage throughout the day, firing tear gas canisters and rubber-coated metal bullets at villagers who gathered to fend off the attack.
At around 2:00 P.M., about 30 Border Police officers arrived and started firing tear gas canisters and rubber-coated metal bullets at village residents, injuring two. At that point, the settlers drew back towards the settlement outpost of Esh Kodesh and the residents returned to the village. The soldiers and the Border Police officers stayed in the area until around 6:30 P.M.
This was just another routine day for Palestinians, settlers and soldiers in the West Bank. Israel upholds, encourages and supports this reality in order to promote its goals, in utter disregard for the devastating consequences for Palestinian residents.
The incidents that took place that day are detailed below, in testimonies given to B'Tselem field researcher Salma a-Deb'i on 28 September 2020.
11:00 A.M.: Settlers attack Ziad family working their land
Lafy Ziad (53), a a married father of six from Shu'fat Refugee Camp in East Jerusalem was working with his four sons, aged 10 to 25, on the plot they purchased near Qusrah, about a kilometer southeast of the village's homes.
At around 11:00 A.M., some seven settlers arrived, one driving an ATV, along with about five soldiers. The settlers ordered the family to leave, while the soldiers stood by. Ziad refused to leave and after a brief argument in which he threatened the settlers with a hoe, a soldier stepped in and tried to calm matters down. The settlers left a short while later.
After half an hour or so, some 30 settlers appeared, also escorted by soldiers. They attacked the family with stones as the soldiers looked on. Ziad and his sons initially tried to defend themselves by throwing stones, but were outnumbered and had to hide behind their car. Nevertheless, four of them were hit by stones. A shepherd who was passing by called for help and about 10 residents arrived. At that point, the settlers smashed two of Ziad's car windows and headed west towards a plot belonging to the 'Abd al-Mun'im family, where, it later transpired, they cut down 12 olive trees.
Ziad and his sons drove to an HMO clinic in Jerusalem and were referred from there to the Hadassah Mount Scopus Medical Center, where one son was treated for a head wound.
The settlement outpost of Esh Kodesh was established in 2001 about two kilometers from the family's plot.
In his testimony, Lafy Ziad described the settlers' attack:
At around 11:00 A.M., my kids and I were working our land when about seven settlers showed up. One of them was driving an ATV. They came up to us and demanded that we stop working and leave. About five soldiers also arrived.

I argued with one settler in Hebrew and waved my hoe in the air to drive the trespassers out. I told them that it's my land, that I have papers and that they had to get out. I also made it clear to one of the soldiers that he had to remove the settlers. In the end, the settlers really did leave our land and the soldiers went with them. I thought that was the end of it, and we went back to work.

But about 15 minutes later, about 30 settlers suddenly showed up with masks on and started throwing stones at us. Several soldiers came with them, but they didn't lift a finger to stop them. They just let the settlers attack us, and we had no choice but to throw stones back at them to defend ourselves. There were a lot of them and they rained stones down on us. We hid behind our car, but some stones hit me in the arm, back and leg. Three of my kids were also injured.

Meanwhile, about 10 residents of Qusrah, including the local council head, arrived after a shepherd saw what was happening and called them. When the settlers saw more people coming, they smashed my car windows with stones and left. We drove back to Jerusalem and went to an HMO clinic.

I don't see the point of filing a complaint with the police. I don't want any more trouble. They'll just lock us up, not the settlers. I don't have the strength for court hearings, either. I don't want any problems with them. I just want my children to be safe and sound.
12:00-2:00 P.M.: Dozens of settlers with military escort attack two chicken coops, killing about 300 chickens, and torch two vehicles
For about two hours, dozens of settlers went back and forth between two chicken coops owned by village residents, throwing stones at them, destroying water pipes and vandalizing property. They also tried to set fire to a truck and a tractor. Soldiers who were nearby did nothing to intervene. Only when Border Police officers arrived did the settlers leave.
At around midday, 30 or so settlers arrived at a chicken coop belonging to Fadi 'Awatleh about a kilometer from the village. They threw stones at the coop, broke four ventilators, punctured the water containers and cut the pipes. This cut off the chicks' water supply and more than 100 died of thirst. The settlers also slashed 'Awatleh's car tires. 'Awatleh, who was at the coop, locked himself in his office for protection and watched the attack on the security cameras.
The settlement outpost of Esh Kodesh was established about a kilometer from the coop.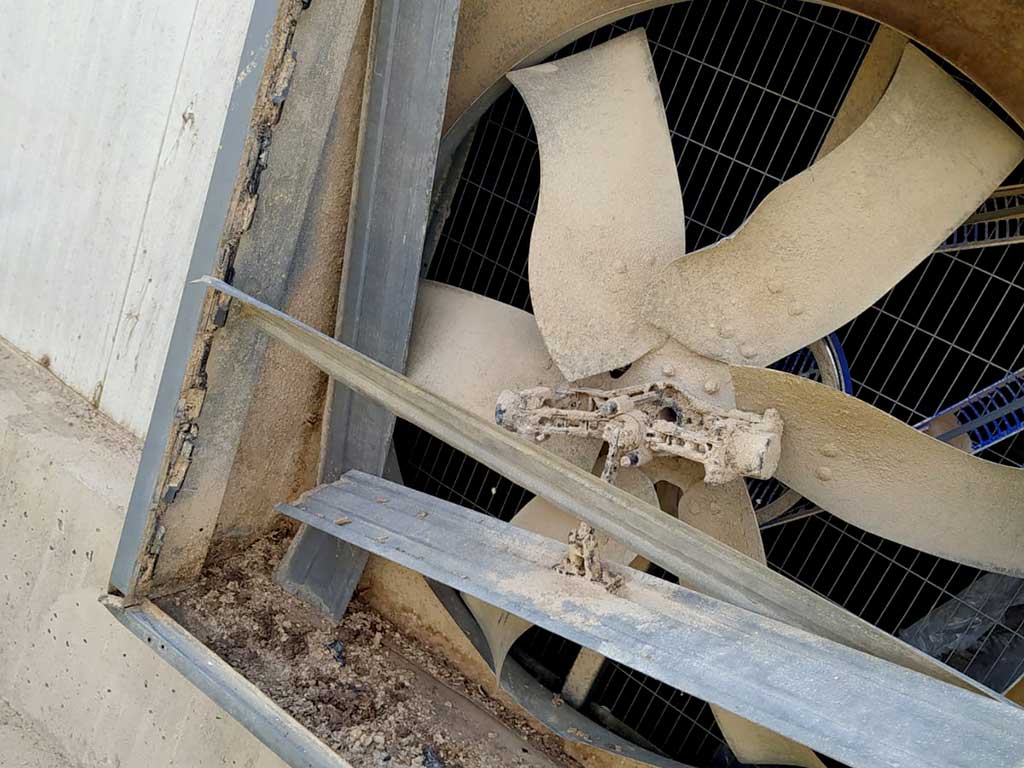 In his testimony, married father of four Fadi 'Awatleh (32) described the attack:
At around midday, I was resting in my office next to the coop when a village resident called and warned me there were settlers in the area. I opened the door and saw 30 or 40 settlers right in front of me, about 15 meters away.

They started throwing stones at the coop's ventilators and broke four of them, out of 16 altogether. I was alone, so I rushed back into the office and closed the door. I called my father and brothers to come and help. When the setters saw me, they started shouting and swearing at me in Hebrew. I understood a few words, such as "terrorists." They punctured the water containers and knocked them over, along with their metal bases. They also cut the pipes. In addition, they broke one of my car windows and slashed the tires. The attack lasted 15 or 20 minutes. Then they left.

I came out of the office to assess the damage and saw that the chickens and chicks had been left without water. I called the village council to report the attack.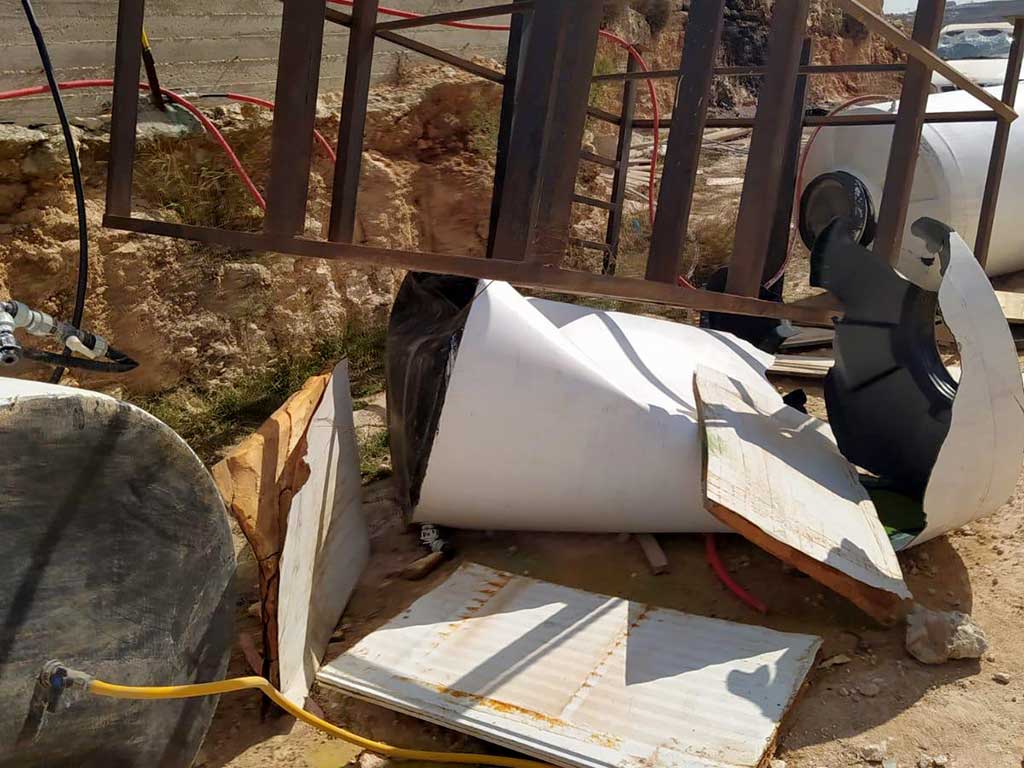 The settlers moved on to a neighboring coop belonging to the Hassan family about 300 meters away. At that point, dozens of other settlers joined them, along with some 10 soldiers. The settlers stoned the coop and damaged its roof. They also slashed the tires of a tractor parked nearby and torched it. Luckily, Jamal Hassan, who was called to the scene, managed to put out the fire.
In his testimony, Jamal Hassan (31), a married father of a baby and resident of Qusrah, spoke about the incident:
At midday, I was at work when my brother Nidal called to say that settlers were attacking our coop. We'd just sold all our chickens a few days earlier, about 11,000 in all. On my way there, I saw several people from the village and about 70 settlers who were destroying everything around the farm. There were about 10 or 15 soldiers with them. The soldiers shouted at me and asked where I was going. I told them it was my coop and they let me drive on. The soldiers were running after the settlers, telling them to move away and even pushing them a little, but it didn't help.

I saw that the settlers had set fire to our tractor. I grabbed the extinguisher from the car and put out the fire. They damaged the tractor's gas tank and slashed its tires. They also broke six floodlights around the coop, as well aslarge water containers, and threw stones at the coop itself, making holes in the roof. Meanwhile, my father 'Adli (63) and my brother Hajaj (30) arrived and the settlers moved away. We thought it was over, but then I saw them heading over to my neighbor Fadi's coop about 300 meters away and throwing stones at it, too.
At 1:00 P.M., the settlers returned to Fadi 'Awatleh's coop. They went inside, ran after the chickens, kicked them and broke their feeding troughs. They left about 15 minutes later. 'Awatleh's father Salem (66) and brothers Shadi (30) and Mus'ab (24) arrived and helped him reconnect the water pipes and order more water for the containers.
Fadi 'Awatleh continued:
I was surprised to see the settlers come back. They were many more of them. I went back into my office. About 15 of the settlers broke into the coop, where there were 4,000 chickens 35 days old. They kicked the chickens and stomped on them, and also broke the equipment we use to feed and water them. I could see everything they were doing on the security cameras. Several settlers picked up some chickens and left with them. They also smashed the camera at the entrance to the coop.

They acted like savages. I couldn't believe my eyes. I didn't dare leave my office, because they would've killed me. They're simply criminals. I can't even take in what happened. They killed about 200 chickens, because when the chickens get scared they starting climbing on each other and trample each other to death. The incident lasted about 20 minutes, and then the settlers left.

Meanwhile, I managed to order water. I have about 13,000 nine-day-old chicks in a shack near the coop. About 100 of them died of thirst in the four hours that passed before I managed to renew the water supply.

The settlers went back to the Hassan family, this time attacking their home, which lies next to the coop. Later, at around 2:00 P.M., they returned to Fadi 'Awatleh's coop and threw a stun grenade at him and his family. They also tried to torch a water supply truck that drove up. Only about two hours after the incident began did some 30 Border Police officers arrive. They distanced the settlers, who headed towards Esh Kodesh, and began firing tear gas canisters and rubber-coated metal bullets at village residents who had gathered in the area. Two residents were injured. The officers and soldiers stayed in the area until around 6:30 P.M.

Jamal Hassan further related:

The settlers headed back in our direction. My father, brother and I went into the house near the coop, locked the door and went up to the roof. They threw stones with the soldiers standing right next to them. They tried to tear off the wire mesh we put on the windows to protect against stone-throwing. I said to one of the soldiers, "Look what they're doing!" He gestured at me with his hand and said in Arabic that there was nothing he could do. The attack went on for at least 10 minutes.

Meanwhile, the settlers divided into groups and the soldiers split up to guard them. The settlers headed away from us again, back towards Fadi's coop. They also tried to reach several homes in the village. The soldiers chased them from place to place and then spread out in several locations. In the meantime, more villagers arrived and tried to get near our coop, but the soldiers fired tear gas and "rubber" bullets at them, as if they were the problem and not the settlers. The settlers tried to attack Fadi a third time, and the soldiers did nothing but shoot at the residents.

In his testimony, 'Awatleh described the end of the incident:

When the water supplier came, the settlers suddenly reappeared and threw a stun grenade at us. I managed to lock myself in the office with my father, my brothers and the supplier. We saw them torch the supply truck. We went outside and put out the fire with sand. Just then, dozens of Border Police officers arrived and forced the settlers to leave.

This isn't the first time something like this has happened. Last year, during the harvest season, they destroyed our field and caused us huge losses. They also attacked our chicken coop, but this time was much worse. I lost tens of thousands of shekels, and it's more than I can afford to lose.
Location:
More Info:
More on State-Backed Settler Violence