Border Police assault a father and son from East Jerusalem, break the 58-year-old father's arm and arrest him and his 15-year-old son
S.H., 58, lives in Silwan, East Jerusalem. He is a metalsmith and has five children. On 13 June 2017, at around 12:00 noon, S.H. was watering the garden in front of his home, while his 15-year-old son was sitting in the family car, in front of the house, listening to music. Suddenly, three police vehicles drove up and stopped by the house. A man dressed in civilian clothes and several Border Police officers came out and knocked on the door of the house next door, which belongs to S.H.'s brother. No one answered.
The man in plainclothes walked over to S.H. and addressed him in Hebrew, asking his name and demanding he hand over the keychain on his belt so he could enter the brother's house. S.H. said the keys on the chain did include any to his brother's house, and the two argued for a while.
In a testimony he gave B'Tselem field researcher 'Amer Aruri on 14 June 2017, S.H. recounted what happened next:
Four officers went at me right away. One of them bashed my head against the front of the car. A second one grabbed me by the left hand and a third by the right. At the same time, I saw they were also assaulting my son.
His 15-year-old son, B.H., said in the testimony he gave on 20 June 2017:
I saw four Border Police officers beating my father, and I was scared to get out of the car. A man in civilian clothes came up to me and pulled me out. He threw me to the ground. I fell on my side and then rolled onto my back, and a Border Police officer started to beat me. 
B.H.'s mother, T.H., 55, heard the commotion and came out of the house to see what was going on. In a testimony she gave on 14 June 2017, she recalled those moments:
I heard my husband arguing with someone. It was in Hebrew, which I don't understand. I went out into the yard and saw three vehicles parked in front. Then I saw security forces beating my son, but I didn't see my husband.

I went out into the street, and saw a Border Police officer holding my son by force. I tried to go up to him, but two officers stood in my way and wouldn't let me reach him. I yelled at them: "Shame on you. He's a little kid!" They said: "Stop shouting." The officers threw my son to the ground and put their feet on his head. 

While this was happening, I could hear my husband screaming in pain, but I couldn't see what was happening to him because I was watching the officers who were beating my son. I saw them take him, while the other two officers still kept me from going near him. I felt dizzy and I almost fell. I'm diabetic, and there was no one around to help me. I started walking back towards the house, leaning on the fence and the door, until I managed to get inside.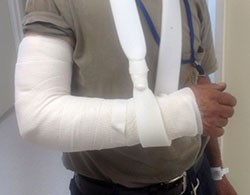 Footage captured by a neighbor on his cell phone shows the man in the civilian clothing and one Border Police officer putting the son inside one of the vehicles. According to the son's testimony, after he was taken into the car, the officers handcuffed him and also put on leg restraints. Border Police officers are then seen shoving the father against one of the vehicles and roughly twisting his arm behind his back, as he cries out in pain. The plain-clothed man then returns and handcuffs the father from behind using metal handcuffs. The officers then put the father in the same car with the son and drove both to the police station on Salah a-Din Street, where a Border Police officer handcuffed the father, with his hands in front. In his testimony, he said:
The policemen ordered me to sit on the floor. They made my son stand facing the wall. A Border Police officer slammed his head into the wall. We stayed this way for two hours. I asked for water because I felt dizzy and dehydrated and one of the officers brought some. My son refused to drink because of the Ramadan fast. Then, they separated us and put each of us in a different room.
A Public Defense attorney who arrived at the station talked with S.H. and asked the officers to take him to hospital due to the severe pain in his arm and the fear it was broken, but they refused and began interrogating him. According to his testimony, they accused him of obstructing a police officer in the performance of his duties and of assaulting a police officer. An hour later, he was released and the investigator told him he could go to the hospital but emphasized the police had nothing to do with his injured arm. S.H. called his 31-year-old son, who took him to Hadassah Mt. Scopus Hospital. Following an x-ray which showed a fracture, his broken arm was put in a cast. 
While the father was being interrogated, the police took his son to a different room. In his testimony, B.H. said there were three Border Police officers in the room and they would not let him use the bathroom. A Public Defense attorney arrived and spoke with him for several minutes. After a few hours of waiting, he was taken to a different room and interrogated about the incident for about 30 minutes. In the evening, after the Ramadan fast ended for the day, the officers brought him a glass of water and a single date to eat. He did not ask for more food, fearing the officers would beat him. That night, he was taken to the Russian Compound detention facility, where the officers removed his hand and ankle cuffs, searched him, and gave him some sour cream and bread for the meal before the Ramadan fast resumes for the day. At around 5:30 P.M. the following afternoon, he was released to serve five days of house arrest, after his parents posted a thousand shekel [approx. USD 350] bail and signed an additional NIS 5,000 [approx. USD 1,750] guarantee. 
This case illustrates how unbearably easy it is for police to abuse East Jerusalem residents: Border Police officers arrest a man and his 15-year-old son, break the father's arm, assault the son during detention, hold the father for several hours, keep the son overnight then release him for a five-day house arrest on a NIS 1,000 bail – all without any cause for arresting them in the first place.
Location:
More Info:
More on beating and abuse