On 23 October 2021, about 20 residents of Turmusaya, including seven minors between the ages of three and 17, went to harvest olives in their which lie on a large tract of farmland about two kilometers east of the town. In 2000, the outpost of Adei Ad was established near the area, and two years ago, a new settler "farm" was established nearby.
At around 12:30 P.M., about 20 masked settlers arrived. They spread out among the groves and attacked the harvesters with clubs and stones. The residents tried to defend themselves, including by throwing stones, but eventually had to flee towards the town.  
Some of the settlers beat an 80-year-old woman and an 18-year-old youth with clubs, while others sprayed pepper spray in the eyes of two residents. Several residents, including a 10-year-old girl and a 16-year-old youth, sustained minor injuries from stones thrown by the settlers. In addition, the settlers smashed the windows of three cars, punctured their tires, torched a fourth car, vandalized farming equipment and broke the branches of several olive trees. After about half an hour, when dozens of town residents gathered to defend the attacked families and fend off the assailants, the settlers left.   
Meanwhile, two military jeeps drove up. Soldiers got out of them and fired tear gas canisters and rubber-coated metal bullets at the residents, injuring two of them. Police officers arrived and documented the scene of the incident. The soldiers stayed in the area until around 2:00 P.M., and after they left, some residents resumed the harvest.
This incident is no exception: the residents of Turmusaya suffer repeated attacks by settlers who harm them and their property. These attacks are another tool Israel uses to take over Palestinian land throughout the West Bank. As part of this policy, the state provides the assailants with military backing, including soldiers who sometimes join in the attacks, and law enforcement agencies offer them protection. 
B'Tselem field researcher Iyad Hadad collected testimonies from the attacked farmers on 24 October 2021:
In his testimony, Muntasser Salameh (50), a father of five, recounted:
Muntasser Salameh. Photo by Iyad Hadad, B'Tselem, 24 Oct. 2021

On Friday, 23 October 2021, at 8:00 A.M., we went to harvest olives on our land. We own a plot of 2.5 dunams [1 dunam = 1,000 sq. meters] in the valley east of the town, and have 54 olive trees that are 30 to 40 years old. I went there with my four children, ranging in age from five to 17, with my brother 'Abd a-Nasser Hamza (48) and his two children (16 and 18), and with two workers. There were 10 of us altogether. The military doesn't require prior coordination on our part before we access land in that area. But it's a dangerous area because have settlers set up a "farm" nearby, and there are violent, extremist people there. 
 
Two other families were already working in their groves, which lie next to ours, when we got to the area. We started picking the olives. There was a good atmosphere. It's a season of joy and we enjoy the work. The kids love working outside and everyone lends a hand.
 
When we were about to wrap up for the day, we heard a family that was working on a nearby plot shouting a warning: "Settlers! Settlers!" We couldn't see the settlers because the trees hid them, but pretty soon some of them reached us. They were masked and carrying clubs and sticks. They looked like a gang of robbers.
 
We didn't have time to escape. They chased us, threw stones at us, and beat us with clubs and sticks. We tried to run and defend ourselves as much as we could. I was terrified for my daughters Sa'ida (10) and Janat (5). I picked them up, carried them away and sat them under one of the trees. Then I joined my brother and the young men who were there, and we tried to defend ourselves. The girls were crying and terrified, but I had no choice. I had to leave them so I could fend off the settlers. 
 
There were about 10 settlers there. We confronted them and also threw stones at them. After two or three minutes, one of the settlers surprised my brother and pepper-sprayed him. While I was helping the neighbors lift the fence between our grove and theirs so the kids could escape, four settlers jumped me. One of them hit me on the left side of my neck with a club, and another settler came from the right and pepper-sprayed me in my eyes and face. It stung badly and I had to back away. 
 
Meanwhile, my kids had already run away from the grove. The older ones helped the little ones. After we were all out of the grove, some settlers drew back or maybe just stopped chasing us, and some vandalized our cars, which were parked near the groves. 
 
Several residents of the town came to help us, and one of them took me to a private clinic. My brother 'Abd a-Nasser got there a few minutes before me. My children arrived after me, with my brother-in-law. The girls were terrified, and Sa'ida had bruises on her back from the stones. They gave her ointment to relieve the pain. My two nephews arrived, too: Naji (16), who was hit by a stone in the face, and Jamal (18), who was hit by a stone in the hand and a club blow to the back. They were given first aid there.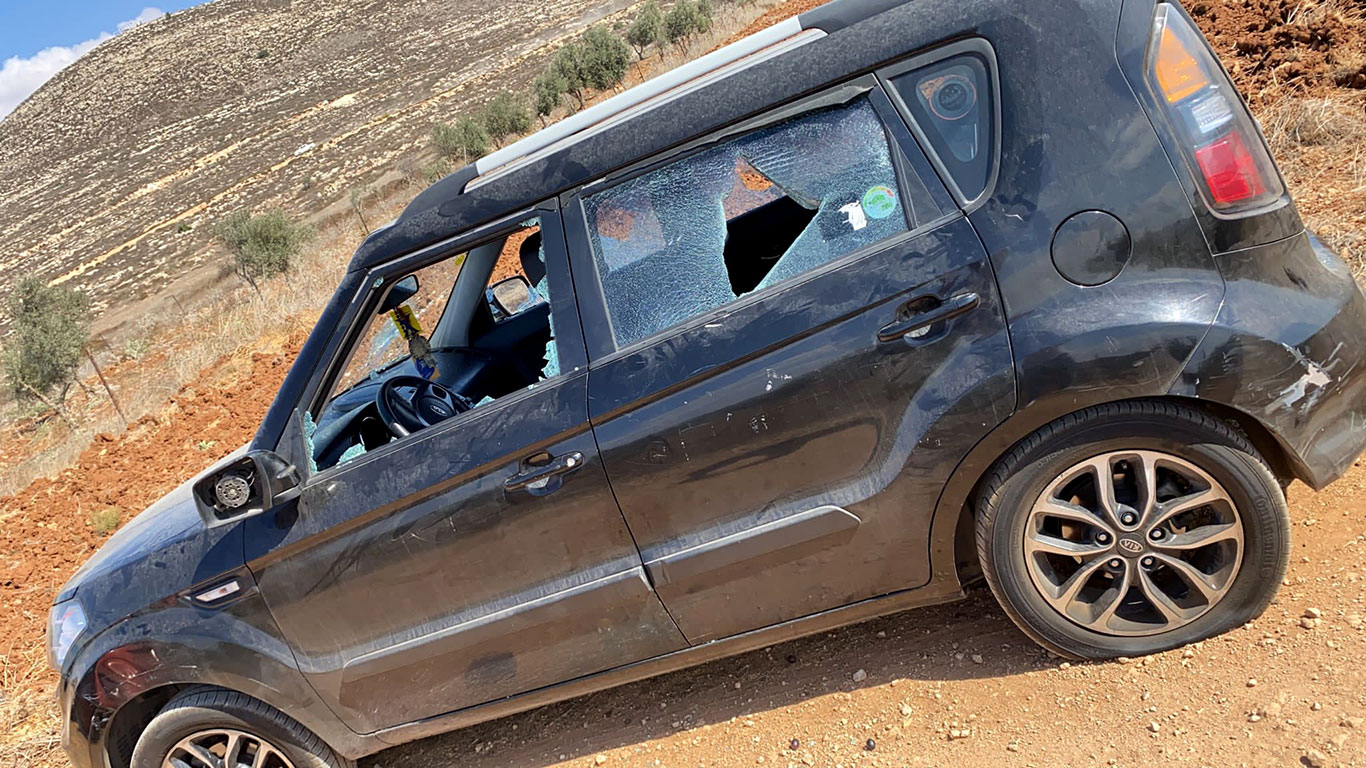 In her testimony, Nabihah Jabarah (80), a mother of seven, recalled:
Nabihah Jabarah. Photo by Iyad Hadad, B'Tselem, 24 Oct. 2021

On Saturday morning, 23 October 2021, I went with my family, including my two grandsons, who are 11 and three years old, to our land. Two agricultural laborers also came with us: four young men and a woman. There were two other families there, working in nearby groves. Everyone was harvesting olives. 
 
At 12:30 P.M., we took a lunch break. I recited the afternoon prayers. My grandson Jalal (11) took his brother Rasmi (3) to the road, so his mother could pick Rasmi up from there. He came back shouting, "Grandma, Grandma, the settlers are attacking us." I stopped praying and went to see the settlers. 
 
I saw more than 20 masked settlers with clubs. They were young, about 20 or 25 years old, and were coming towards us. I shouted at them, "What do you want? What do you want?" but they didn't answer me. One of them picked up a thick club and tried to hit me in the head, but I pushed it away with my left hand. When the workers saw what was happening, they started shouting and ran away from the area. I ran away, too. The settlers chased us and threw stones at us. They destroyed everything in their path. They broke ladders and cut two sacks of olives we'd filled with a knife 

When we were a bit further away, I checked the young ones to see if anyone was hurt. The neighbors also fled the grove. The settlers managed to hurt some of them. I saw the settlers breaking the windows of cars parked near the groves and puncturing their tires. They destroyed two of our family's cars, smashed all their windows and punctured their tires.

After the settlers left, we went back to the grove and found out they'd scattered three sacks of olives and broken two ladders, two jugs of water and a chair, as well as the branches of five trees. I later found out they'd also destroyed Muntasser Salameh's car and torched Dr. Tayasir Jabarah's car. 

Military jeeps arrived, not in order to defend us but to reinforce the settlers. They drove away the residents who came to help us and fired tear gas canisters and "rubber" bullets. Two young men were hit by rubber bullets.  

The settlers ran towards the farm established two years ago about 200 or 300 meters east of our land. Since it was established, we've had many more problems. The settlers from the farm attack us and damage our property, and the military allows it. They don't let us have a day of peace. Every time, we hear about a farm or another facility they've damaged. We're in constant fear for our crops and our very lives. But we put our faith in the good Lord. 
In his testimony, Taysir Jabarah (78), a married father of five, described what happened:
Taysir Jabarah. Photo by Iyad Hadad, B'Tselem, 24 Oct. 2021

During the attack, which lasted about 15 minutes, residents from the town started coming to help. When the settlers saw the crowd, they started to withdraw, and then I saw two settlers going over to my car, which was parked by my grove. One of them poured lighter fluid on the hood and the other on the trunk, and then they set fire to it. I was about 50 to 60 meters away. I shouted to people, "Look, look, they burned my car." People told me not to go near because they were afraid the gas tank would explode. I didn't go near to put out the fire, and neither did anyone else. The settler who torched the car withdrew towards the mountain area, in the direction of the outpost. 

Shortly after the residents arrived, a military jeep drove up, followed by another jeep. They were there to defend us but to protect the settlers. There were six soldiers, and they started shooting tear gas canisters at the residents. At first, they fired towards the cars that were coming from the town and were still far away, so they wouldn't come closer. Then they fired in our direction, where the people had gathered. I started tearing up and felt a terrible burning. I ran away from there. My nose started bleeding because of the tear gas. I stopped the bleeding with some tissue and stayed far back. 

After about 10 minutes, the situation calmed down a bit. We tried to go back to our lands, but the soldiers didn't allow us and fired volleys of tear gas canisters and "rubber" bullets. Two young men from the town were hit by "rubber" bullets and taken to the town for treatment. About an hour after the settler attack began, the soldiers left the area, and some people continued to work their land. 

When the people went back to harvesting, with reinforcement from the residents who had arrived, I called the workers who'd been with me earlier to come back and complete the work, but they apologized and said they were too afraid to return. I went back to picking together with 20 residents who volunteered to help me, and we picked the remaining olives offf five small trees. I had another dunam left to harvest in a grove that's separated by a road from the land where we'd worked earlier. It has 10 olive trees that are 30 years old. But we didn't go there because we were afraid the settlers would come back.