On Tuesday, 1 June 2021, at around 1:30 A.M., dozens of soldiers and ISA agents invaded the Shteiwi family's home in Kafr Qadum. They woke Bashar Shteiwi (29), who was sleeping on the balcony that night, and then the rest of the family – his mother Rashiqah (68) and his four brothers and sisters who were sleeping indoors.
The soldiers separated Bashar from his family and violently interrogated him, beating him repeatedly, just moments after he had woken up. They searched the entire house and after about an hour and a half, led Bashar to the home of his cousin 'Abdallah, who lives nearby with his mother. There, the soldiers conducted another search, throwing the family's personal belongings on the floor. During the search, they interrogated Bashar again in the living room. About half an hour later, they led Bashar about 400 meters away to the home of his brother Hikmat (47), a father of five.
Several soldiers had entered Himkat's home earlier, and when Bashar arrived, the search and interrogation were already in progress: the family's belongings were strewn on the floor and the living room furniture was overturned. Hikmat's wife, Iman, and their three youngest children were being held in the parents' bedroom. Their two other children – Tareq (17) and Malek (16) – were held, handcuffed, in separate room. Bashar was put in the room with Malek, while Tareq was beaten and interrogated.
At around 4:30 A.M., the soldiers left the village, taking Bashar with them. In the morning, he was taken to the police station in the settlement of Ariel for interrogation. He was then held in custody for two weeks before being released. On 30 June 2021, soldiers returned to Kafr Qadum and arrested Bashar again, along with his brother Muhammad. Bashar was released on 9 August 2021 after being convicted, in a plea bargain, of throwing objects at people. He was sentenced to prison for a period of time already served in custody, and to an NIS 1,000 (~USD 310) fine. His brother is still in custody.
Military incursions into Palestinians' homes in the dead of night, in which soldiers wake entire families, including small children and infants, have long since become part of the routine that the occupation regime imposes in the West Bank. The troops enter bedrooms, rummage through the inhabitants' private belongings, at times beating some of them, and leave the entire household stunned and terrified. This harmful invasion into what is supposed to be a personal, safe space is yet another example of Israel's policy, which views Palestinians as subjects devoid of rights.
Testimonies concerning the incident were given to B'Tselem field researcher Abdulkarim Sadi.
In his testimony, Bashar Shteiwi (29) described what happened that night:
On 1 June 2021, I was sleeping on our balcony on the second floor. At around 1:30 A.M., I woke up to find soldiers standing next to me. They kicked me and hit me. I heard a soldier say, "Here's Bashar. Here's Bashar." One of the soldiers lifted me violently off the floor and pushed me indoors. He immediately started asking me if I had a weapon. I told him I didn't, but he kept asking me where I was keeping it. I told him he could search the house and that if he found a weapon, I would take responsibility for it.

A few minutes later, the soldiers took me down to an apartment on the first floor and tied my hands. It's an empty apartment that's meant for my brother Muhammad. The soldier or officer who interrogated me saw a walking stick there that used to belong to my late father. He took it and beat me with it, swearing at me and asking where I was hiding the weapon. Meanwhile, the other soldiers inspected the walls with special devices and searched the entire house, on both floors.

After about an hour and a half, one of the soldiers told me that he was taking me to my cousin 'Abdallah Shteiwi's house. It's right next door. When we got there, the soldiers sat me down in the living room and searched the whole house. After half an hour, they led me, still handcuffed, to my brother Hikmat's house, which is 400 meters away from ours. While we were walking, the soldiers kept pushing me.

When we got there, I saw there were soldiers inside. When we went inside, I saw that they were searching the living room. The kitchen utensils were strewn all over the floor and tables. I saw my nephew Tareq lying on the living room floor, handcuffed and blindfolded. The soldiers took me to my brother's bedroom, where I saw my nephew Malek. My brother, his wife and their young children were in their daughter Shahd's room.

I tried to cheer Malek up and talk to him, but the soldiers shouted at me and ordered me to be quiet. Then another soldier came in and told me that Tareq had said I have a weapon. I told him I don't and that I don't need one, and then the soldiers started punching me in my upper body.

After about half an hour, the ISA officer told me I was under arrest. He said I would go to prison for a year or a year and a half. The soldiers took me outside, handcuffed, and led me on foot to the settlement of Kedumim, which is about a kilometer away. At Kedumim, they blindfolded me and put me in a jeep that drove me to a military camp in Shavei Shomron. I stayed there until 11:00 A.M., and then I was transferred to the Ariel police station. A police interrogator questioned me about possessing weapons, but I told him I didn't have any and that the soldiers had searched my house and found nothing. The interrogation ended in the afternoon, and from there I was taken into custody. I was released two weeks later, on 15 June 2021.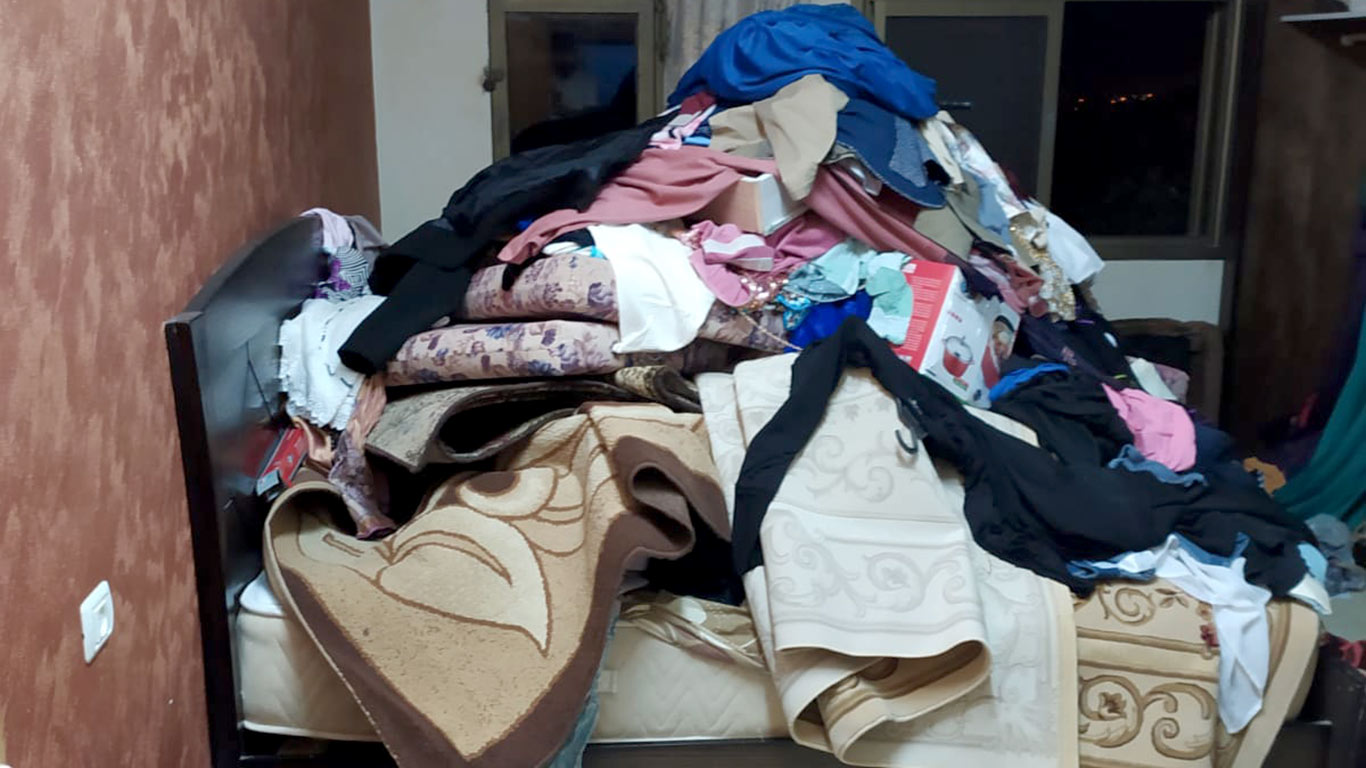 Imtithal Shteiwi (58), the widow of Bashar's uncle, recounted the soldiers' incursion into her home:
On Tuesday, at around 3:00 A.M., I was woken by the sound of the phone ringing. They were calling from my brother-in-law's house to tell us that soldiers had come in and that some of them were in our shared yard. I put my headscarf on right away. I sat down in the living room with my son 'Abdallah, and we waited for the soldiers to come in.

About half an hour later, seven or eight soldiers knocked on the door. 'Abdallah opened it and they came inside, leading my husband's nephew, Bashar, into the living room. They demanded that 'Abdallah hand them his ID card and then ordered us to sit in the living room. Several soldiers went into my bedroom and searched it. Meanwhile, I heard them shouting at Bashar and threatening him. They asked him about weapons and incitement materials.

After half an hour, they left with Bashar. There were clothes and belongings strewn all over the bedroom floor. I immediately started tidying up and putting everything back in place.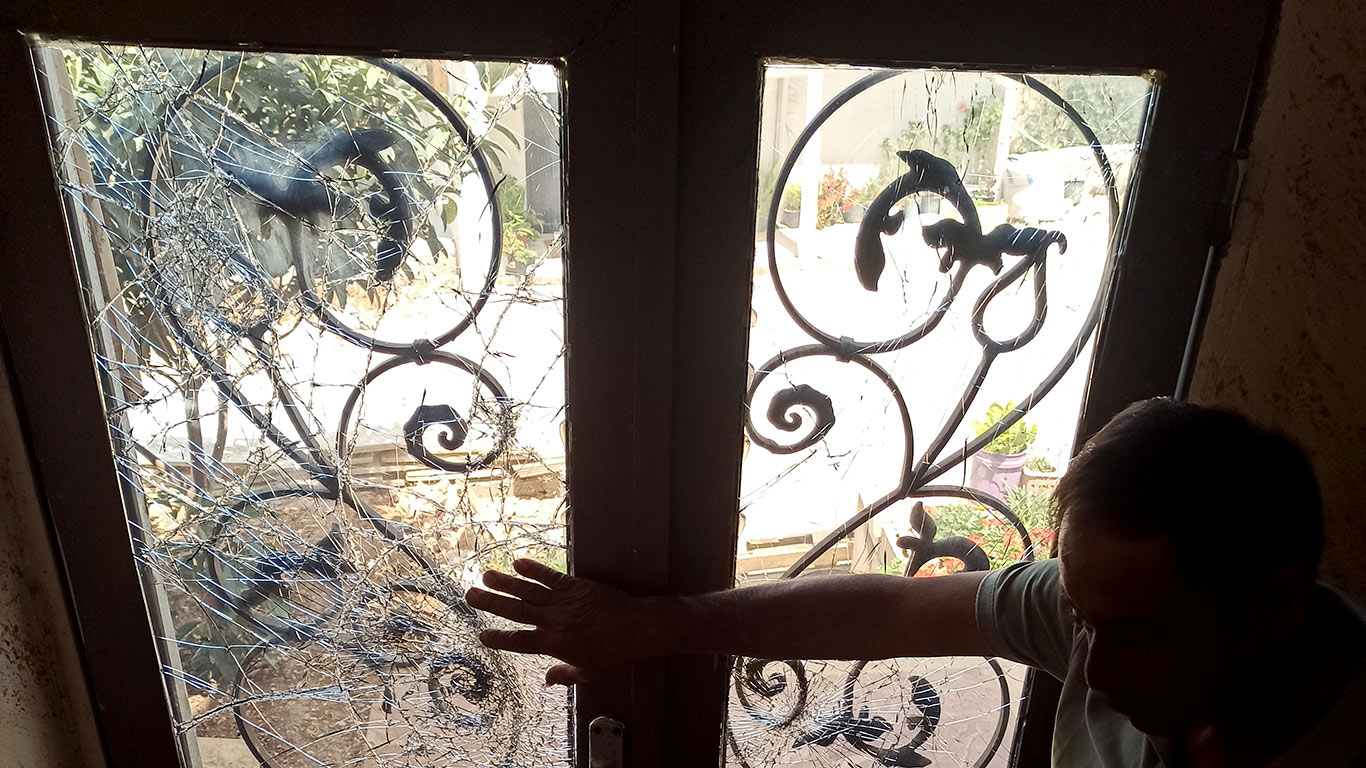 In her testimony, Bashar's sister-in-law, Iman Shteiwi (44), described the raid on her home:
That night, the whole family was sleeping at home: my husband Hikmat and I, and our five children – Tareq (17), Malek (16), Shahd (13), Mahmoud (11) and Muhammad (9). At around 2:00 A.M., I woke up in a fright. I heard shouting and hammers pounding on our front door. Hikmat told me it was soldiers. I got up right away and quickly got dressed. I ran to the children, who were awake and terrified. My husband went to open the door. He told the soldiers that he was coming and they should stop pounding on it, but they kept yelling and banging until he opened it. We all stood at the entrance and the little ones were terrified and crying. I hugged them and tried to calm them down, even though I was frightened myself.

The soldiers ordered my husband and me to take the three little ones to my daughter Shahd's bedroom, and kept Tareq and Malek with them. While we were in the room, I heard the soldiers shouting at my sons. I heard Tareq tell them: "We don't have any incitement materials or weapons."
In his testimony, Basher's nephew, Tareq Shteiwi (17), recalled:  
I stayed in the living room with the soldiers. They tied my hands behind my back and blindfolded me with a piece of cloth. Then they knocked me to the floor and stepped all over my body, including my head. They hit me and asked me if there were any weapons in the house. I told them there weren't and that we don't need any. One of the soldiers also asked if I take part in the weekly march in the village, and I said I don't. They kept on stepping on me and beating me for a few minutes.

Then one of the soldiers lifted me up and led me to the living room. There, a soldier threw me down on the floor, sat on my stomach and punched me in the chest, shoulders and head. He demanded that I admit we have weapons and participate in the weekly march

Then the soldier who attacked me told me that they were bringing in my uncle Bashar. The soldiers shouted at him, and I heard him answering their questions and telling them that he didn't have any kind of weapon.
In her testimony, Rashiqah Shteiwi (68), Bashar and Muhammad's mother, described her sons' arrest later that month:
On Tuesday, 29 June 2021, at around 11:00 P.M., I fell and broke my right hand. My sons 'Aqel and Samed took me to hospital in Qalqiliyah. I was treated and we got back home at around 2:00 A.M.

When we got back, 'Aqel went to sleep at his house with his wife and kids. Samed, who lives with me, went straight to bed. At around 3:00 A.M., my daughters and I were still awake. Suddenly, we heard loud, aggressive banging on the front door. We knew it was soldiers. Hanan got up quickly and opened the door so the soldiers wouldn't break it down. Seven or eight soldiers swarmed in and immediately woke my sons Samer and Bashar. I heard one of the soldiers demand that they hand him their phones, and heard Bashar tell the soldier that his phone had been confiscated when he was arrested at the beginning of the month and hadn't been given back to him.

The soldiers searched the entire house. The girls and I stayed in my bedroom and the soldiers took the boys to other rooms. I couldn't see them, but I heard the soldiers yelling at them. After five or ten minutes, I heard the soldiers talking to Muhammad, who had been sleeping on the first floor that night. I heard one soldier demand that Muhammad give him his phone, and heard Muhammad reply that he doesn't have one. The soldier brought Muhammad into the room we were in and said to him, "I'm sure you love your mother and wouldn't want the soldiers to start rummaging through her house and destroying the furniture." Just then, more soldiers arrived and brought Muhammad's phone with them. One of them demanded that Muhammad unlock his phone so he could search it, but Muhammad said it was private and that the soldier should respect his privacy. The soldiers took Muhammad out of the room, and then I heard Muhammad and Bashar shouting. It sounded like the soldiers were beating them. After about an hour, the soldiers left, taking Muhammad and Bashar with them. After they left, we saw that they had torn up the upholstery of pieces of furniture and broken five wooden doors in the house.