On Sunday afternoon, 21 February 2021, at about 3:00 P.M., soldiers arrested Aws (10) and Muhammad (8) Salah a-Din, who live in the town of Hizma northeast of Jerusalem. The soldiers detained the two brothers, who had been riding bicycles outside their home, for two hours, claiming they had thrown stones at them. During that time, the boys' mother, Amal (42), and their brother, Adam (18), arrived with several neighbours and demanded that the soldiers release the boys. The soldiers refused. Some of the Palestinians threw stones at the soldiers, and the soldiers threw stun grenades and fired in the air to force them to leave. They also attacked Adam Salah a-Din.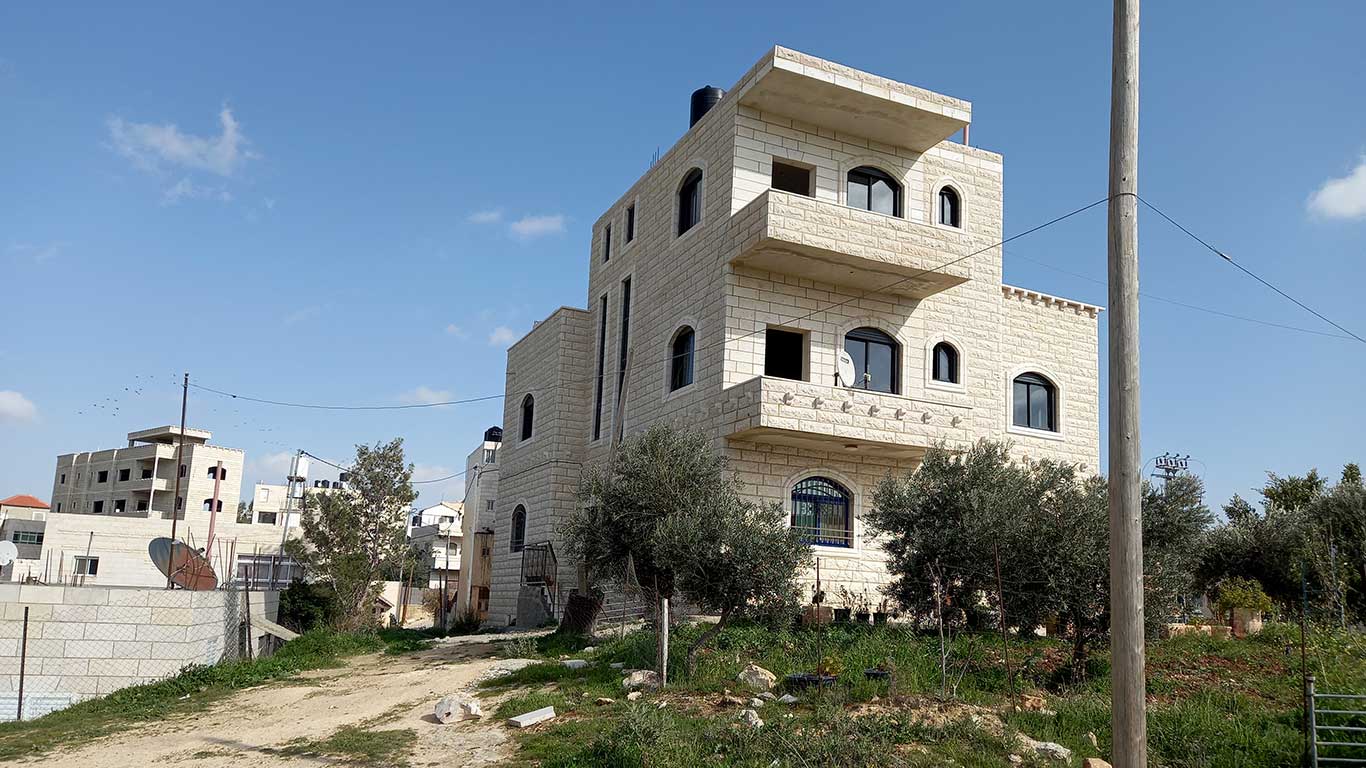 After about two hours, the soldiers led the children, their hands tied behind their backs with zip ties, to a spot by the road leading to the settlement of Adam (Geva Binyamin). There, the soldiers asked the boys why they had thrown stones and demanded they provide the names of the children from the village who had thrown stones. After about half an hour, the soldiers put the brothers in a military jeep that took them to a nearby military base. According to the boys, the soldiers refused to give them water or let them relieve themselves. An hour later, the children were handed over to a Palestinian police officer who took them to the police station in Ramallah, where they waited until their father picked them up at 10:30 P.M.
The brothers were handcuffed and detained by soldiers for many hours, alone, without knowing when they would return home. Their parents, too, were left for hours without knowing what was happening to their children. All this took place despite the fact that arresting children under the age of criminal responsibility is illegal, and certainly immoral.
In a testimony he gave B'Tselem field researcher 'Amer 'Aruri, Muhammad Salah a-Din (8) said:
A soldier guards the children detained by the house. Photo courtesy of the family

On Sunday, at about 3:00 P.M., I was riding my bike around the house with my brother. Suddenly, while we were playing, two soldiers appeared and started speaking to us in Hebrew. We didn't understand anything. I ran home, but then I realized that Aws had stayed with the soldiers. So I went back, because I didn't want to leave him alone. In the meantime, two more soldiers came. They grabbed us by the shoulders and made us walk for a bit, and then they sat us down on the ground. We stayed there about two hours.

In the meantime, my mother, my brother Adam and some neighbours came. They tried to get the soldiers to release us, but the soldiers refused. They wouldn't let my mother or brother come close and talk to us. A few minutes later, there were already lots of people there. People shouted and threw stones at the soldiers. The soldiers threw stun grenades and fired shots to make them leave. Aws and I were really scared. We didn't know what to do and why all this was happening. The whole time, my mother and brother tried to persuade the soldiers to let us go, but it didn't help. My mother told the soldier that we had nothing to do with anything and that we were just playing. The soldiers said, "No, the children threw stones at the soldiers on the road." That's not true. We were just riding our bikes.
Adam, who came out of the house when he heard his brothers crying, saw two pairs of soldiers grabbing them by the shoulders. In a testimony he gave B'Tselem field researcher 'Amer 'Aruri, he said:
I told the soldiers those were my brothers and asked what they wanted with them. The soldiers said they wanted to know who had been throwing stones. I said that it wasn't them for sure, because they'd only been playing behind the house and had nothing to do with the stone-throwing. One of the soldiers said he knew that, but that he wouldn't leave the boys alone until the children who had thrown the stones came forward. My mother, Amal, arrived and so did some neighbours. They all tried to convince the soldiers to let my brothers go, but it didn't help. The soldiers fired shots in the air and threw stun grenades so that no one would come near them. I think that happened twice. My little brother, Muhammad, started crying every time he heard the shots and the stun grenades go off.

The soldiers ordered my brothers to sit on the ground and held them there until about 5:00 P.M. They didn't allow my mother to go near them. They tied the boys' hands behind their backs with plastic zip ties, and started walking away with them. They pushed me to the ground and threatened me with their weapons so I wouldn't come near them. My mother shouted at them and told them to stop pushing me. The soldiers took my brothers to some olive trees by the road, about a kilometer-and-a-half away.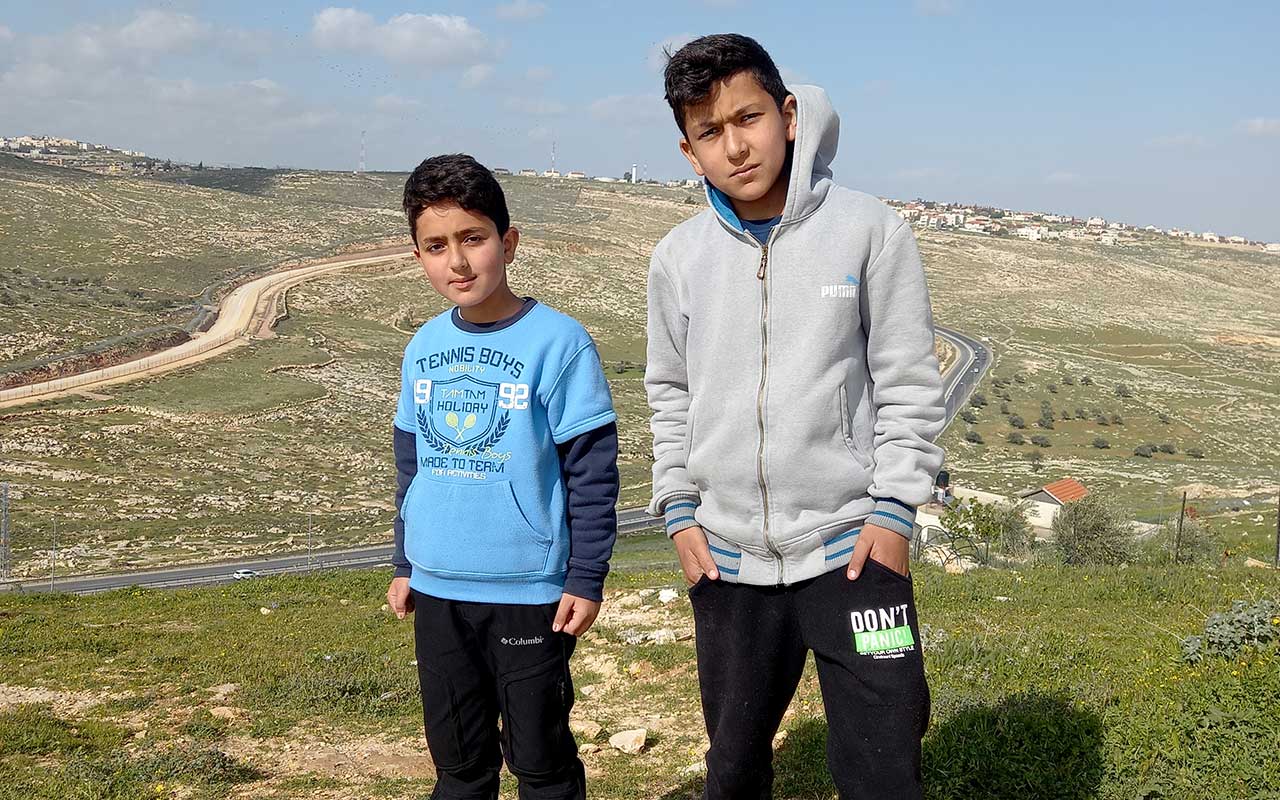 Muhammad went on to say:
A soldier holds the hand of Muhammad Salah a-Din by his house. Photo courtesy of the family

The soldiers tied our hands behind our backs with plastic zip ties. They grabbed each of us by the shoulders and dragged us away from there quickly. They were rough with us. A few times along the way, I felt I was falling down. We were really scared. I cried a lot. The soldier who was holding me hit me on the shoulder with the butt of his rifle and cursed me, my brother Adam, my mother and Allah. After we walked a long time, we stopped and the soldiers sat us down on the ground and stood around us. One of them asked, "Who threw stones? What are their names? Where do they live in Hizma?" He also said we'd thrown stones. Obviously, we told them we hadn't thrown stones and that we don't do things like that. We said we were just playing, and we didn't know who had thrown the stones. That went on for about ten minutes. We stayed there for about half an hour. They didn't hit us, but we were very scared and I cried. In the end, a military jeep came and the soldiers pushed us into it. While it was driving, one of the soldiers lit a cigarette and blew the smoke in my face.

About ten minutes later, the jeep stopped and the soldiers pushed us out. We were in a military base. They made us sit down on wet stones. I asked a soldier if I could go to the bathroom and drink some water, but he wouldn't let me. We were very cold. The soldiers also didn't let Aws give me his jacket. We stayed in the base for about half an hour. The soldiers cursed us and our family and Allah. Every time we asked to go the bathroom and drink some water, they refused. Aws asked the soldier if we would sleep in the base that night, and he said we would sleep there outside, on the ground. I was terrified. I felt like my heart was going to stop beating. I didn't understand what was happening.

After an hour, they stood us up and took the zip ties off our hands. There was someone there in regular clothes. The soldier told us, "Go on, go with him." When I asked who he was, the soldier said he was taking us home and that he was from the Palestinian police. We drove with him to a place that my father later said was the Center for the Protection of the Family in Ramallah. My father came and took us from there. It was about 10:30 P.M.

What happened to me and my brother was very scary. It's hard to even describe it. That night it was hard for me to fall asleep, because my legs hurt from walking so fast. I have nightmares now. I dream that they're shooting and killing my brother and me. I also dream that I'm put in jail for a very long time. We hope it won't happen to us again, because it was really hard. We just want to stay with our family always.