Across from al-'Arrub Refugee Camp, which lies some ten kilometers north of the city of Hebron, is a campus of the Palestine Technical University. Some 570 students are enrolled at the campus. About half of the student body are studying for a bachelor's degree and the rest are in certificate programs. 
On 7 December 2017, a day after President Trump announced US embassy would be moved to Jerusalem, students held a protest march on campus. When they reached the main entrance, which leads to Route 60, clashes ensued between them and Israeli soldiers who were there, blocking the gate. Later, the soldiers entered the campus itself and dispersed the protesters with stun grenades, teargas and rubber-coated metal bullets.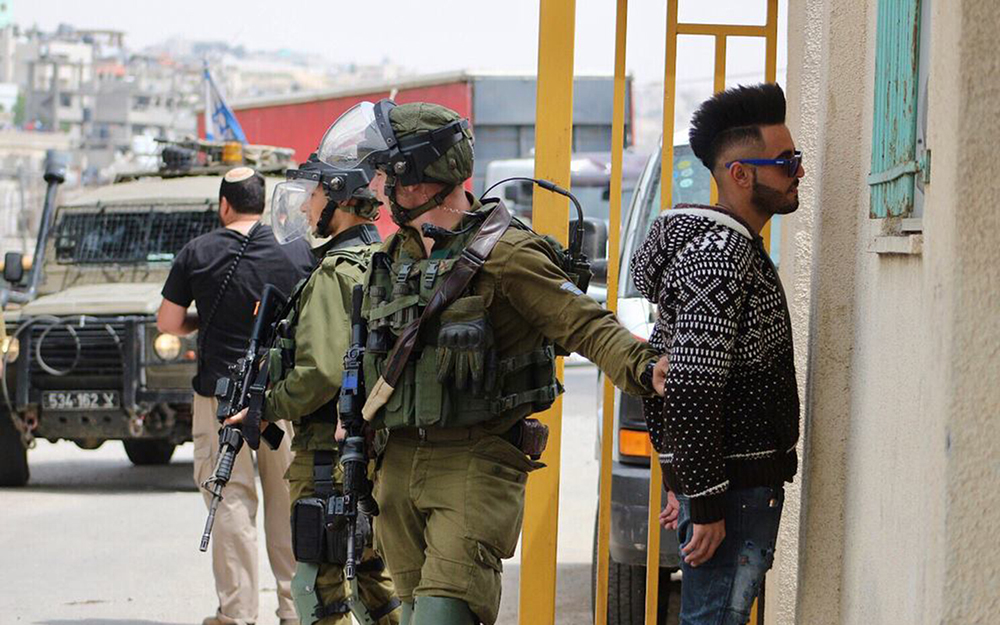 Since then, the military has patrolled daily by the main entrance, from early morning until classes are over. In addition, soldiers stationed at the entrance randomly inspect students' identity cards, take photographs of them and search their bags, sometimes even confiscating their IDs or demanding that the students identify fellow students in photographs. Students report delays of up to an hour at the entrance to the campus. Due to the military presence there, some students – including residents of the refugee camp – prefer to take longer, roundabout routes to campus so as to avoid encounters with the soldiers.
Apart from the confrontation the day after President Trump's announcement, there were two other significant clashes between soldiers and students in recent months, with soldiers entering the campus and firing stun grenades, teargas and rubber-coated metal bullets. The first was on Tuesday, 12 December 2017; the second was four months later, on Wednesday, 25 April 2018, the day a ceremony was held on campus to mark Prisoners' Day. Since 7 December 2017, the military has arrested 12 students on campus and its environs. 
After what happened on Prisoners' Day, the military shut down the campus for two days. In response, the university contacted the DCO. Since then, students have reported that the harassment and delays have eased somewhat, but have not stopped altogether. 
The soldiers' conduct at the entrance to the campus has almost become an expected routine. Yet there is nothing routine about students having to get past soldiers in order to enter an academic campus. Delaying the students and harassing them on their way to classes infringes upon their fundamental right to move freely, study and lead an ordinary social life. For students in most countries, these rights are a given, a matter of course. Yet for the hundreds of students at the al-'Arrub campus, even the most basic of rights are subject to the whims of the military. It views these rights as privileges that the soldiers may deny at any time, with no justification and certainly no accountability. This is yet another example of the daily, arbitrary abuse of Palestinians in the West Bank, and the military's cynical use of its power. 
 
In testimonies given to B'Tselem field researchers Manal al-Ja'bri and Musa Abu Hashhash, students and journalists described the daily routine of harassment created by the soldiers' presence at the entrance to the campus: 
Hazem Dhiab, 18, a student from al-'Arrub Refugee Camp, related in a testimony he gave on 8 May 2018: 
I'm a first-year student. I'm studying accountancy. After Trump's declaration recognizing Jerusalem as the capital of Israel and after the protest the students organized the next day, things on campus changed. Suddenly we saw soldiers stationed every day at the main entrance to the campus. They detain students, search their bags going in and out and take photographs of them. I saw soldiers arrest students near the main entrance on more than one occasion. 

I live very close to the main entrance, but after they started humiliating students, taking their pictures and arbitrarily arresting them, I decided to stop using it to get to campus. When classes are over, I leave via the entrance near Beit Ummar get a ride to the camp from there. I'm not the only one who does that. 

Things got worse when they closed the gate for two days, on Thursday and Saturday, 26 and 28 April 2018 [there are no classes on Fridays]. After that, the gate was opened again but soldiers still stand there from morning to night. It looks like they're detaining fewer students, but they haven't stopped altogether. Six days ago, I decided to go through the main gate after all, and was detained. A soldier took my identity card and my bag and accused me of throwing stones. Then an officer came and took me to a military post near the al-'Arrub cemetery. He told me he knew I hadn't thrown stones, even though the soldier said otherwise, but warned me not to throw stones in the future. Then he gave me back my bag and my ID and let me go. 
Diaa Hasaniyyah, 18, a student from al-'Arrub Refugee Camp, related in a testimony he gave on 8 May 2018: 
I'm in my second year of information technology and communications studies. In my two years on campus I have always seen soldiers, but they didn't used to cause any trouble. They would stay in the military vehicles and we would go in and out of the campus freely. That's how it was until the students held a demonstration protesting Trump's declaration that Jerusalem is the capital of Israel. During the protest, clashes took place and the soldiers fired stun grenades, teargas and "rubber" bullets inside the campus. After that, we suddenly started seeing many more soldiers at the main entrance to the college. They started provoking students, checking their IDs and sometimes taking photographs of them. In response, some of the students – and sometimes also other passersby – started to sometimes throw stones at the soldiers. Things got tense on campus. 

Two weeks ago I left campus for home through the main entrance. One of the soldiers detained me and asked to see my ID card. He ordered me to stand over on the side, and didn't even check my card. Fifteen minutes later he came back with a tablet, and started asking me about photographs of other students. I told him I didn't know them. He kept me there for more than an hour and did the same thing to other students. After he gave me back my ID card, I ran out of there.

On Wednesday, 25 April 2018, clashes took place on campus. Soldiers fired stun grenades, teargas and "rubber" bullets. While I was filming what was happening on my phone, I was hit in the right knee by a "rubber" bullet. Another bullet hit my phone and smashed the screen.

Since that day I've tried to avoid the main entrance whenever I see soldiers are there. I've already seen several arrests at the gate. A lot of students come in by the side gates. Although I live in al-'Arrub, I have to take a detour and come in through a side entrance, via Beit Ummar. Some students ask taxi drivers to drive into the campus to avoid going through the main gate. We're afraid of being arrested at there. 
Rana al-Hamuz, 20, a student from al-Fawwar Refugee Camp, related in a testimony she gave on 9 May 2018:
Rana al-Hamuz. Photo by Musa Abu Hashhash, B'Tselem, 9 May 2018

I'm in my second year of communications studies. I get to campus every day via the main gate. When I first started studying I would go in and out freely. The trouble began after the students' protest against the US president's decision to recognize Jerusalem as the capital of Israel. Now there are soldiers at the main entrance to the campus all the time. They check our ID cards going in and out, and sometimes also take photographs of us and search our bags. Apart from that, they also entered the campus three times and fired stun grenades, teargas and "rubber" bullets. 

On Wednesday, 25 April 2018, there was a ceremony on campus to mark Prisoners' Day. There were a lot of soldiers at the front gate and they provoked students leaving for home. There was a settler with the soldiers taking photographs of students. The soldiers fired stun grenades and teargas, shoved us and wouldn't let us near the gate. One of the soldiers shoved me in the back with his rifle. The next day, the military closed the main gate with no prior notice. I went to university as usual, found the gate closed and waited a whole hour before turning around and going back home. There were no classes that day. 

Things on campus have been very tense recently, because there are soldiers at the entrance all the time. Many students, friends of mine, take a detour to avoid running into the soldiers at the front gate. 
Mus'ab a-Tamimi, 26, a journalist and married father of two from Hebron, related in a testimony he gave on 18 April 2018: 
Mus'ab a-Tamimi. Photo by Musa Abu Hashhash, B'Tselem, 18 April 2018

I'm a reporter with Al-Hadath, the Ramallah-based newspaper. This morning at 11:00 o'clock I went to the Al-'Arrub Technical University with another journalist, Muhammad Hlaiqah, because we'd heard there were clashes between the students and soldiers. We met another journalist there, Sari Jaradat. 

When we got there, we saw the clashes were still underway. The students were throwing stones and the military responded by firing stun grenades, teargas and "rubber" bullets. The minute we got there we saw the soldiers arrest a student. The three of us filmed what was going on. 

We had just started filming when four soldiers came over and assaulted us. They grabbed our phones and cameras, punched us and kicked us. The soldiers knocked my friend Muhammad Hlaiqah to the ground, kicked him and stepped on him. Then they had him get up and took him to a military jeep. As for me, they handcuffed me with plastic cable ties.

A few minutes later, a senior officer came over and told us we could leave. A soldier cut the cable ties on my hands and gave us back our stuff. The officer ordered us to move back and not to film them. 

We all had press cards. We were wearing press jackets that had PRESS printed on them in English, but the soldiers ignored that. I'm still in a bit of pain because of the beating we got, especially in the waist. After they gave us back our cameras, we saw they'd erased all the footage we'd filmed.