The village of Qibyah. Photo: Iyad Hadad, B'Tselem, 25 Dec. 2012
The village of Qibyah is located in the central West bank, west of Ramallah, just two kilometers east of the Green Line, and its land extends over 513 hectares. According to the Palestinian census of 2007 there were 4,900 residents in Qibyah; at present there are about 6,000. In 1991, the Civil Administration drafted a master plan for the village, which covered 74.2 hectares. The plan delimited the area of the village built-up area at the time and did not include land for future expansion. The Oslo Accords classified about 110 hectares of Qibyah land – some 21.5% – as Area B, and that is the area on which the village residents are currently permitted to build. The rest of the village land, over 400 hectares (nearly 80%), has been designated Area C.
With the growth of population in the village, land available for building became scarce and very expensive, and housing density increased. As a result, residents of Qibyah began building homes on village land located in Area C. In late December 2012, Wahid Hussein 'Abd Qatani, head of Qibyah's local council, told B'Tselem that there are 850 structures in Qibyah within the boundaries of the master plan, and about a hundred others outside of those boundaries – in Area C – in the village's northwestern, southern and eastern peripheries. The Civil Administration has issued stop-work orders for 34 houses and two agricultural structures built in these neighborhoods, on the grounds that they had no building permits. The majority of the 196 people living in these houses are children. The homeowners whose houses face the threat of demolition are being represented by the Al Quds Center for Human Rights, which applied to the Civil Administration for building permits on their behalf. The Civil Administration has not yet handed down its decision regarding these houses.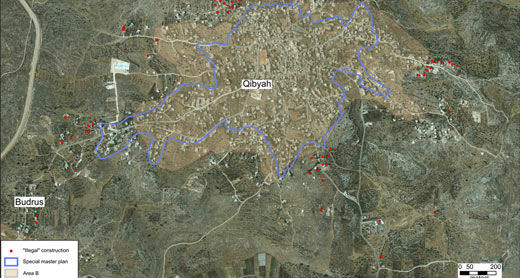 Aerial photograph of Qibyah, marked with borders of 2007 master plan, "illegal" construction and Area B borders. Click on photo to enlarge