Yesterday, I arrived at the Pharmacy checkpoint after work, at around 2:15 in the afternoon, and discovered it was closed... My 14-year-old daughter, Lama, was with me... There were other residents there complaining and shouting at the Border Police officers to open the checkpoint, but they didn't open it and just laughed at them. I yelled at the officers: "How can I get home if you close the checkpoint"? One of them answered: "You could fly to your house". My daughter and I stayed there, in the rain, for about two hours. Finally, my husband came and called the Palestinian DCO and the Red Cross, until they opened the gate for us and we went through. I still don't have a clue why the checkpoint was closed.
From the testimony of Sahar al-Muhtaseb, who lives on a-Sahla Street.
Some 40,000 Palestinians and 800 settlers currently live in the Hebron city center (Area H2). Israeli authorities impose a regime there that is openly based on the "principle of separation", resulting in legal and physical segregation between Israeli settlers and Palestinian residents. Palestinians who live in the city center are subjected to extreme restrictions on their movement by car or on foot – including the closure of main streets. Meanwhile, the settlers are free to go where they wish.
This regime is upheld partly through 20 permanent checkpoints that the military has set up in the area. These checkpoints are staffed around the clock; in some, Palestinians are denied passage at night. The military occasionally closes a checkpoint arbitrarily, with no prior notice, citing security needs without providing specifics. When this occurs, residents are forced to take bypass routes that are often unpaved. This makes it difficult for persons who have trouble walking, and generally lengthens the journey.
In some areas, the military imposes especially stringent restrictions. For example, the neighborhood of Tel Rumeidah is closed off to all Palestinians except those who live there, leaving its residents entirely isolated. Soldiers who staff the checkpoint at the entrance to the neighborhood keep a list of registered residents, and deny entry to any Palestinian not on the list. In a-Salaimeh, the military built a fence down the middle of the neighborhood. A gate installed in the fence is opened at various times throughout the day, purely as the soldiers see fit. When the gate is closed, residents must take a long bypass route or climb over the gate to get home.
Crossing the checkpoints entails long and humiliating security checks, and residents report abuse by soldiers. The soldiers are given free rein to decide whom to check, how to carry out the inspection and how long it will last. Residents report sometimes waiting for long periods, at times hours on end, until soldiers let them through.
These restrictions impact every aspect of life for Palestinians living in the center of Hebron, preventing them from maintaining a normal routine and making their lives intolerable.
Below are some of the testimonies collected by B'Tselem field researchers Manal al-Ja'bri and Musa Abu Hashhash in recent months, in which Hebron residents describe how the checkpoints affect their daily lives: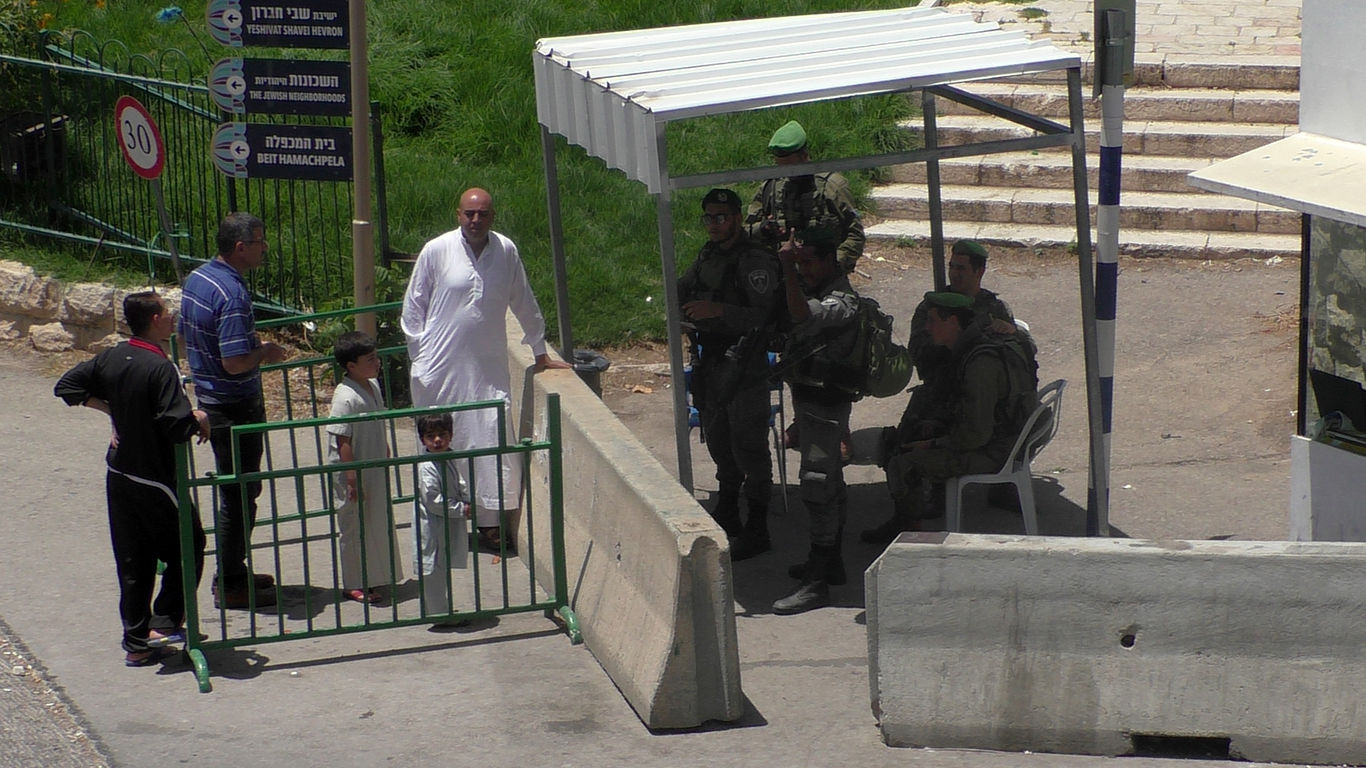 In a testimony she gave on 6 November 2018, Sahar al-Muhtaseb, 34, a mathematics teacher and married mother of five who lives in the a-Sahla neighborhood, said:
I teach maths at Al-Quds, a school in the Wadi al-Qadi area. I'm currently six months pregnant. Our house is across from the 'Abed checkpoint, southwest of the Tomb of the Patriarchs (al-Haram a-Sharif). There are many other checkpoints around my house, including the al-Haram al-Ibrahimi checkpoint, the al-Mahkama (a-Sahla) checkpoint, the Pharmacy checkpoint, Checkpoint 106 and the Bakery checkpoint. I have to cross some of them on a daily basis, particularly the al-Mahkama, 'Abed and Pharmacy checkpoints, to get to work. My husband also has to cross these checkpoints on his way to work at the Hebron Municipality and our children on their way to school.

We have to wait for a long time at these checkpoints and are also subjected to daily harassment and inspection of our bags, groceries or anything else we're carrying. To get gas tanks to the house once a month, we have to get approval and security coordination from the Civil Administration through the Palestinian DCO.

On Jewish holidays, the movement restrictions are worse and our homes become prisons. My children get to school late because it's in the Bab a-Zawiya neighborhood, and the main gate at the Haram al-Ibrahimi checkpoint (Tomb of the Patriarchs West (1)), which leads directly to the school, is closed. This means the children have to take a long bypass route. First, they cross the Abed checkpoint on foot. Then they walk another fifty meters towards the Tareq Bin Ziad intersection, where they have to take a taxi that takes them to the Bab a-Zawiya neighborhood, where again they have to walk until they get to school. It takes at least twenty minutes longer.

Even when there are no holidays, the situation is impossible. On the way home from work, I usually have to wait with my young son, Hamzah, who is four, for an hour or two at the Pharmacy checkpoint, even when it's cold and rainy. Sometimes, when the school day is over, students get into clashes with the police officers and soldiers at the checkpoint. Then the forces fire teargas canisters and close the checkpoint. That's exactly the time I get to the checkpoint, and they don't let through until the clashes are over. It can take hours. I find it especially hard now, because I'm pregnant. It's very hard to wait there, and inhaling the teargas could put the fetus at risk.

Yesterday, for example, I got to the Pharmacy checkpoint after work, at around 2:15, and found it closed. This time, my 14-year-old daughter, Lama, was with me and Hamzah wasn't. It was pouring with rain. There were other residents there complaining and shouting at the Border Police officers to open the checkpoint, but they didn't open it and just laughed at them. I yelled at the officers: "How can I get home if you close the checkpoint"? One of them answered: "You could fly to your house". My daughter and I stayed there, in the rain, for about two hours. Finally, my husband came and called the Palestinian DCO and the Red Cross, until they opened the gate for us and we went through. I still don't have a clue why the checkpoint was closed.

Today, on my home from work at around 2:00, the Pharmacy checkpoint was closed again. Some other women and I asked the Border Police officers to let us through, but they refused. Finally, my husband Luai came with the field researcher from B'Tselem, Manal al-Ja'bri, and she filmed what was going on. The Border Police officers pushed her and tried to get her out of there, but she kept on filming. After about ten minutes, they must have felt uncomfortable about the filming, so they opened the gate.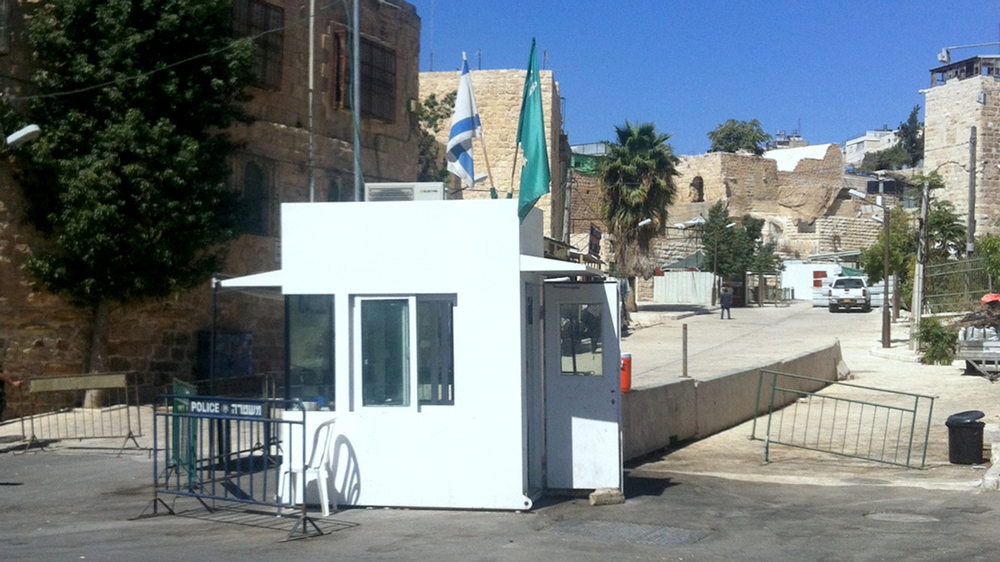 In a testimony she gave on 1 August 2018, Maysaa al-Ja'bri, 30, a married mother of three from the al-Ja'bri neighborhood, related:
The settlement of Giv'at Ha'avot was built near our house, and the military put up the Giv'at Ha'avot checkpoint (al-Muhawal) about 300 meters away. Our house overlooks the Kiryat Arba road which leads to Wadi al-Ghrus and Wadi a-Nassara. We live in an area that's surrounded by checkpoints. A year ago, they put up another checkpoint in front of our house, about twenty meters away - the Wadi al-Ghrus checkpoint. Now they're building another checkpoint, about 800 meters south of the Wadi al-Ghrus checkpoint. It isn't staffed yet.

Living here is like being in prison. I'm cut off from my parents and relatives. My mother is an elderly woman and has a hard time walking to my house, but the military has banned Palestinian cars from entering this area for about 17 years, so she hardly ever visits me. We can't move to a different neighborhood because my husband, who is a cleaner at a plastics factory, earns only about 1,800 NIS (about 480 USD) a month, which is not enough to live somewhere else.

We are cut off from the world here and have to walk long distances, carrying our shopping or even gas tanks. We wait at checkpoints for a long time and undergo inspections. Sometimes they close the checkpoints for security reasons and we have to take long detours on foot, on bad roads.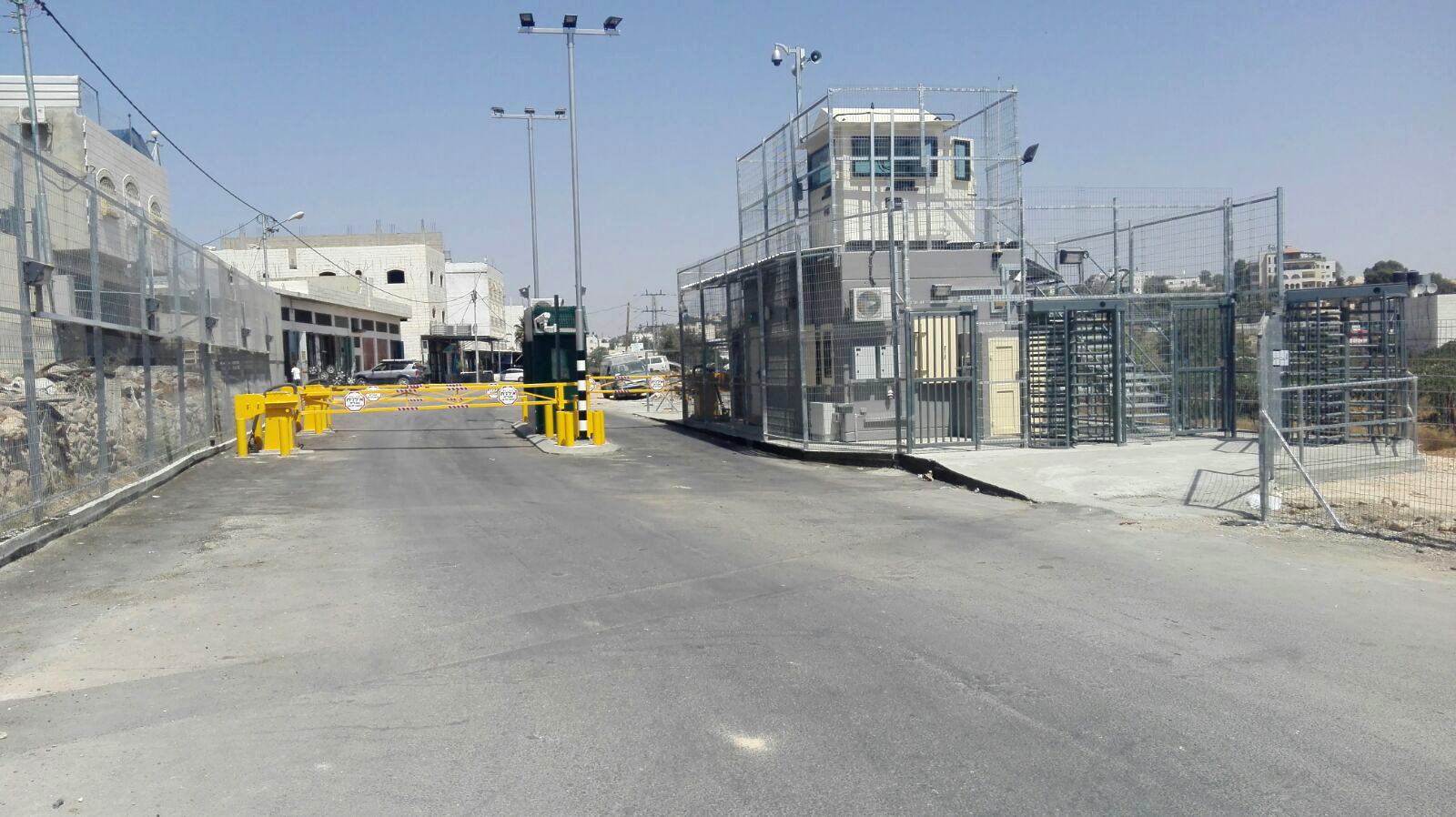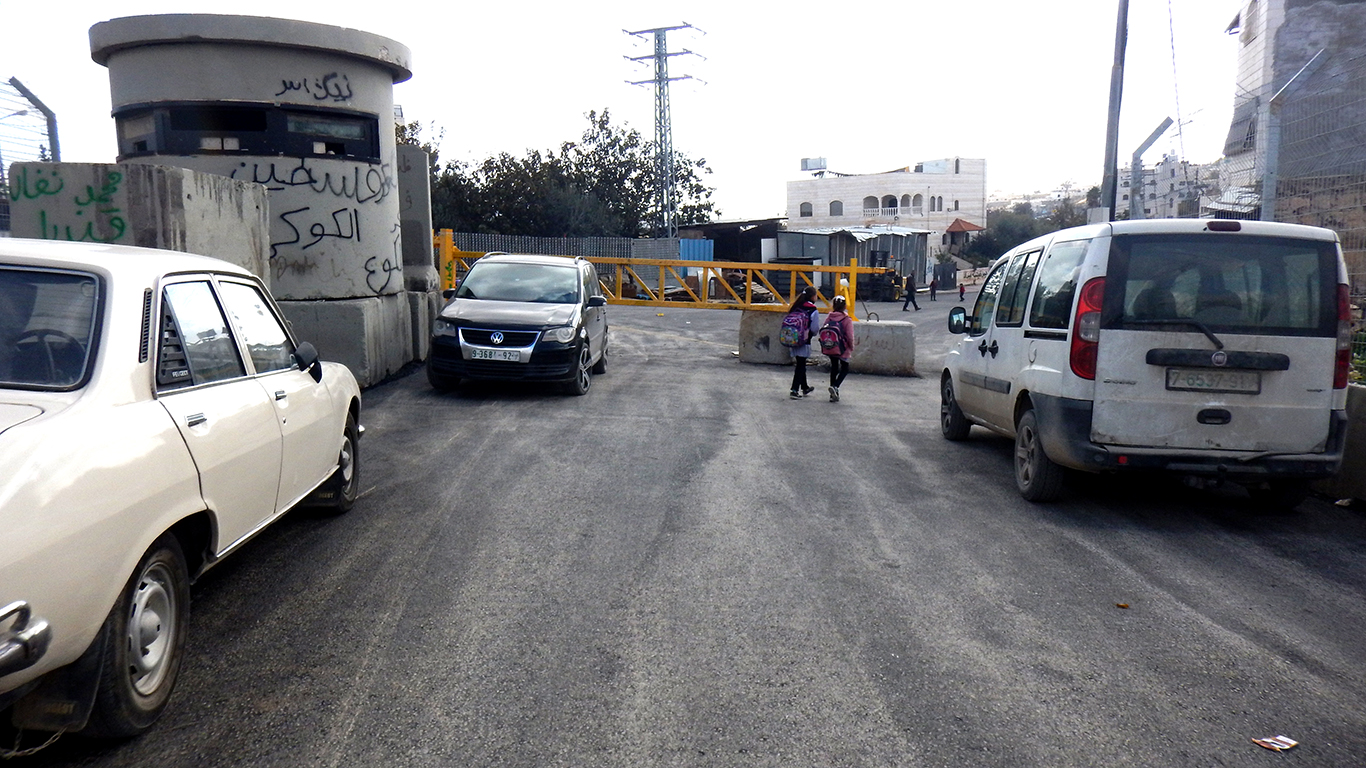 In a testimony he gave on 15 July 2018, Muhammad Qasrawi, 69, a husband of three and father of 24 who lives in the neighborhood of Jabal a-Rahmeh, said:
Muhammad Qasrawi. Photo by Manal al-Ja'bri, B'Tselem

Our house overlooks the neighborhood of Tel Rumeidah in the center of Hebron. I live with my extended family - my wives, children, grandchildren and daughters-in-law. I raise cows, sheep and goats near the house and make a living selling the milk. Up until three years ago, I would ride a donkey around the city and sell the milk to the locals. I'd always go through Tel Rumeidah as a short cut to Bab a-Zawiya, the Old City and other neighborhoods. I used that road for more than 25 years. I went home that way, too. The soldiers at Checkpoint 56 and the Gilbert checkpoint would let me through on the donkey and it would take me only seven minutes to get to Bab a-Zawiya. I'd make 150 NIS (about 40 USD) a day, and it was enough to support my large family.

About three years ago, the military started restricting travel in Tel Rumeidah and added more checkpoints. Now there are three checkpoints around the neighborhood, with scanners and strict inspections. Even though I don't live in Tel Rumeidah, the soldiers sometimes let me across because of my age. They don't let the donkey through, though. I contacted the Palestinian DCO and human rights organizations several times, but no one has managed to solve my problem. When I sold milk, I would make about 150 NIS a day, which is considered a pretty good sum of money to support a large family like mine.

I tried to sell milk further away from the checkpoints and take alternative routes, but it was long. It would take me more than 45 minutes to get to Bab a-Zawiya. On hot days, the milk went sour before I could sell it. I'm an old man. At my age, it's hard to switch to a different line of work or find profitable work. I inherited the milk business from my father and worked at it for 25 years.

Now I work as hired help at a clothing store at the end of a-Sharq al-Awsat Street, a few meters away from the settlement of Beit Romano. The store hardly makes any profit and only loses money. People don't come to shop at the Old City any more because of the checkpoints and the attacks by settlers. We hardly sell 100 NIS worth of goods a month. I go to the store just to feel that I'm still alive and escape the daily misery. I sit there all day and no one comes to shop. There are dozens more stores on the street, which the owners open for about two hours a day and then close. No one makes any sales on this street.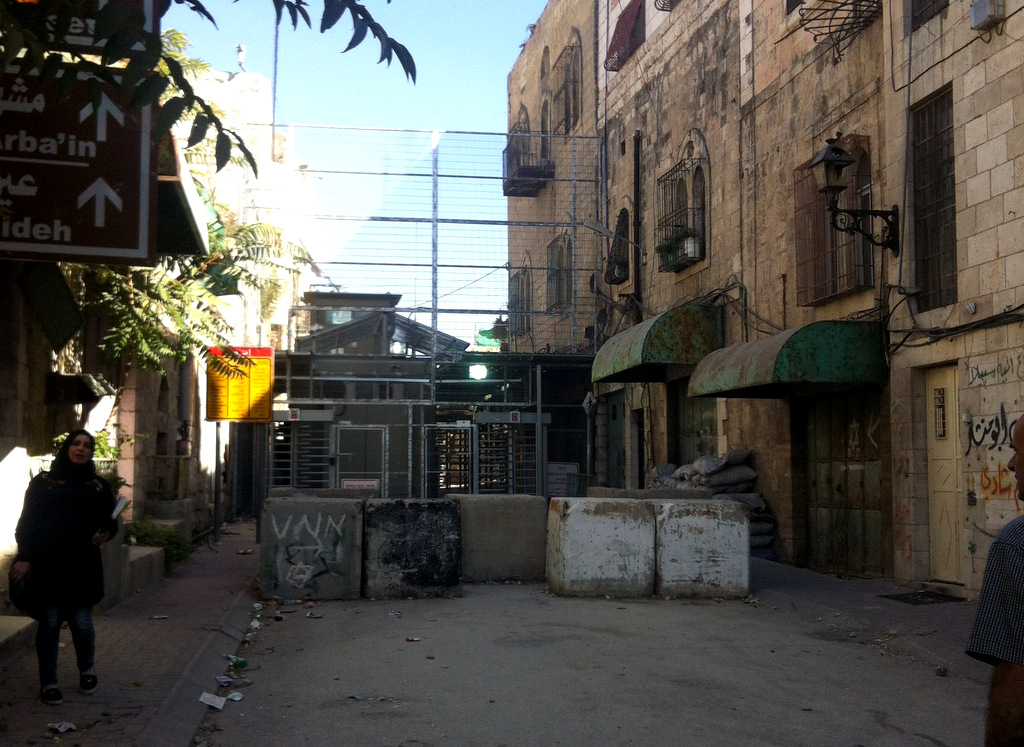 In a testimony she gave on 2 July 2018, Marwah Abu Shamsiyeh, 15, from Tel Rumeidah, said:
Marwah Abu Shamsiyeh. Photo courtesy of the family

I have lived in this house with my parents and my three brothers ever since I was little. I'm in grade 10 at the al-Yaqubiya school which is on the old a-Shalala Street in the Old City. The school is about a kilometer and a half from my house. As far back as I can remember, life here has felt like a prison. Our house is surrounded by a fence that looks like a prison fence. The Gilbert checkpoint is at the entrance to the neighborhood, about 200 meters from our house. I spend most of my time after school and on holidays at home. There's nowhere to go around here, no parks or anything else.

Three years ago, the situation got much worse. The soldiers started banning our relatives from entering the neighborhood. I miss my aunts and uncles and their children a lot. None of them come to visit us like they used to, not even on the holidays or on special occasions. During Ramadan, Dad didn't even invite relatives for Iftar (the fast-breaking meal) because they can't come.

Every time I come home from school, the soldiers at the checkpoints search my bag. We wait at the checkpoint for a long time until one of the soldiers decides to open the gate. Palestinian cars are not allowed to drive in this area at all, and my parents have to carry the shopping on foot through the checkpoints. It's hard for them. My father has a problem with his leg and my mother can't carry everything on her own, so they call me to come down to the checkpoint and help them.

I feel lonelier as time goes by. Because of the violence of the settlers and the soldiers, my father decided that it would be better for two of my brothers to go live somewhere else, with my uncles in al-'Eizariyah east of Jerusalem, because my parents worried they'd be attacked. Settlers have attacked my brothers and me more than once. Now that they're gone, I'm even lonelier.

We have a big house and I like it a lot, but life here has become unbearable. My father considered looking for a house somewhere else a few times, but we couldn't afford the rent because the prices are much higher in other neighborhoods.

The isolation of this neighborhood is a big problem for young women. I know a few families who left Tel Rumeidah because no one wants to marry girls who live here, since the neighborhood is closed. I worry that the same thing will happen to me and I'm planning to keep asking my father to look for a different home for us, without checkpoints or settlers. Somewhere I can be in touch with relatives and other people, where I can visit them and they can visit me, not like the prison we live in now.