In June, we released our findings about the round of hostilities between Israel and militant organizations in Gaza in early May and the civilians killed and injured by Israel. Today, B'Tselem releases the findings of further research focusing on two buildings that were targeted and destroyed after the military gave their occupants only several minutes to vacate the premises, and on the immense harm caused to commercial and residential tenants in them.
According to UN figures on this round of hostilities, Israeli bombardments destroyed a total of 100 units, 33 of them residential. Another 30 units were severely damaged, including 19 residential units, bringing the total number of residential units rendered uninhabitable to 52. This left 52 families, consisting of 327 individuals including 65 children under the age of five, homeless. Some 700 additional residential units sustained damage.
These air strikes, like those launched by Israel during Operation Protective Edge, which to date have left some 2,300 families – about 13,000 people – without a home of their own, were founded on an erroneous and morally corrupt interpretation of international law. Yet Israel will again pay no price whatsoever for its policy regarding bombings in Gaza. As per usual, Israel disavows any responsibility for the horror and destruction it wreaks on the Gaza Strip with every new round of hostilities.
In testimonies given to B'Tselem field researcher Olfat al-Kurd, tenants described the terror of having to vacate the premises on a moment's notice and the devastating impact of the attacks on their lives.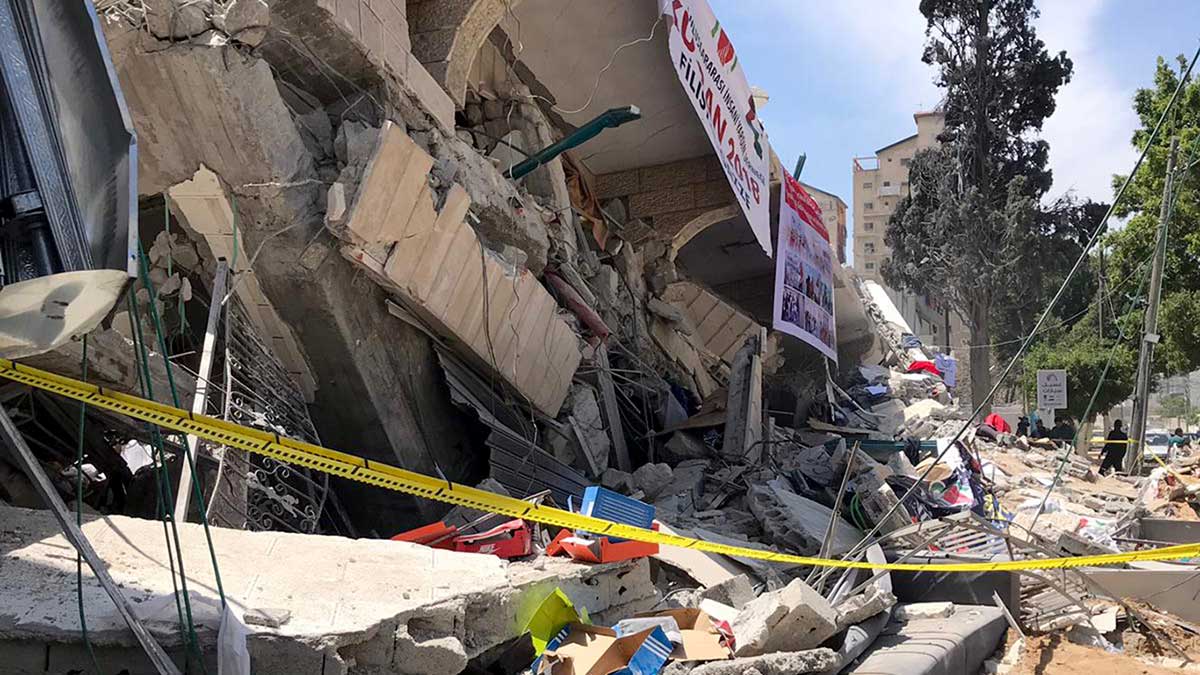 Al-Khazandar building, Gaza City, 4 May 2019
On Saturday, 4 May 2019, at around 9:00 P.M., the military informed neighbors of the seven-story al-Khazandar building in the western Gaza City neighborhood of Rimal that it was about to strike the building and that they must evacuate. At 9:30 P.M., Israeli aircrafts attacked the building. The military claims that the building housed Hamas offices that served the West Bank staff apparatus of Hamas and the Islamic Jihad. B'Tselem research indicates that the building was owned by four brothers from the al-Khazandar family and had eight vacant residential units which the brothers were keeping for their children, as well as several NGO offices, Islamic Jihad offices and four stores on the bottom floors.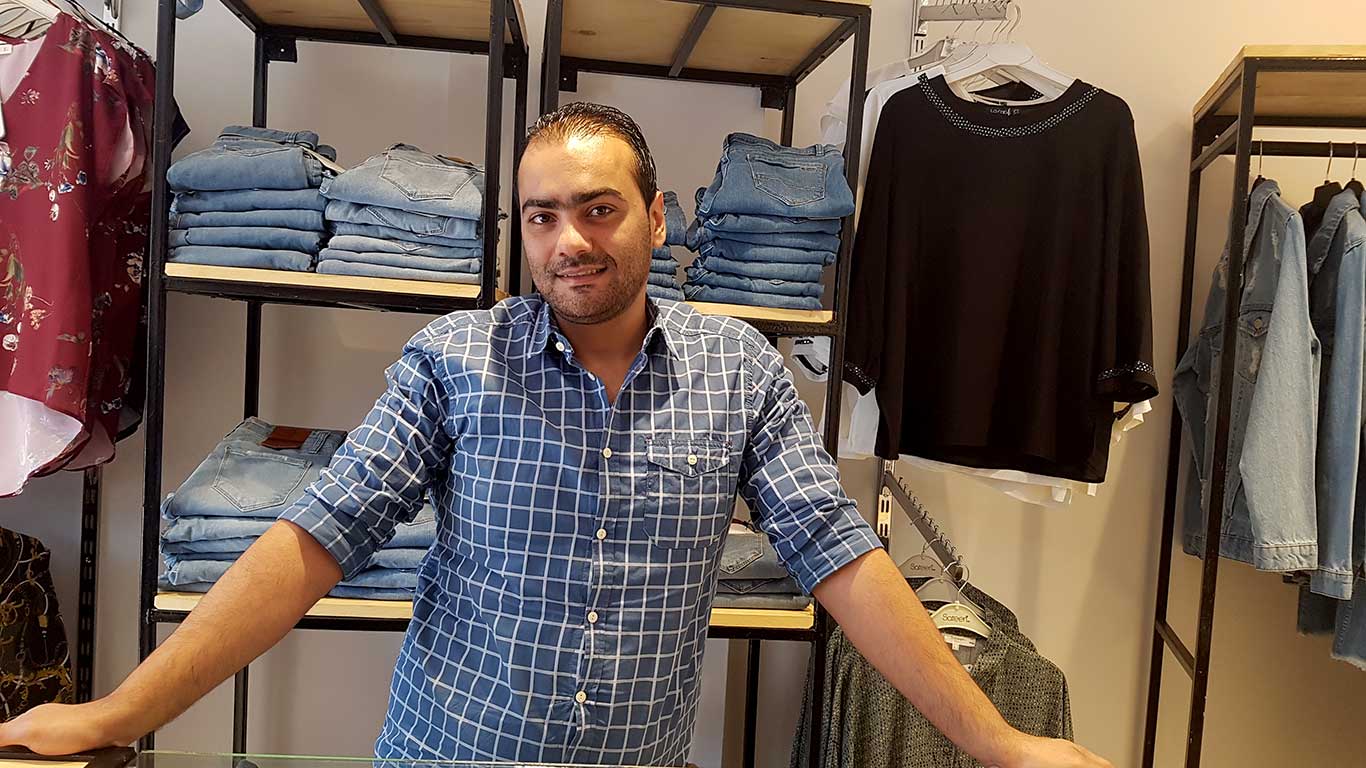 Mahmoud a-Nakhaleh, 29, a married resident of Gaza City, had rented spaces on the two bottom floors of the building for the past three years, where he ran a women's clothing shop. In a testimony he gave on 11 June 2019, he said:
On 4 May 2019, a bit before 9:00 P.M., I closed my shop and went into the shoe store next to me. We heard a commotion on the street. Neighbors, from the Beit al-Husari building next door were shouting, telling us the military had called them and said it was about to bomb the al-Khazandar building, which is our building, and that we had five minutes to get out. We quickly left the building and stood about a hundred meters away.

We saw a drone fire two small missiles to make people vacate the building. A few minutes later, another missile was fired on the road by the building. I tried to go back into my store to get the merchandise out, but security forces and other people who were there wouldn't let me.

At 9:30 P.M., they bombed the building with two missiles. It was reduced to a pile of rubble.

I felt like I was about to have a stroke. I couldn't believe my eyes. I lost my business and the merchandise that was in the store. There was $50,000 worth of merchandise from Turkey on the second floor, that I received about a week ago. I was planning to sell it during Ramadan and over the holiday.

I don't know why the Israeli military hurt us in such a barbaric way. I don't belong to any organization or faction in Gaza. I'm a self-employed young man who's working for my own and my wife's future, and for my father's, who invested in the business and is helping us make a living. I lost everything I had. All the work I put in was lost right in front of my eyes. What did I do? My future had turned black.

After the bombing I wanted to leave Gaza, but my father made me go back to work. You have to go on living. We decided to open another store near the al-Khazandar building. We rented a smaller space and spent thousands of shekels on rent and on new merchandise. I borrowed the money from friends and family, so I could get back up on my feet.

I don't feel like working. The store that was bombed is 50 meters away from me, and everything is there under the rubble. I haven't managed to salvage anything so far. I have nightmares every night because of the business and the money I lost. It was right before Id al-Fitr, which is supposed to be the busiest time for clothing suppliers and retailers in Gaza. I haven't received compensation from the Employment and Economy Ministry to this day. It's as if no one cares about the disaster that has befallen us.

My wife and I want to leave the Gaza Strip and move somewhere where we can build a good life, make a living, and enjoy basic rights. A place with a future. I don't feel like a human being. I lost hope after my business was destroyed. The Israeli military destroyed our lives and left us with nothing.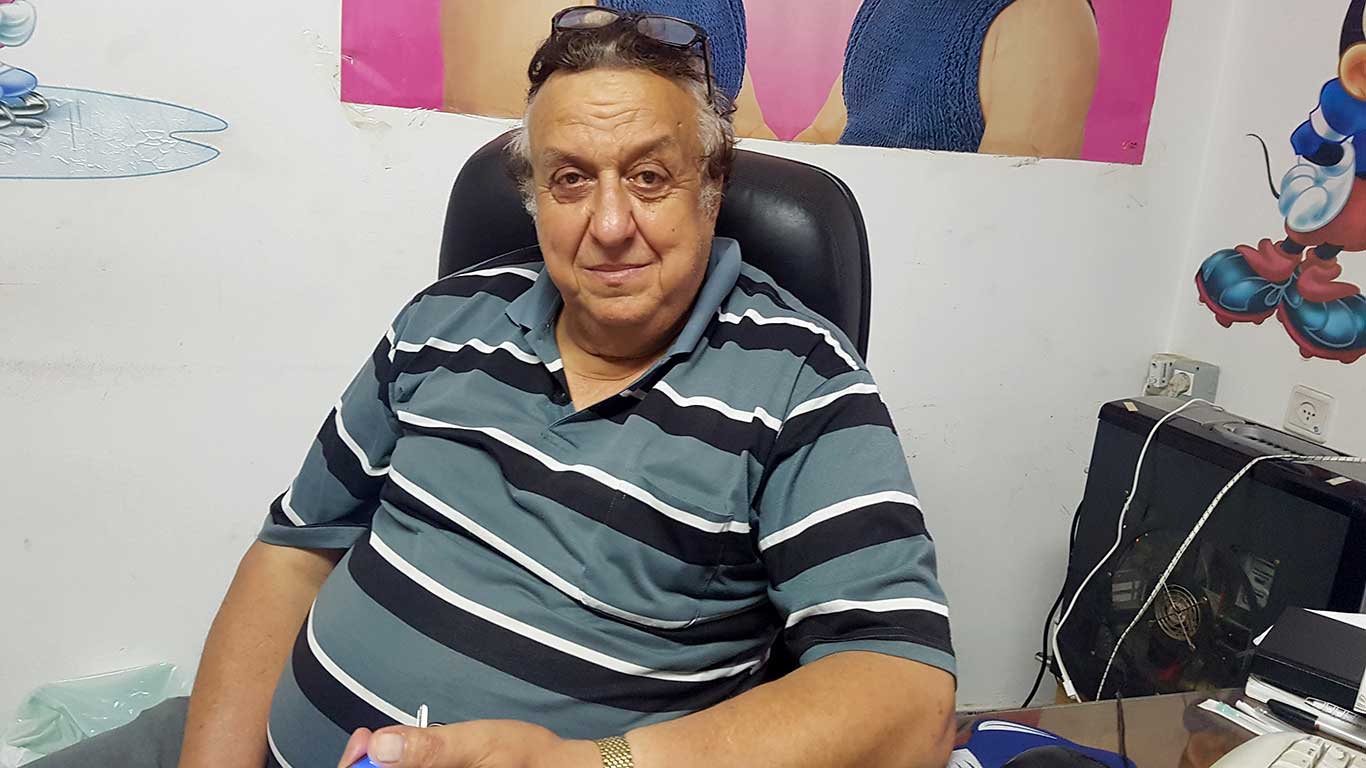 In a testimony he gave on 19 May 2019, Diaa al-Khazandar, 66, a retired physician and married father of three who is one of the building's owners, said:
On 4 May 2019, at 9:30 P.M., I was at home in the Rimal neighborhood when I learned from neighbors of the building we own that it had been hit by two warning missiles and that about 20 minutes later, Israeli warplanes had bombed the building and turned it to a pile of rubble. We didn't get any warning phone call from the military. I don't know why they bombed it so barbarically. It's not a military installation.

My brothers and I built that building and put all our savings into it, so that it would provide us with income and our children with apartments once they got married. Within minutes, everything we invested was buried. My life was turned upside down. My hopes were dashed. My future became dark. The building was a source of hope and income for us and for our sons. They are hemming us in with the blockade by land, air and sea.

This wasn't the first time Israel hurt our family. In 2008, Israeli bulldozers demolished my home in the Beit Lahiya area in the northern Gaza Strip. It was a two-story, 180-square-meter house. We've been living in rentals ever since. They also bulldozed the tile factory my brothers and I had in the Nahal Oz area, east of Gaza City.

Now, they've demolished our building too. I'm an ordinary person, a doctor. I don't belong to any party.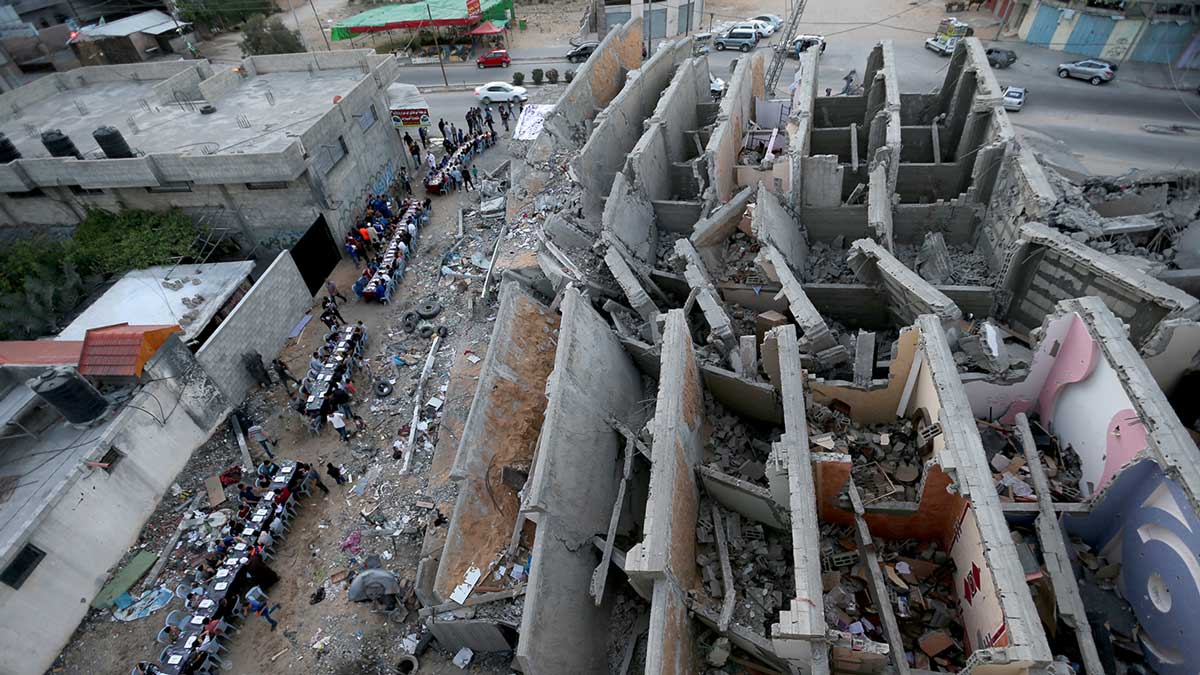 Al-Qamar building, Gaza City, 5 May 2019
On Sunday, 5 May 2019, at around 5:00 P.M., the military informed residents of the al-Qamar building in the neighborhood of Tal al-Hawa, in eastern Gaza City, that it would soon strike the building and they must evacuate. Several minutes later, before all the occupants had managed to leave, an aircraft fired a "warning missile" on the building. After the occupants left, several more "warning missiles" were fired at and around the building. About 30 minutes later, at approximately 5:30 P.M., the building was struck by several assault missiles and completely destroyed.
The military reportedly claimed Hamas had dug tunnels under the building. Research conducted by B'Tselem indicates that the seven-story building had four stores on the ground floor, an Islamic Jihad aid association office, and 21 residential units that were home to seven families numbering 55 members, 23 of them minors. All were left homeless.
Khamis Zaidah, 53, a Transport Ministry staffer who is married to two women and a father of 12, lived in a 250-square-meter unit on the first floor of the building with seven of his children, ages 3 to 26. In a testimony he gave on 22 May 2019, he related:
Khamis Zaidah. Photo by Khaled al-'Azayzeh, B'Tselem, 29 May 2019

On Sunday, I got a call from an unidentified number at around 4:45 P.M. The voice on the other end asked if they were talking to Khamis Zaidah. I said yes and asked who I had the honor of speaking with. He said he was from the Israeli intelligence. He said: "There's an elementary school across from your house. Are there any children there now"? I said: "It's a holiday. There's no one there". He said: "You have to let the residents of the tower know they have to evacuate within five minutes. We're going to bomb it. I'll call you back in five minutes".

I fled with my two wives and our children. We told all the residents the army was going to bomb the tower. There was a total panic. We left in our bare feet. We took nothing from the house with us. I went up to the top floors and found a woman there paralyzed with fear. One of my children, 'Amer, 24, hoisted her on his shoulders and brought her down to the street. Then, he continued to check the building, and even climbed to the roof and shouted as loud as he could until he was sure everyone had left the tower.

As residents were still descending, a warning missile hit the building. After everyone was out, drones fired a few more missiles. I started shouting to the people who were standing outside: "Get back"! I was scared they'd get hurt. I was a nervous wreck. After that, I got another call from the Israeli intelligence. They asked if the building had been completely evacuated. I said it had.

At around 5:30 P.M., several missiles hit the building. It collapsed. All that was left was a pile of sand. I lost my smile and my zest for life along with that building. I didn't have time to take anything out. My son, who recently got married and lives with me, also lost all of his belongings.

We stood outside the building. Later, I went with my wives and children to the debris. I tried to say goodbye to the home I'd invested my life in. We considered moving in with my wife's brother, but in the end, a neighbor who lives near the building that was bombed opened his home to us. We moved there on the same day. We're all going through a very hard time emotionally. We keep crying about the home we've lost. We'll always remember the home we had. I paid about $50,000 for the apartment, in monthly payments, and I spent some more on the renovations. We lived on a tight budget for a long time so we could renovate.

Our building was bombed for no reason. True, there was an Islamic Jihad charity there – the Support and Aid Foundation – but it's just an organization that helps university students. If that was the reason for the bombing, they could have just bombed the relevant floors and not the whole building. We are innocent.
Ghadah al-Wakil, 30, is a homemaker and a married mother of three. Her family had been living in a rental apartment on the building's fifth floor for some three years. Her parents and four of her siblings lived in the apartment across the hall. In a testimony she gave on 28 May 2019, she said:
At 4:45 P.M., I was home with the children, without my husband Tamer. My sister, Shatha, 16, came into our house yelling: "Bombing! Bombing"! I didn't understand what she meant. I thought maybe someone in the family had been hurt in a bombing. It took a while until I realized they were going to bomb the tower. I picked up my son Muhammad, who is 18 months old, and tried to call Tamer, but he didn't answer. In the meantime, without my noticing, my sisters had taken my other two kids, 'Alaa, 7 months, and Yamen, 6, and left. I started shouting and looking for the kids. In the meantime, my husband called me back. I told him while screaming in a panic that the tower was going to be bombed and I didn't know where our kids were. I was terrified. I went into the neighbors' unit and asked them where the kids were. I was so scared, I didn't realize I was actually holding Muhammad.

My mother came and took Muhammad away from me. I waited in the apartment for my husband with my brother Mustafa. When my husband came, I took a last sad look at our apartment, and then we went down. All the residents were in the stairway. Everyone was shouting very loudly.

A warning missile hit the building while we were still inside. I went into the street. All the neighbors were there. I didn't see anyone from my family – not my parents, nor my children. I was scared they'd stayed in the building and that it would be bombed with them still inside. I kept looking for my kids until I found them. They were all with my parents. They were frightened, screaming and crying, barefoot and in their underwear.

My husband's family came and took us to their house. I was crying hysterically. I had hoped the bombing would hit only one floor, or one apartment, but when I heard it, I realized the whole tower had been destroyed. I called Tamer, who'd stayed near the building, and he told me all of it was bombed. I went into shock. For ten minutes, I just sat and said nothing. Everyone tried to talk to me, but I just kept quiet. I didn't understand what had happened. I still don't understand why they bombed my home, the building I'd lived in.

I left without taking anything except my cell phone. I left the expensive furniture, my clothes, my husband's and children's clothes, the kids' toys, our ID cards, even the pictures – photos of my kids, of our wedding. All of my memories were buried under the rubble. I was left with nothing but the clothes I was wearing.

We stayed in my husband's parents' home for ten days. It was tough. The room was small and crowded. Then we moved to a house my parents had rented. Their apartment was destroyed, too. I thought we'd rent our own apartment, but our financial situation is really hard. My husband is unemployed, and rent is high – at least twice what we paid in the building that was bombed.

Our children are in a terrible emotional state. Yamen hasn't gone to school since the bombing. They have nightmares and keep waking up at night. Yamen keeps talking about his room and his toys. They went through two weeks of panic. There wasn't a lot of food. They kept getting a fever. Muhammad has become very aggressive. He keeps hitting his brothers, breaking toys and screaming. We've lost so much. There's no compensation for the memories we had in that house. The scary evacuation, the anxiety and the shouting, were all a terrible experience. God willing, we won't experience that again.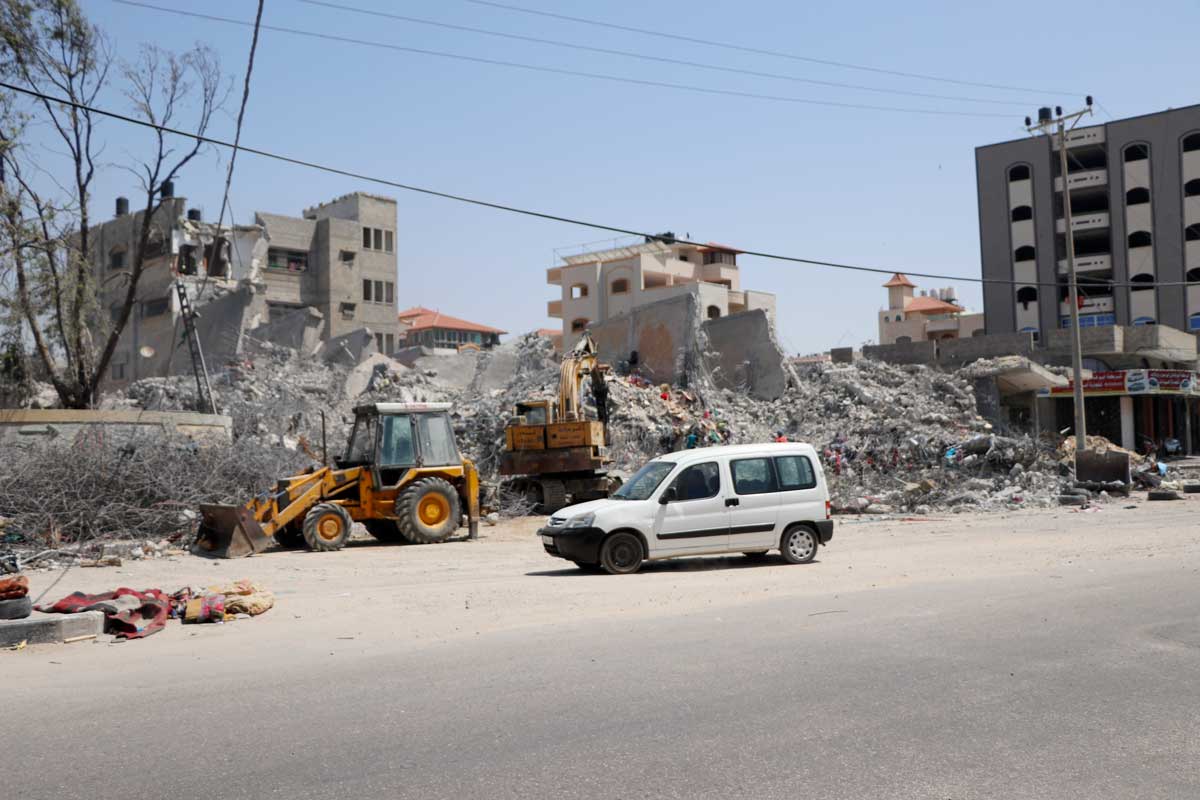 I'atimad Abu 'Eishah, 58, a married mother of seven, lived in a rental apartment on the second floor of the building with her husband and three of her sons and their families, including her four grandchildren aged 4 to 8. In a testimony she gave on 18 May 2019, she said:
I'atimad Abu 'Eishah. Photo by Olfat al-Kurd, B'Tselem, 28 May 2019

On Sunday, at around 4:45 P.M., we were all at home. Suddenly, we heard shouting in the building. I asked my son Kathem, 41: "What's going on"? Looks like there's a bombing". Suddenly, the neighbors shouted to us: "Get out of the house. Get down. The Israeli army is going to bomb the building". I panicked. I didn't know what to do. We all got very frightened, and my daughters-in-law went into shock. The children started screaming.

We left right away, wearing house clothes that aren't acceptable to wear outside. My daughters-in-law covered themselves with their prayer clothes. We put on our shoes as we were going down the stairs. My son Nael went down with his young girls, and they cried and screamed the whole way down. I needed help going down the stairs because I have a muscle implant in my right leg.

When we were going down, we thought they were probably going to bomb just a specific apartment in the building. I didn't think they'd bomb the whole tower. I saw all the residents on the street, crying and shouting near the building. A few warning missiles were fired at the building.

I left my husband and sons and went with my daughters-in-law and my grandchildren to my son's friend's house. About twenty minutes later, the building was bombed. Nael called me and told me the entire building had been bombed. I cried so hard for the house. My heart was broken, even though I didn't own it. It was my home, the roof over my head and my family's head. Now, I, my children, and my grandchildren have become homeless.

We stayed with my son's friend for about ten days, and then we found another rental apartment and moved in. It's unfurnished. There are no beds or appliances, and we don't even have kitchenware. The apartment we had before was very spacious, 250 square meters. It comfortably fit a family of eleven. We paid a lot of money for the furniture and had to leave everything and take nothing. Now everything is in ruins.

We all sleep on the floor, on mattresses we received from the Red Cross. I have no washing machine, no fridge. It's especially hard because it's Ramadan. My daughters-in-law have lost their gold jewelry, and my son lost merchandise for his store that he was storing at home. We even left our IDs at home. All of my daughters-in-law's belongings are under the rubble now: their wedding photos, their clothes.

My granddaughters, Nael's daughters, had a room full of toys, school bags and books. Everything is gone. It's all under the rubble, including their school uniforms. They haven't even gone to school since the bombing. They're having a hard time falling asleep because of the fear. They've also started wetting their beds again. I sleep next to them. When they hear a loud noise, they wake up screaming: "Grandma! Grandma!", thinking it's a bombing.