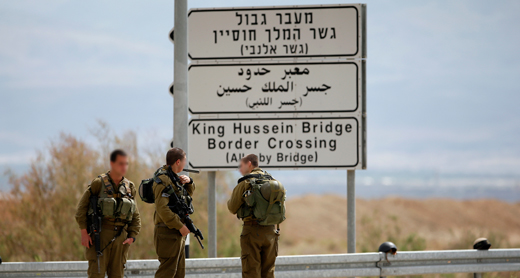 Soldiers near the entrance to Allenby Bridge Crossing. Photo by Ronen Zvulun, Reuters, 10 March 2014
Israel controls all West Bank entrance and exit points, so any departure from the West Bank requires Israeli approval. As Israeli authorities by and large deny Palestinians international travel via its sea ports or the Ben Gurion International Airport, the only avenue available to them for travel abroad is the Allenby Bridge Border Crossing, located about 5 kilometers east of Jericho. According to figures by the Palestinian Border and Crossing Authority, 809,559 Palestinians used the Allenby Bridge Crossing in 2015, and 907,825 in 2016.
Israel uses its control over the crossing to deny many West Bank residents travel abroad, keeping them confined to the West Bank for years on end by way of an administrative decision, without any judicial review or explanation. In cases in which officials inform Palestinians who have reached the Allenby Bridge Crossing they cannot go through and must instead return home, they do not inform the travelers what authority made decided on the travel ban or how it can be appealed. Sometimes no explanation whatsoever is given for the refusal; sometimes that the travel ban was imposed for "security reasons". Other travelers were referred to the Palestinian District Coordination Office (DCO) or the Israel Security Agency (ISA) for an explanation. Testimonies given to B'Tselem indicate that often a single arrest in a person's past is enough to merit a travel ban that would preclude travel outside the West Bank for many years. In addition, in some cases, the ISA uses the travel ban as leverage to pressure Palestinians to collaborate with Israel.
In most cases, Palestinians traveling abroad do not know if they will actually manage to do so until they reach Allenby Bridge. If Israel has placed them under a ban, they find out only then. While the Civil Administration does have a process in place ostensibly allowing West Bank residents to find out whether they are under a ban prior to travel, many residents are completely unaware of this option. They prepare for the trip, say goodbye to friends and relatives, arrive at the crossing with luggage in hand, and only then, find out it was all for nothing.
Between 2014 and 2016, Israeli human rights NGO HaMoked: Center for the Defence of the Individual filed 476 travel ban appeals to the Civil Administration. In 203 cases, the ban was lifted after the appeal was filed. In 213 of the remaining cases, HaMoked filed High Court petitions, and in 108 of these, the ban was lifted, most even prior to the preliminary court hearing. Overall, in 65% of the cases in which HaMoked challenged a travel ban, the ban was lifted - indicating it had been unjustified in the first place.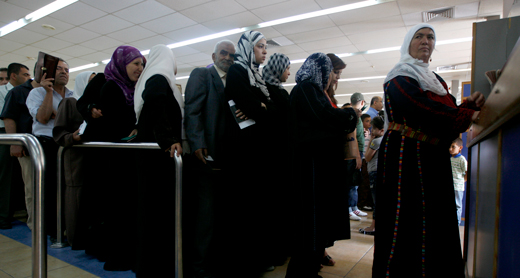 Passengers in line, waiting for passport control at Allenby Bridge Crossing. Photo by Ammar Awad, Reuters, 9 July 2009
According to Palestinian Border and Crossing Authority's figures, in 2016 Israel denied travel abroad to 2,262 West Bank residents who arrived at the Allenby Bridge border crossing. In 2015, the figure was 1,736. Yet these figures cover only the people who came to the crossing and had to turn back. It does not include an untold number of Palestinians who refrained from arriving at Allenby Bridge in the first place due to Israel's policy, either because they had been denied travel before or because of the chilling effect this policy has.
These travel bans constitute a severe, open-ended sanction. The fact that they are imposed in an undisclosed process without any judicial review further intensifies their impact. This policy directly harms thousands of Palestinians to whom Israel denies travel abroad for no reason, or on the basis of unfounded and unjustifiable arguments, such as that the person has spent time in jail. It also hurts many others who, to begin with, do not even attempt international travel - be it for work or study, visiting family or vacationing. The travel ban policy clearly illustrates Israel's full control over the lives of all West Bank residents, and their inability to plan and run their lives.
Mu'tasem Jamal Hussein Haimur, 26, lives in Hebron. In testimony he gave to B'Tselem field researcher Manal al-Ja'bri on 12 December 2016 he recounted how he lost out on a professional opportunity because he refused to collaborate with the ISA:

I live with my parents and brothers and sisters. I hold down two jobs: painting homes and occasional work as a security guard. I have a degree in network engineering and am a trained computer technician, but since I finished my studies I haven't managed to find work in my field. My family is in a tough financial situation and have debts to pay. In 2013 I was arrested inside Israel while working there without a permit. I was sentenced to 45 days in prison and a fine of NIS 1,500 [approx. USD 410]. That was the only time I've ever been arrested. I want to get married and settle down, but I don't have any real option of doing so, because I make less than NIS 2,500 [approx. USD 690] a month in my two jobs combined.
In 2015 I got an offer of a job in Saudi Arabia in my field. I successfully completed the online entrance exam and was offered a monthly salary of about 1,000 dinars [approx. USD 1,400], on top of covering my accommodation costs. I was very happy and felt that this was my chance to make something of my life, make my dreams come true, and establish myself professionally. I got all the necessary papers together, including a passport.
When I got to the Israeli side of the bridge, I handed over my documents and a female soldier told me to take a seat and wait. After a while some people in military uniform came and took me into a side room. They sat down in the room and one of them asked me to wait. I waited there until the afternoon. In the meantime, all the other passengers had left and the crossing was closed. Finally, they called me into a room where they told me that I wasn't allowed to travel. They gave me a paper stating that I must attend a meeting with "Captain Amin" of the ISA.
I went home to Hebron, and three days later I went to meet "Captain Amin" at the Israeli DCO in Hebron. He brought me to a room where he began to interrogate me. He had some paper on the desk in front of him, but I got the impression that he didn't know that I wanted to travel or abroad or that I had just gotten home. He asked me questions like "Where did you return from?" and "Why did you travel?" I tried to explain that I hadn't even traveled yet because they hadn't let me cross the bridge. Then he turned over the sheet in front of him and began to ask me about ISIS, Hamas, and why I wanted to travel.
I explained that I didn't have any connections to any of these groups and that I wanted to travel because I had found a job. He said that if I wanted his help, I'd have to help him in return. When I asked how I could help him, he said that I needed to cooperate with the ISA. I refused and he told me that there was no other way I could travel so I'd better forget about a trip. I'm very frustrated and disappointed. I lost a job opportunity I had dreamt of all my life. It would have allowed me to build my future, get married, and help my family financially.
Siham Ahmad Khalil Qarib, 62, lives in Tulkarm. In testimony taken by B'Tselem field researcher Abdulkarim Sadi on 28 Dec. 2016, she recounted how she and her family were prevented from attending her son's wedding in Jordan:
My son Ayman has lived in Jordan for the past eight years. He completed his bachelor's and master's degree there, and now he's working on getting a doctorate in Islamic Law. On 3 April 2015, I traveled to Allenby Bridge with a few of of my children and their spouses to so that we could go to Ayman's wedding in Jordan. When we got there we handed in our passports and were told to have a seat and wait. After we waited for about two hours, a clerk came out and said that we are not allowed to travel to Jordan, and that this was a decision made by the ISA. I tried to clarify the reason, but the Israeli clerk told me that we needed to turn inquire with the Palestinian DCO in Tulkarm.
We just couldn't believe that we weren't being allowed to travel, and that we wouldn't be able to attend Ayman's wedding, and to make him happy. The decision denied us our happiness. When we got home, I felt unwell and I had to go to hospital for observation.
Malek Ghaleb Abu 'Adi, 30, is married and the father of a nine-month-old baby. In testimony given to B'Tselem field researcher Iyad Hadad on 20 February 2017, he told how he and his wife were forced the abandon the trip they planned in honor of their wedding
I work in commerce in the Ramallah area and live in Kafr Ni'ma. On 1 May 2015, I married Sabah Musa, who is originally from the neighboring village of Beit Liqya. To celebrate our marriage, we planned to travel to Mecca for the 'Umrah pilgrimage, both for pleasure and to fulfill a religious commandment. On 5 May 2015 we received our visas from Saudi Arabia, and three days later, on 8 May 2015, we traveled to Allenby Bridge. We were traveling with a group on a bus and we paid all our travel expenses in advance – approximately 600 Jordanian dinars (approx. NIS 3,000).
We arrived at the Israeli side of Allenby Crossing at about eight o'clock in the morning. We handed our passports to a female soldier who told us to wait. Every 20-30 minutes I went up to the ISA window to ask what was happening and why there was a delay, but they just told me to keep on waiting and didn't explain what the problem was. All the other passengers on the bus with us went through straightaway – we were the only ones who were delayed. I started to get worried that they'd send us back and not let us travel. After an hour and a half or so I called the person who was responsible for the group and told them to leave and not wait for us, because I could see that it was taking a long time.
Hours went by and nothing changed. We waited in the passenger hall the whole time, sitting on chairs and doing nothing but count the hours and minutes tick by. After over five hours, at about 1:30 P.M., a female soldier came with our passports and told us that we were "prevented from traveling." I asked her why and she said that the ban had come from the ISA. When I asked why she said, "Go to Beit El and clarify it with them there." She accompanied us to the returning buses, and only then gave us back our passports.
I was terribly frustrated. I had been so happy before, because we had just gotten married, and I wanted to make my wife happy and go on the 'Umrah with her. I wanted us to have a good time. We are young and want to enjoy life just like anyone else.
Until then, I had never been prevented from traveling. Before I got married I used to go to Jordan every two or three months to visit my married sister or other relatives, or just for a trip. Even during our engagement, which lasted for a year, I traveled to Jordan without any problem. The last time was on 11 June 2014, and everything was fine.
Two days after we went to Allenby Bridge, I went to the ISA at Beit El to get to the bottom of this. I took my wife's ID card with me so that I could get answers about us both. This was the first time she'd tried to travel abroad. I also took the written applications we had completed in advance. After waiting for an hour, they told me to go in to one of the clerks there. He took our ID cards, checked on a computer, and told me "you are banned from traveling via Allenby Bridge until August 2016 and your wife is banned until December 2016."
I handed him the written applications we had prepared and he told me that they wouldn't do any good, and that I should go to Ofer Camp to clarify the matter. I went out and immediately traveled to Ofer Camp with a letter of referral from the clerk at Beit El. I got there around noon and handed over my identity card. As usual, I was told to wait. Every attempt to clarify anything with the Israelis begins with a long and nerve-wracking wait. I waited for about an hour and a half and then the guard gave me my identity card back. "You're prevented from traveling." He wouldn't let me meet with ISA personnel. I took my ID card and left. I felt that this was my fate and there's nothing I can do – after all, the Israelis control everything.
Since then, I've tried to travel to Jordan several times. I hoped that they might have lifted the ban. On two occasions my wife also accompanied me. The same saga was repeated each time: I handed my passport over to the clerk at the crossing, waited three to five hours, during which time I asked the clerk every half an hour what was happening, and every time was told "wait a bit longer, wait a bit longer."
My last attempt was on 15 January 2017, when my whole family went to Mecca for the 'Umrah. They let my parents and my two younger brothers go, but not me. I haven't tried again since then.
On 1 January 2017, I contacted HaMoked: Center for Defence of the Individual, which handles cases of travel bands Israeli authorities impose on Palestinians. I gave them all the documents and then told me that the processing would take anywhere from 20 days to two months, but they didn't promise that they'd manage to lift the ban. I haven't heard back yet.
The travel ban has left me frustrated and in despair. I feel trapped like an animal. Someone else controls my ability to travel from one place to another and denies me one of the most basic rights God-given human rights.
Update: In March 2016 Malek 'Adi went once more to Allenby Bridge and found that the travel ban had been lifted. He has since travelled abroad several times, including twice with his wife.
'Omar Jamal Fares Myadmeh, 32, is a teacher who lives in Aqraba, Nablus District. In testimony he gave on 19 March 2017 to B'Tselem field researcher Salma a-Deb'i, he told how a travel ban cost him a chance at a teaching job abroad:
My uncle works in a school in the United Arab Emirates and arranged a work interview for me there. On 1 June 2016 I got to Allenby Bridge in order to travel to Jordan and from there to the Emirates. To my surprise, the official at the bridge kept me waiting for four hours and then returned my passport and told me that I couldn't travel. He said that in order to find out why I have to go to the Israeli DCO. I was surprised because in 2008 I had traveled without any problem. I haven't traveled abroad since. I contacted HaMoked: Center for the Defense of the Individual, and they asked for my work contract at the school, but I didn't have one yet.
Because I was not allowed to travel I missed a golden opportunity to work abroad with a monthly salary of 10,000 shekels [approx. USD 2,750], on top of which the school would be for housing for the family and school tuition for the first child. The situation here is very difficult. My salary is barely 3,000 shekels [approx. USD 825]. Everything is expensive and the political situation is very difficult. I don't want to be far from my home, my village and my family but things here are very tough. It's also tough emotionally. A friend of mine who was also invited to an interview at the school succeeded in getting through, and got the job. He's there now and extremely satisfied.
I was held once for six months of administrative detention in 2014, and since then there has been nothing. When I was at the bridge I asked to meet the ISA agent in charge or any other person responsible for this decision, but they didn't let me. It's coldhearted. Why am I being prevented from travelling? I've done nothing wrong, and if they have something against me they are welcome to charge me.
In addition to the employment opportunity I have an uncle on my father's side who lives in Jordan. He's 75, in poor health, and now I can't visit him.
In September 2016, three months after I was at the bridge, I got a call from the Israeli DCO and they summoned me to a meeting. I thought it would be a good opportunity to clarify the reason for the travel ban. The officer, who introduced himself as Ramzi, said he's new and that he wants to get to know me. But he didn't tell me why I can't travel and gave me no answers. He said he hadn't studied my file.
I have the right to travel like anyone else. Why can other people travel and tour the world and I can't travel so I can make a living?
Taher Mahmoud Taher Ya'qub, 33, lives in Amman, Jordan. Israel has kept him from returning home to his wife and small children for the past ten months. In testimony he gave to B'Tselem field researcher Iyad Hadad on 23 March 2017, he recounted the following: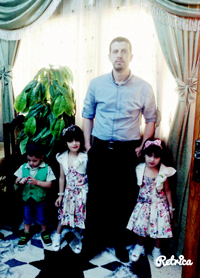 I was born in Jordan to Palestinian parents. My father comes from the village of Beit Rima in Ramallah District, the West Bank. He lived and got married in Jordan, but we all kept our status as residents. We have both West Bank ID cards and Jordanian ID cards. We're in close touch with my parents' relatives in Beit Rima and visit them every few years.
In 2009 I married my cousin, Kafa Thalji Ya'qub (24). She comes from Beit Rima and moved to Jordan to live with me. We live in the a-Ruseife region in Jordan, close to my mother and near the Pepsi Cola plant where I work as a production technician. My father passed away ten years ago. We have three children: Baylasan (6), Wisal (5) and Mahmoud (2). Every two or three years, during the summer holidays, we go to Beit Rima to visit my wife's family and my sister, who is married to my cousin.
On 16 July 2016, we arrived at Allenby Bridge on our way to spend the summer with our families. I also planned to handle some estate-execution matters for my family.
We set out for Allenby Bridge at 6:00 A.M. We waited for three or four hours on the Jordanian side of the bridge until we crossed over to the Israeli side. There, we waited until 4:00 P.M. My wife and I underwent body searches and then ISA (Israeli Security Agency) men at the crossing called me over and asked about the money we had brought with us for vacation expenses and for settling my grandfather's estate. We were carrying 1,040 Jordanian dinars [approx. USD 1,465] and another 2,100 US dollars. I had some of the money on me and my wife had the rest, because we know you're not allowed to bring in more than 2,000 dinars [approx. 2,820 USD] per person.
The ISA agents took the money. I told one of them that it was supposed to go towards the vacation and settling the estate, and that my family had given me power of attorney to take care of that. He said nothing and just ordered me to wait. He said: "Tell your wife to go on ahead and that we don't want this to get messy. You stay here."
By that time the bridge was almost empty, so my wife was worried about leaving me there. She started crying and the children also started crying and screaming. People came over to see what was wrong and I tried to calm my wife and children. The people in charge let me walk them to the gate. I telephoned my wife's brother and asked him to come and get her, because they took all our money down to the last penny so she couldn't go by public transportation. A short while later, at around 4:30 P.M., Israeli police from the Ma'ale Adumim police station came and arrested me. They handcuffed me and put me legs in restraints like I was some kind of criminal. They didn't tell me why and I couldn't understand what was going on, because we certainly hadn't gone over the permitted sum.
I was taken to the Ma'ale Adumim police station. There, an investigator asked me who I was going to visit and what political group I belong to. I said that I don't belong to any group and explained why we'd come over from Jordan. He asked about the money and I explained that it was for the vacation and for expenses related to registering the land and putting in order my father's estate in the village. He ordered me to sign a document in Hebrew. I asked him: "How can I sign something I don't understand?" He answered: "We're not liars like the Palestinian Authority". I refused to sign. He banged on the table and yelled: "You'd better sign. This document will keep you from getting beaten. These are just the things you said, and we haven't added anything you didn't say." I signed because he left me no choice.
They kept me at the station until about 9:30 P.M., without giving me anything to eat. One of the guards gave me some water and said he was doing it secretly, because he's not allowed to give me anything. A policeman fingerprinted and photographed me. Then he gave me a receipt for the sum of money they had taken and let me go. The receipt said that the money had been confiscated on suspicion that it was funding by a terrorist organization.
He left me outside the Ma'ale Adumim police station with no money at all. When I told him I had no money to pay for transportation, he asked if I knew someone who could come pick me up. I gave him my uncle's cell-phone number. He called him and asked him to come and get me from the al-'Eizariyah roundabout. I walked two kilometers to the roundabout and waited there until my unlce arrived and took me back to his place in Beit Rima. My wife and kids were already there.
I hired a lawyer to handle the money confiscation. In the meantime I worked odd jobs and borrowed money from relatives for our expenses. We visited with our families and I took care of settling the estate. After two weeks, at the beginning of August, we wanted to go back to Jordan because I had to return to work. When we got to Allenby Bridge, they only let my wife and kids through. They said that "for security reasons" I wasn't allowed to leave. When I asked why, they said: "Go ask the ISA". We had no choice. My wife and children crossed back into Jordan without me, so they wouldn't miss school. I went back to Ramallah and since then I've been wandering among relatives, from house to house. I felt very uncomfortable because most of the time I had nothing to do. I'm living like a homeless person, destitute. Meanwhile, I lost my job in Jordan. It's hard to find work here. I worked a bit at selling vegetables, in construction, and in an electronic appliance factory. Recently I managed to find a steady job.
The pay here is low – barely 2,000 shekels [approx. USD 550] a month, which is not even enough to cover my own expenses. I eat sparingly so I can send money to my wife. I try to eat only twice a day, and I work twelve hours a day. I could no longer bear living with the feeling of being a burden to the relatives I was staying with, so now I share an apartment with a few laborers. I pay 1,000 shekels [approx. USD 275) a month, which includes electricity, water, heating and a telephone. I live in very poor conditions. I feel like a displaced person and miss my wife and kids. I try to talk to them every day on the phone, but we're all in shock. It's the first time the children have experienced something like this - not being able to see their father because of a draconian decision. I'm in bad shape emotionally. It's pain that's hard to bear.
I've tried to get the travel ban lifted, so far unsuccessfully. At first I went to a lawyer, who asked for 1,500 shekels [approx. USD 415]. I agreed. As early as the end of August he said that he'd managed to have the restriction lifted and that I could check with the Civil Administration in Beit El. I went to Beit El and they confirmed that there was no restriction on my crossing back into Jordan. The next day I went to Allenby Bridge but to my surprise, they wouldn't let me through and said I was banned from travel on security grounds. I fired the lawyer because I felt he'd cheated me.
In September, on my own initiative, I went to meet with ISA agents at Ofer Prison. The agent who met me treated me with respect. He introduced himself as Haim and said: "Hey man, don't you recognize me?" I told him I didn't and he said: "I'm your neighbor, I live next door, two houses down from your uncle's". Then, he showed me the location of my uncle's house on a computer screen, pointed at it and said: "You sleep here". I asked: "What's wrong with that?" He started asking me about my uncle's family and said: "These people are with Hamas. Why are you living with them?" He asked about my ties with them. I told him: "I have nowhere to live, they're my uncle and aunt, as well as being my in-laws. What's wrong with that?"
Then he started asking me about the money they'd confiscated and said: "Tell me where, or for whom, that money was intended. Help us so that we can help you." It felt as though he was trying to blackmail me and recruit me as a collaborator. I became sure of that when he gave me his personal phone number, took my number, and asked me to think about it and get back to him within three days. I told him: "I'm an independent person. I'm not involved in politics and I have a family to support. Since my father died ten years ago, I've also been supporting my brothers. I don't have time for anything but work." In response, he threatened me: "If you don't help us and volunteer the information about the money, we'll keep you here for the rest of your life. I can force a confession out of you, but you need to tell us yourself." Then he told me to go and that he hoped I'd call him in three days. I never did.
I hired another lawyer. On 13 October 2016, he managed to get an answer from the Israelis that the travel ban is in effect until 17 January 2018. On 22 December 2016, the Israelis infomred him that I could get the confiscated money back. I went to Beit El to get the money. The soldier there took a copy of the notice and my cell-phone number and said I'd get a call later, but no one called.
On 2 January 2017, the lawyer said that I'd been given permission to travel back to Jordan, but that they refused to give it in writing. I went to Allenby Bridge. When I got there, the official wouldn't let me through and said: "We were sent the decision about the restriction ten minutes before you got here. We are given these orders. They're not our decision." I told him my lawyer had said I could cross and he answered: "Yes, but the restriction came in now, ten minutes ago." I had no choice but to go back to my life of poverty and dejection. I went back to being effectively homeless. I count the minutes, days and months in the hope that I'll see light at the end of the tunnel and be reunited with my wife, my kids, and the rest of the family in Jordan. I'm living in an apartment that's a real dump and things are very tight financially. Life in Ramallah is very expensive. The conditions in prison are better than the ones I'm living in. On top of missing my wife and kids, my mother has glaucoma and underwent surgery a month ago. I couldn't be there with her to help her. She needs another eye operation and also has trouble with her gallbladder. She needs care and assistance. Now there's only one brother supporting our family, in addition to 120 dinars [approx. USD 170] that my mother receives from my father's pension. I'm very frustrated and can't concentrate. I go to sleep at night and wake up in the morning thinking of hugging my children. I last saw my youngest, Mahmoud, when he was two. Now his third birthday is coming up.
Update: In May 2017 Haaretz journalist Gideon Levey contacted COGAT (Coordinator of Government Activities in the Territories) and the ISA to inquire about Taher Ya'qub's case. He was told as follows: "Imposing a travel ban on Taher Ya'qub was based on security considerations connected to his involvement in smuggling in terrorist funds, and concern that his departures from Israel would be used to continue activity endangering regional security. Under the circumstances, on the basis of humanitarian considerations, and despite the security risk that his activity entails, it was decided not to prevent his travel abroad at this time to meet with his family." He was also informed that the confiscated money had been transferred to Ya'qub's lawyer back in January 2017. The lawyer has yet to hand over the monies to Ya'qub.

This response makes no reference to the contradiction between the official argument, whereby Ya'qub was smuggling terrorist funds, and the fact that these funds were returned in full to his lawyer.

On 13 May 2017 Taher Ya'qub travelled to the DCO in Beit El to find out if the travel ban had been lifted. He was told that his "ban for security reasons" is still in effect and that he cannot return to his home in Jordan.