On Tuesday, 24 August 2021, at around 4:00 A.M., several dozen soldiers entered Balata Refugee Camp southeast of Nablus. They arrested a resident in his home, during which they entered into an exchange of fire with armed Palestinians. The soldiers then withdrew towards the exit of the camp with the arrested person.
About 30 meters from the house where the arrest had been made, two brothers from the al-Hashash family – Muhammad (19) and 'Imad (15) – were standing on the roof of their three-story building, filming the soldiers' withdrawal. When the soldiers neared their home, one of them fired a bullet that hit 'Imad in the head. 'Imad was taken to hospital in Nablus, where he was pronounced dead. After the shooting, soldiers hurled two tear gas canisters near the al-Hashash family's home and left the camp.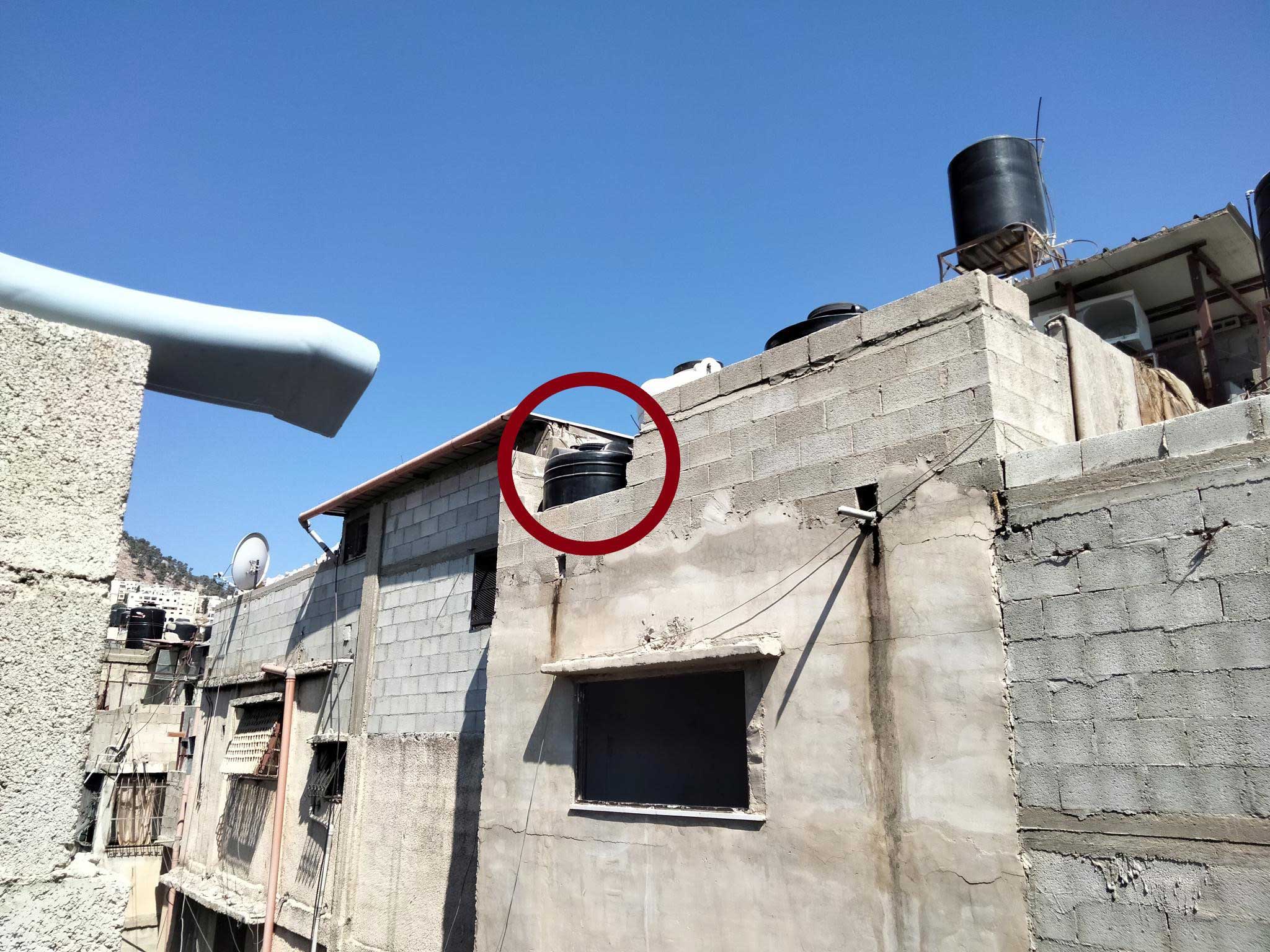 According to the military, while the soldiers were withdrawing after making the arrest, "a violent disturbance of the peace began that included the throwing of concrete blocks and objects at IDF combatants from the rooftops of nearby buildings. During the disturbance, several combatants identified a suspect on the roof of a building, holding a large object in his hands and trying to throw it at a combatant who was standing under the building. One of the combatants responded by opening fire, and a strike was detected."
However, B'Tselem's investigation, which includes footage of the incident, found that there was no disturbance of the peace at the time. Al-Hashash was standing on the roof of his home with his brother, filming the soldiers as they were leaving the camp. Clearly, therefore, his killing cannot be justified and the fatal shooting cannot be considered lawful.
The shooting of al-Hashash is yet another example of the military's unlawful open-fire policy. This policy allows soldiers to open lethal fire at Palestinians even when they are not endangering them or anyone else – without the soldiers or their commanders being held accountable.
In a testimony he gave B'Tselem field researcher Salma a-Deb'i on 24 August 2021, Muhammad al-Hashash described what happened that night:
Muhammad al-Hashash. Photo by Salma a-Deb'i, B'Tselem, 24 Aug. 2021

On Tuesday, at around 4:00 A.M., I was sleeping in my room on the first floor with my brother 'Imad. I was woken by noises outside. 'Imad was awake and had just gone outside. He came back quickly and told me there were soldiers outside. He put on some pants and went up to the roof to see what was going on. I went up after him.

'Imad stood at the edge of the roof and looked out at the street. I saw some soldiers by the street leading to the market. They took up positions near the al-Ka'abi family's home, and then an exchange of fire started between them and residents, who fired shots at them from across the street. After about five minutes, the shooting stopped. Then, for a few minutes, the soldiers fired a shot every now and then.

After a few minutes, they started retreating towards our street, which leads out of the camp. Our neighbor, 'Ali al-Hashash, who's also a relative of ours, was standing on the roof opposite us. He motioned us to move away so the soldiers wouldn't see us. I told 'Imad to get back, but he wanted to see what was happening and was filming it on his phone. I pulled him back. We stood several meters away from the edge of the roof. 'Imad went closer to the edge again to see what was going on, and then I heard a shot and 'Imad fell face down on the floor. I put my hand on his head to turn him over, and felt he'd been wounded. My sister-in-law Salma (25) came up to the roof and when she saw the blood and 'Imad lying on the floor, she started screaming.

My brother Saleh (27) also came up to the roof, and together we carried 'Imad down to the ground floor. I opened the door to go out to the street, but there was a strong smell of tear gas in the air, so we went back inside. I laid my brother down on the floor and went out to look for someone to take him to hospital. I saw our neighbor 'Ali and asked him to help me find someone. Each of us went in a different direction. I found someone from the camp who was driving workers in his car, and asked him to help us. We took 'Imad to the hospital. The doctors tried to help him, but he was very badly injured.

I still can't believe what happened. I can't understand why my brother was killed. I looked at him, and it was like a nightmare. We used to sleep on a mattress on the floor next to each other every night. If we hadn't heard the damn noises outside, 'Imad would be in school with his friends today. I can't believe it happened.
'Ali al-Hashash (25), Muhammad and 'Imad's neighbor, went up to his roof when he heard soldiers in the neighborhood. In a testimony he gave B'Tselem field researcher Salma a-Deb'i on 24 August 2021, he recounted:
From the roof, I saw 20 to 30 soldiers by the al-Ka'abi family's home, about 30 meters away from me. I heard shots fired now and then. After a few minutes, there was an intense barrage that lasted several minutes, and then the soldiers retreated towards the eastern entrance to the camp. The soldiers were about 10 meters from our house. My neighbors, 'Imad and Muhammad al-Hashash, were standing opposite my house trying to film what was happening on their cell phones. I told them to keep away from the edge of the roof so the soldiers wouldn't notice them. Muhammad was peeking out with his head down, and 'Imad was standing in front of him.

'Ali al-Hashash, at the spot from which he watched the clashes on the night of the incident. Photo by Salma a-Deb'i, B'Tselem, 24 Aug. 2021

I noticed one of the soldiers looking up and aiming his weapon. I signaled to 'Imad that he should get back, that the soldiers were below. The street is well lit and we could see each other. 'Imad went back a bit and so did I, so the soldiers wouldn't see me. Then 'Imad went forward again and looked down, and I heard a gunshot followed by screams coming from his house. I thought he'd been hit so I went downstairs, but didn't know what to do. I heard a tear gas canister explode and smelled the gas very close to our home. Then I heard a voice on the street. I peeked outside and saw Muhammad. He told me they were looking for an ambulance because 'Imad had been hit in the head. I went quickly to look for a car in the area, but couldn't find one. When I got back to their house, they'd already taken 'Imad to hospital in a camp resident's car. After about half an hour, I heard screaming from 'Imad and Muhammad's house. I went over and found out 'Imad was dead.
In a testimony he gave B'Tselem field researcher Salma a-Deb'i on 20 October 2021, Imad's father, Khaled al-Hashash (50), described the night his son was killed and his family's state since then:
That night, I woke up around 3:30 A.M. I went to the bathroom and while I was washing my hands, my son 'Imad arrived. He tickled me under my armpit and started laughing. I told him, "What are you doing? Why aren't you asleep?" He ignored my questions and said, "I want to get married. What do you say?" I answered, "Go to bed," and he said, "Come on, Dad. I want to get married today. Pay the 'mahr' (dowry) as a gift from you. I want to get married today." I told him, "Go, go to sleep," and went back to my room to sleep. 'Imad loved to joke around, but I didn't know that would be the last time he joked with me. I wish I'd known. I would have hugged him, held him tight and never let him go.

At around 4:00 A.M., my wife Maha (48) woke me up and told me the kids were on the roof and that there were soldiers were in the camp. Right after that, I heard a single shot followed by screams. I went up to the roof immediately. I heard my kids shouting, "'Imad's dead." I thought they were joking and said, "May God have mercy on him." But suddenly, I saw Muhammad and Saleh on the stairs, carrying 'Imad, who was bleeding heavily. I screamed.

After my son found a car to take 'Imad to hospital, he and his brother went to the hospital with him. I stayed home, because I knew the head injury had killed him. Everything was inconceivable. I felt as though I was in a nightmare. I couldn't believe my son, who had just been joking with me, would bleed to death and die. He was an innocent, smiley, cheerful little boy who lit up our home and the whole neighborhood with joy. They killed him without any warning, for no reason at all.

Now, we're all in a terrible state. Israel revoked the work permits of two of his brothers – 'Abdallah, a married father of four, and 'Omar, a married father of one, whose wife is pregnant – and they've been unemployed ever since. They borrowed 6,000 shekels (~1932 USD) to pay a down payment for a lawyer to take care of it. Most days, I come home from work and find 'Abdallah's wife waiting for me at the door, shamefacedly asking for five shekels (2 USD) to buy a plate of hummus for lunch. They've run out of money to pay for the apartment they're building outside the camp.

My son Saleh had a mental condition two years ago. After a lot of treatment and medication, he got better. But since his brother was killed, his condition has deteriorated again. Every morning, at 5:00 A.M., he goes to his brother's grave with water, washes the grave and stays there until 9:00 A.M. When I ask him, "What are you doing?" He says, "I talked to 'Imad and slept over at his place." I really have seen him sleeping by the grave several times, talking to 'Imad as if he were still alive.

They've destroyed us. I don't know what to do with all this pain, with this heavy burden.