Raed Jadallah (39), a resident of the village of Beit 'Ur a-Tahta, worked in Israel as a gardener. On his way home from work on Tuesday night, 31 August 2021, at around 10:00 P.M., he reached the locked gate installed by the military at the turn-off from Route 443 to his village. Jadallah called a friend, Mahdi Suliman (29), to come and pick him up in his car. To reach the pick-up point, Jadallah had to walk about 200 meters along the blocked road towards the village, past a concrete block and two dirt mounds placed there by the military. After he started walking, soldiers lying in ambush opened fire and hit him in the waist. Jadallah went several dozen meters further before collapsing, about 100 meters past the gate and 40 meters from the second dirt mound.
Village resident Ahmad Badran (30), who had come to the spot to pick someone else up, heard several shots. He decided to drive back to the village. As he was turning his car around, he noticed a fire by the gate.
In a testimony he gave B'Tselem field researcher Iyad Hadad, Badran recounted:
I was driving my car with the window open. About 10 minutes after I reached the roadblock on the closed road that connects the village to Route 443, I heard three or four shots in a row. They seemed to have come from about 200 meters away – either from the direction of the locked gate at the turn-off or from a hill north of it. I didn't see who fired them. I thought they might have been aimed at stone-throwers or at criminals being chased by police. I preferred to stay out of trouble and turned around to go back to the village. As I was turning around, I saw a fire near the gate. I don't know who started it. It was dark and I didn't see anyone in the area.

I saw Mahdi Suliman approaching in his car from the direction of the village. I asked him what he was doing there, and he said he'd come to pick up Raed Jadallah, who was back from work. I warned him that I'd heard gunshots shortly before. He said he hadn't heard them, probably because his car windows were closed or because he'd been too far off. I drove away and saw Mahdi turn around and leave the area a few moments later.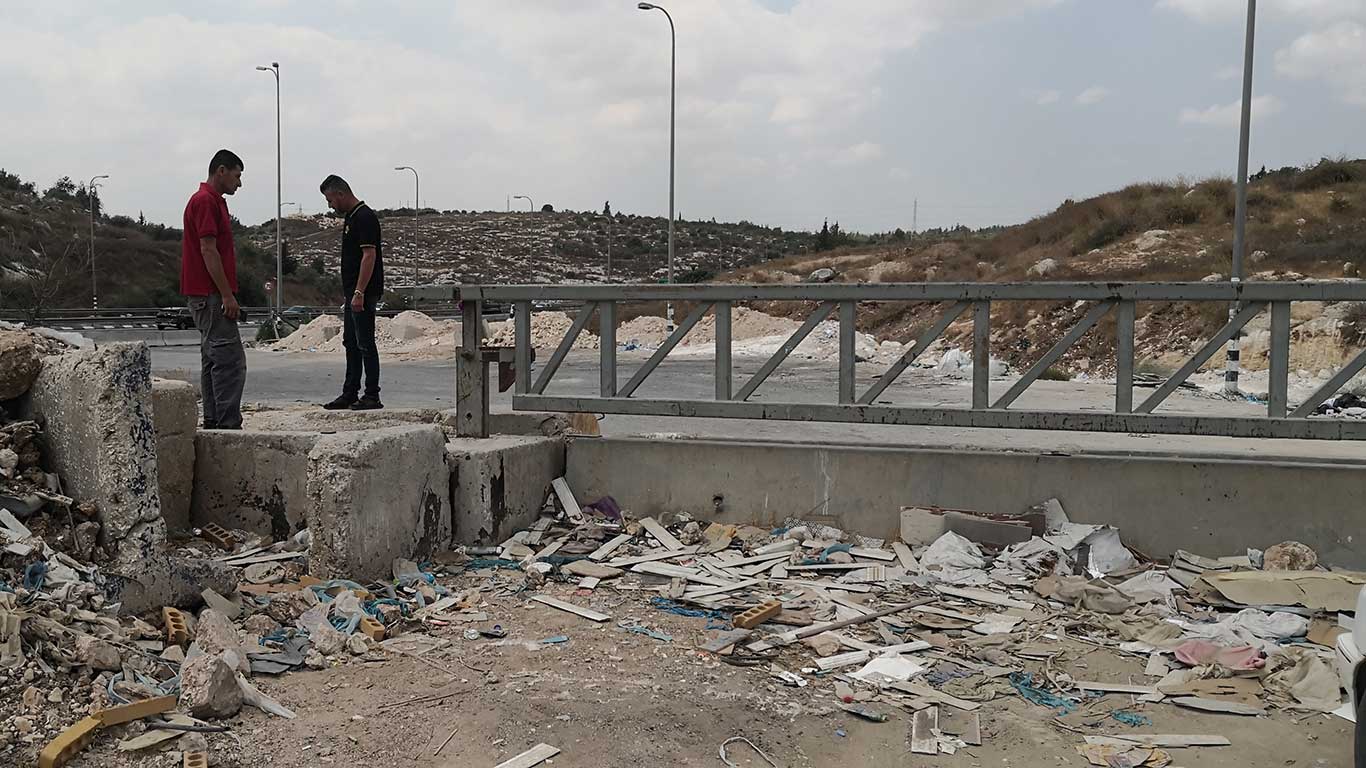 Suliman went home and called Jadallah several times. When he learned his friend had not come home, he drove with Jadallah's 15-year-old son, Yusef, to look for him along the blocked road. The two found him lying by the roadside about an hour after the shooting.
In a testimony he gave B'Tselem field researcher Iyad Hadad, Suliman recalled what happened after he returned home:
By 11:00 P.M., I was worried that something had happened to Raed. I drove to his house and met his son Yusef, who told me his father hadn't come home. I asked him to come with me to the entrance to the village. I parked by the dirt mound that's nearest the village, and we walked along the closed road. We used the flashlights on our phones for light. Halfway between the second and third roadblock, Yusef noticed drops of blood on the road. We followed them. I called Raed's cellphone and heard it ringing nearby, about 10 meters away. Then we saw Raed. He was lying face down by the roadside, in a large pool of blood. I checked for his pulse but couldn't feel it. He wasn't moving or breathing. I was pretty sure he was dead, but I didn't lose hope. I called a Magen David Adom (Israeli emergency service) ambulance from my Israeli phone and told them there was a wounded person. I mentioned he had an Israeli ID card (Jadallah was an East Jerusalem resident) so they would take me seriously. I gave them my location. Yusef put his head in his father's lap and screamed and cried. I tried to calm him down.
About 10 minutes later, Suliman went to the gate at the turn-off from Route 443 and led the paramedics who arrived there to Jadallah. In his testimony, he continued:
When I reached the gate, there were about five soldiers there. They aimed their weapons at me, and one of them asked me in Hebrew what I was doing there and where I was going. I told him there was a wounded person with an Israeli ID card and that I wanted to show the paramedics the way. They asked me where he was, and I pointed to where Raed was lying.

I motioned to the paramedics with the flashlight on my phone. There were about seven of them, and the soldiers went with them. I took them to where Raed was lying. I led Yusef away so they could do their job. He was in shock, trembling and crying, After 10 minutes, when they were sure he was dead, the paramedics covered Raed with an aluminum blanket. A father and son from the village who were in the area came over and started phoning residents and telling them what had happened. I was afraid Yusef would collapse, so I took him back to the village.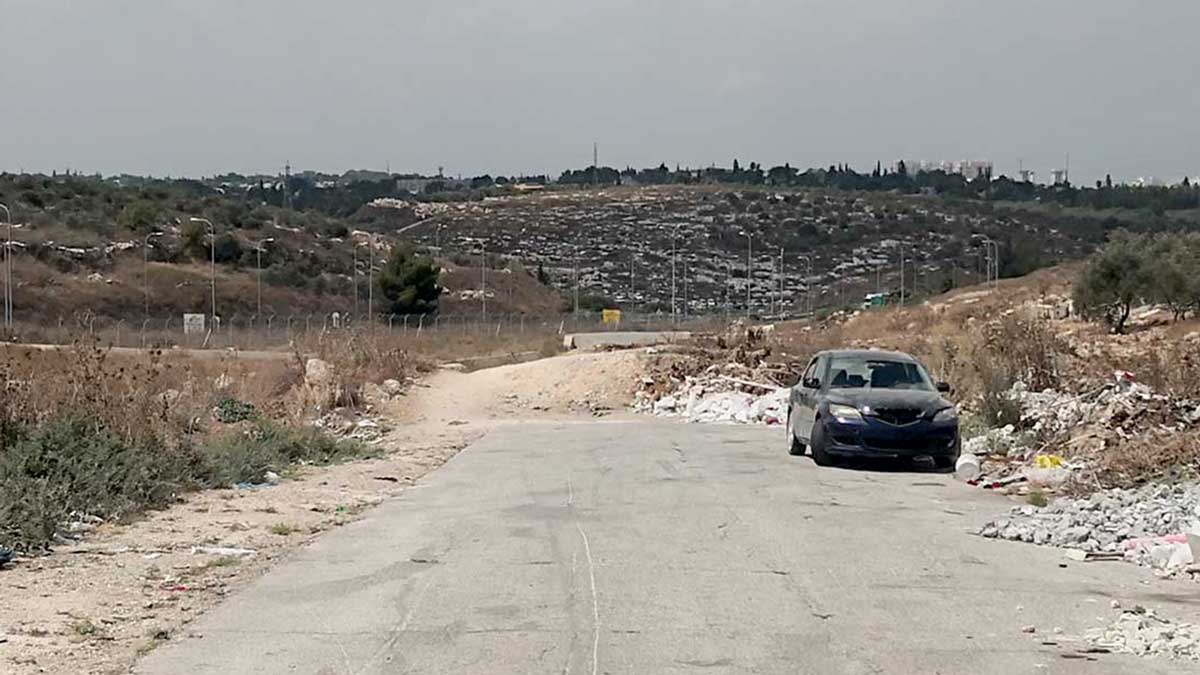 After Jadallah was pronounced dead, the villagers wanted to take the body to hospital in Ramallah. The soldiers objected but after an argument, the residents picked up the body. The soldiers then hurled a stun grenade at them.
B'Tselem's investigation indicates that the force fired at Jadallah for no apparent reason, while he was on his way home from work.
The military released two different versions of the incident. According to the first version, soldiers lying in ambush "in an area where Molotov cocktails had been thrown at the beginning of the week" opened fire at Jadallah after noticing a suspect "walking alone and setting something alight, which started a small fire." The military claimed that the soldiers had not found blood stains or a Molotov cocktail and the "suspect" had fled the scene. A later version merely noted that "IDF observations and fighters on the ground noticed the suspect at the scene. The force responded by firing at the suspect, who fled the scene."
Both versions are feeble attempts to justify Jadallah's killing. Moreover, they constitute an admission that the military implements a wanton open-fire policy, which permits lethal fire at people who are not endangering anyone for no reason at all. After all, according to the official version, the soldiers – who were lying in ambush – fired at the "suspect," who did or did not light a fire and fled the scene without the soldiers even trying to stop him. This makes it clear that there was no justification for the shooting to begin with.
While the military was quick to announce the launch of an MPIU investigation, years of experience show that, as in hundreds of past cases, this is highly unlikely to yield results. The military law enforcement system serves primarily as a fig leaf for the military's wanton open-fire policy, enabling its ongoing implementation with no accountability. The terrible truth is that under these circumstances, the next killing is only a matter of time.