On Saturday, 15 May 2021, a protest march was planned to mark Nakba Day and demonstrate against the fighting in the Gaza Strip, Israeli police violence at Al-Aqsa Mosque and the planned eviction of Palestinians from the East Jerusalem neighborhood of Sheikh Jarrah. The demonstrators were scheduled to depart at 4:30 P.M. from central Ramallah and march towards the Beit El/DCO checkpoint. About two and a half hours earlier, at around 2:00 P.M., Fadi Washahah (34), a resident of Bir Zeit, and his friend A.A. (27), arrived at the area by the northern entrance to al-Birah, where young Palestinians were clashing with the military at three separate flashpoints. Dozens of young men were burning tires, blocking the road leading to the checkpoint with containers and boulders, and throwing stones at the soldiers, who were spread out in several locations. The soldiers were firing rubber-coated metal bullets and tear gas canisters at the young men and a military drone was spraying them with tear gas.

At around 4:30 P.M., as the marchers were about to reach the area, Fadi Washahah, his friend and another young man began walking towards one of the flashpoints to join the protesters. At that stage there were 15 to 20 young men still at the spot, throwing stones at the soldiers. A military jeep drove down from a nearby hill and stopped by several soldiers who were standing behind concrete blocks. Some soldiers got out of the jeep, took up positions behind a dirt mound and fired an intense volley of live rounds, "rubber" bullets and tear gas canisters at Washahah and the two young men walking beside him. Washahah, who was about 70 to 100 meters away from the soldiers, was injured in the head and taken to a hospital in Ramallah, where he arrived unconscious. On 2 June 2021, after about two weeks in the intensive care unit in a state of brain death, Washahah succumbed to his wounds.

The soldiers fatally shot Washahah from several dozen meters away even though he posed no mortal risk to them or to any other person, and his unlawful shooting was unjustified. According to media reports, an MPIU investigation has been launched. Yet years of experience show that the purpose of such investigations is not to uncover the truth, but rather to whitewash the killing. This whitewashing means the military will continue to lethally shoot Palestinians and disregard their safety and wellbeing.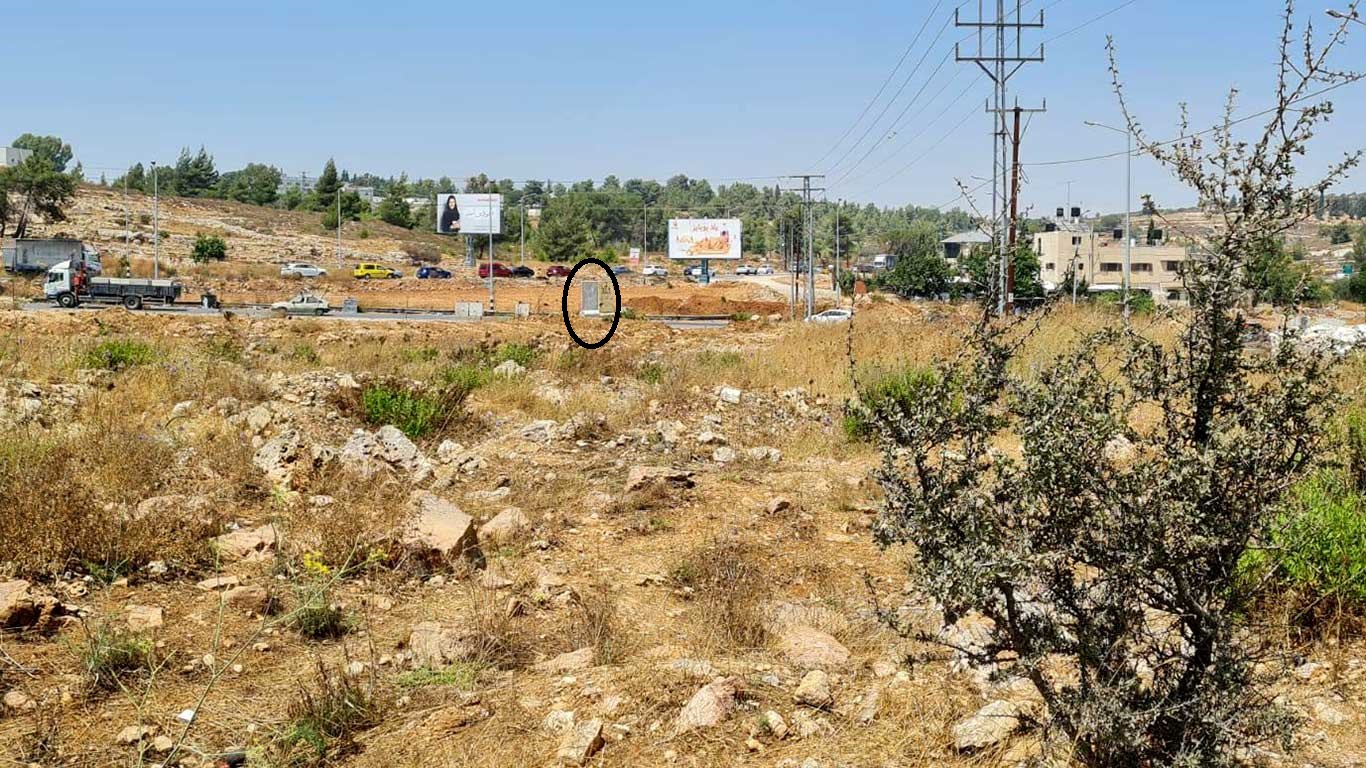 In a testimony he gave B'Tselem field researcher Iyad Hadad on 10 June 2021, Fadi's friend, A.A., described what happened while they were waiting for the marchers to arrive:
At around 4:30 P.M., we heard the cries of the main group marching from the direction of Ramallah. I saw a Hummer jeep drive down from a hill near the military base and head towards the soldiers who were stationed behind concrete blocks that were blocking the road. At that point, Fadi Washahah and I were sitting under a tree talking, about 100 meters away from the soldiers. The dirt mound was hiding us from the soldiers. There were only a few young guys there throwing stones at the soldiers. Fadi said, "Let's hit the soldiers one last time and join the main march." We went towards them together with another guy.

I saw three soldiers get out of the Hummer and climb onto the dirt mound. The other soldiers fired a lot of tear gas canisters and "rubber" bullets at the protesters who were close to them. The three soldiers who were on the dirt mound started shooting live bullets at us. Shrapnel bounced off the boulders around us. We all ran away. I shouted out to Fadi to lie down, and immediately lay down myself. I heard four live shots and saw Fadi lying about 10 meters away from me. At first, I thought he was simply lying down as I'd told him to, but he didn't answer when I called out to him. Meanwhile, the shooting stopped.

I crawled over to Fadi, because I was afraid the shooting would continue. He was lying face down without moving and was bleeding from the side of his head, behind the ear. I started shouting, "Ambulance, ambulance." I couldn't bear the sight. I was in shock. I didn't dare lift or move him, because I was afraid I'd hurt him. Some young guys heard me and came over to take him away. When they picked him up, I saw how badly he'd been injured and realized he might be dead. I started shouting, "Martyr, martyr, martyr" without realizing it. The young guys took him to an ambulance by the roadside, and from there he was taken to the Palestine Medical Complex.
Fadi's relative, R.W., saw what happened from a hill about 300 to 400 meters away and recounted, in a testimony he gave B'Tselem field researcher Iyad Hadad on 17 May 2021:
At around 4:30 P.M., I saw a military Hummer jeep come down the hill towards soldiers who were on the eastern side, on a road that had been blocked with concrete blocks. At that point, before the jeep reached the soldiers, there was some light stone-throwing by about 15 to 20 guys. A few moments after the Hummer arrived, the soldiers started intensively firing live rounds, "rubber" bullets and tear gas canisters. At that point, I didn't see any stone-throwing, and some of the protesters were resting. They were probably waiting for the main march.

 The young guys were surprised by the shooting and ran away. In the middle of the commotion, I heard live fire and saw a young man fall face down. I thought he'd been injured. He wasn't among the front rows of the young men, but about 70 to 100 meters away from the soldiers, and there were two or three other guys next to him. One of them shouted, "Ambulance, ambulance," and a group of paramedics went over to get the wounded man. Then I heard cries of "Martyr, martyr." Some of the people next to me started whispering the name of the wounded man, which they learned from their cellphones – Fadi Washahah.

At the hospital, I understood that Fadi had been hit in the right side of his brain stem and couldn't have surgery until his condition stabilized. He was held in the ICU in a state of brain death. The doctors told us his chances of recovery were very slim. We were very worried and kept hoping his condition would improve, but it didn't. He passed away on Wednesday morning, 2 June 2021.