On Monday morning, 25 May 2020, Israeli media reported that two Palestinians had tried to stab soldiers in the West Bank. On the same day, Ha'aretz published an article that refuted the military's claim and determined that the soldiers had shot two Palestinians from a family that was harvesting its clover crop at the time.
B'Tselem's investigation led to a similar conclusion: That morning, the second day of 'Eid al-Fitr, at around 9:00 A.M., eight members of the extended Abu 'Alia family from the village of al-Mughayir went to their land to harvest their crop. The plot stretches over about 40 dunams [1 dunam = 1,000 sq. meters] near the village of Turmusaya, northwest of al- Mughayir. The group consisted of seven adults and a 14-year-old.
At around 10:00, a settler drove up in a white jeep. He drove into the field and came to a halt about 30 meters away from the family. The settler got out along with three soldiers, who went over to the family with their weapons drawn and ordered them to kneel. The terrified family dropped their sickles and obeyed. When 'Imad Abu 'Alia (39) tried to inquire what the soldiers were after, one of them pepper-sprayed him in the face. Immediately afterwards, two of the soldiers opened fire indiscriminately, hitting 'Imad in the left thigh and Murad in the waist.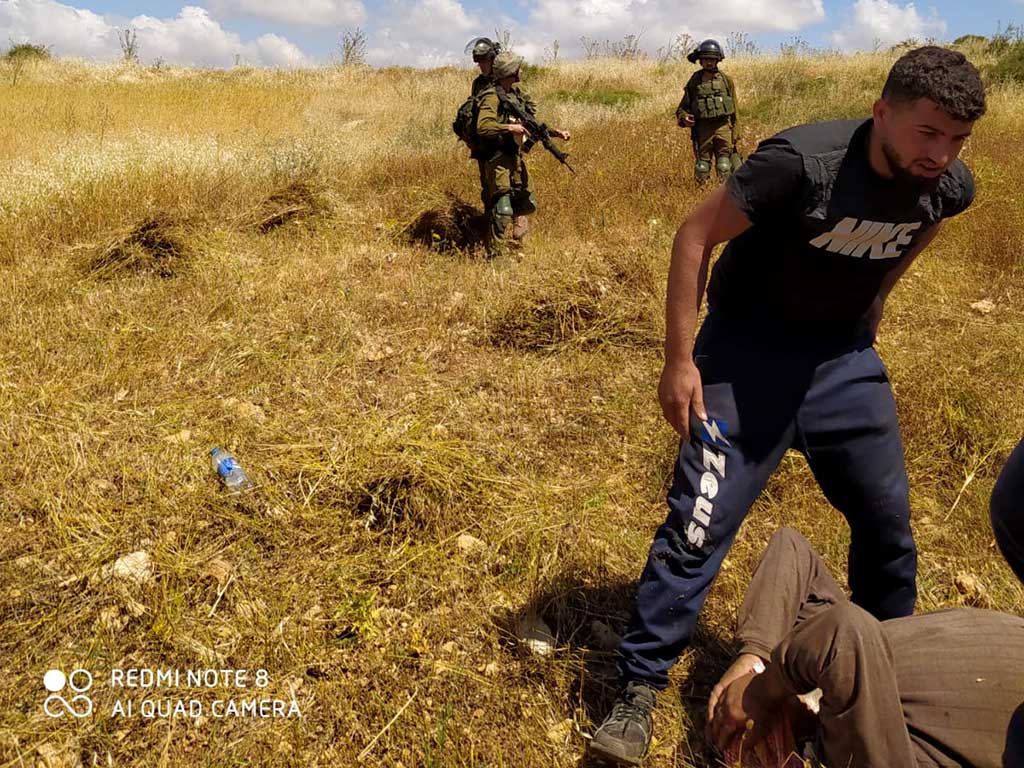 The soldiers refused to treat the injured men and forbade the family to call an ambulance. After about 15 minutes, they demanded that the family show them their ID cards. 'Imad, who was lying injured on the ground, was the only one who had brought his card with him. The family handed the card over to the soldiers, who only then allowed them to leave. The family rushed the injured men to hospital in Ramallah, where 'Imad underwent surgery. The bullet that struck Murad did not cause major damage, and he was discharged the same day. 'Imad was kept in hospital for two days after the operation.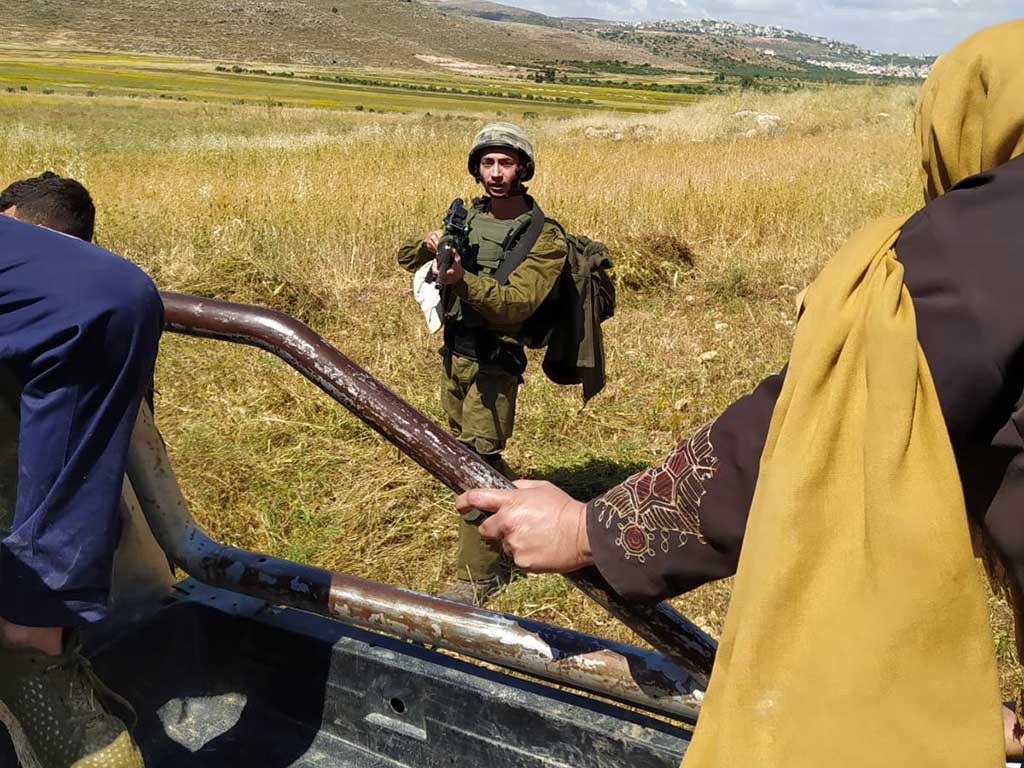 According to a preliminary investigation by the military quoted in Ha'aretz, the incident began when a security coordinator from an area settlement called soldiers after he "received a report of verbal abuse and stone throwing by Palestinians at settlers". B'Tselem's investigation indicates that the settler did not only call the soldiers but even drove them to the field, where he alleged the incident had taken place. Yet when the soldiers arrived at the scene, all they found was a family in the middle of a harvest, who knew nothing about any alleged confrontation in the area. Nevertheless, the soldiers attacked them, shouting and opening fire at them with no warning, and injured two family members. The soldiers then refused to offer them any medical assistance.
Collusion between settlers and the Israeli military is not new, as B'Tselem has documented many times. In some cases, soldiers are present during violent incidents and even aid the settlers in their attacks. In other cases, soldiers protect the settlers and enable them to carry out the assaults. In either instance, the military does not enforce the law retrospectively on settlers who harm Palestinians – with very rare exceptions. This policy enables settlers to continue harming Palestinians unimpeded, knowing full well that they have state protection. The result is the dispossession of Palestinians from growing swathes of land in the West Bank, after landowners have given up trying to reach their land for fear of violence. The land is then handed over to settlers.
Mu'tasem Abu 'Alia (20), 'Imad and Murad's nephew, described in a testimony he gave B'Tselem field researcher Iyad Hadad on the day of the incident what occurred that morning:
Three soldiers and a settler got out of the car. The soldiers looked agitated, almost hysterical. We couldn't understand why, because we hadn't heard anything had happened in the area. Two of the soldiers immediately cocked their weapons. The settler stayed by the vehicle and the soldiers headed our way. They started yelling at us in Hebrew and in Arabic and ordered us to kneel. We were terrified and obeyed. We dropped our sickles to the ground immediately.

My uncle 'Imad tried to argue with the soldiers while getting closer to them. One of the soldiers sprayed pepper-spray straight into his face and 'Imad went back. Later, that soldier and another one fired a series of shots in the air, in every direction. We felt like they were executing us. My uncles 'Imad and Murad were hit by the gunfire and fell down.

Imad Abu 'Alia in the hospital. Photo: Iyad Hadad, B'Tselem, 25 May 2020

We were all really confused. We weren't sure who'd been hit and how badly. We just lay on the ground and heard the bullets fly through the air and hit the ground. We shouted to the soldiers, "For God's sake, stop shooting, you're killing us, we haven't done anything!".

Once the shooting stopped, we found out that only 'Imad and Murad had been injured. We begged the soldiers to give them first aid. We shouted to them, "First aid, first aid", but they didn't do anything. They just kept yelling at us and wouldn't let us get near 'Imad and Murad. My uncles were lying there, bleeding and writhing in pain, without any treatment. We were scared they'd bleed to death. We kept crying and begging, but the soldiers kept telling us in Hebrew and in Arabic that there was no ambulance.

After about 15 minutes, the soldiers asked for our ID cards. But only 'Imad, who was injured, had brought his card along. They let us take it out of his pocket and we handed it to them. Only then did they let us take my injured uncles to our car and leave.
Murad Abu 'Alia (33) gave his account of the incident to B'Tselem field researcher Iyad Hadad:
Murad Abu 'Alia in the hospital. Photo: Iyad Hadad, B'Tselem, 25 May 2020

The moment the soldiers stepped out of the jeep, they yelled at us and told us to sit and not move. They cocked their weapons and aimed them at us. They were acting like lunatics. We threw our sickles to the ground. My brother 'Imad tried to ask them why they were behaving like that and threatening us, but one of them sprayed him with pepper-spray. Suddenly, the soldiers started firing in every direction, to the ground and in the air.

I immediately felt that I'd been hit. I quickly lay down so I wouldn't get hit again. I looked over to my brother 'Imad and saw he'd been hit in the thigh. He was screaming in pain. Everyone was lying on the ground screaming. It was insane and petrifying, just like in the movies. After the shooting stopped, we tried to understand what had happened. We checked who'd been hit and where. We were all terrified. It turned out that my brother and I were the only ones hurt. My nephews tried several times to reach us to give us first aid, but the soldiers made them stay back at gunpoint. The soldiers didn't want them to give us first aid.

Everyone was yelling, begging and crying, pleading with the soldiers to either give us treatment or leave us alone so we wouldn't bleed to death there. But they only told us in Hebrew mixed with Arabic: "No ambulance, no ambulance, wait here, we'll get an ambulance". They said we had to stay still until the officers in charge arrived along with the ambulance. We thought they wanted us to bleed to death in front of our children and our families.

We stayed that way, totally helpless, for more than 15 minutes. They didn't even let anyone call an ambulance. Whenever anyone tried to talk or ask them anything, they yelled: "Quiet, I'll shoot you, I'll kill you". They were screaming like lunatics.

A soldier taking photos of the family members as they leave in their car. Photo courtesy of the family

After about 15 minutes, the soldiers told us that if we handed them our ID cards, they'd let us leave. It turned out that 'Imad was the only one who'd brought his ID card. He said it was in his pocket. But he was dizzy and in a terrible state and couldn't take it out. My nephews managed to take the card out of his pocket and hand it to the soldiers.

While we were lying there, one of the soldiers took our photo, we don't know why. In any case, after they took Imad's ID card, they said whoever was injured could be taken away in our pickup truck. My nephews lifted us into the truck. They sat 'Imad in the passenger seat and laid me down on the back seat, and everyone else got in the back.