Media reports state that Khader 'Adnan was released on 12 July 2015 in accordance with the agreement reached by his legal counsel and Israel's military prosecution, and under which 'Adnan ended his hunger strike on 29 June 2015, 54 days into the strike.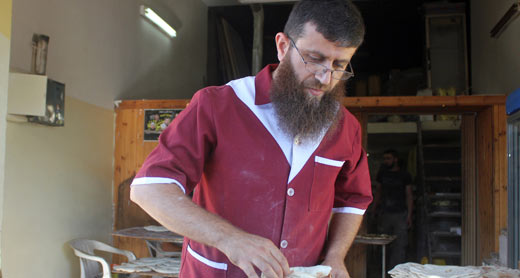 Khader 'Adnan at his bakery. Photo by Oren Ziv, activestills.org, 21 June 2013
Khader 'Adnan, 37, a resident of 'Araba in the district of Jenin, has been on hunger strike for 49 days to protest his lengthy detention without trial. Cumulatively, 'Adnan has been held in administrative detention for almost six years. His current detention began on 8 July 2014 and has since been extended twice. On 6 May 2015, after the detention was extended for the second time, 'Adnan went on hunger strike. According to Physicians for Human Rights – Israel (PHR), 'Adnan is now on a full hunger strike following the Irish model, meaning that he only drinks water without any added electrolytes or vitamins. PHR also says that although 'Adnan refuses to undergo medical exams and there is no exact information about his medical condition, according to medical literature he has reached the point where his life is in real danger. 'Adnan's lawyers, who keep his father posted about his medical condition, report that he has lost 32 kilograms.
'Adnan went on hunger strike the last time he was held in administrative detention. He ended the strike after the state agreed not to extend his detention again.
On 11 June 2015, his father, 'Adnan Musa, told B'Tselem field researcher 'Abd al-Karim Sa'adi about Khader 'Adnan's repeated arrests and his hunger strike:
Khader and his wife have six children: a seven-year-old daughter, a five-year-old daughter, a three-year-old son, and an 18-month-old triplet. Khader holds a bachelor degree in financial mathematics and enrolled for a master's degree at Birzeit University, but he has not been able to complete his studies because of the repeated arrests. He also has a bakery in the vegetable market in Qabatiyah. My son is the victim of injustice. He has been repeatedly held in administrative detention, under the pretext of classified material, from a young age.

Khader was last arrested on 8 July 2014. He was stopped at a military checkpoint when he was on his way home from Nablus. He was put under administrative detention for six months. Then they renewed it for six more months, which they later shortened to four. But when the four months were up, they renewed it a third time, for four more months, as of 6 May 2015. I was allowed to visit him only once during his entire detention. His wife and three of his children were allowed to visit him once. The last time he saw anyone from the family was almost two months ago, on 16 April 2015. On the day his detention was last extended, Khader went on a hunger strike. He is protesting being held under arbitrary arrest without being accused of anything specific. He is now hospitalized at Assaf Harofeh Hospital in Israel with his arms and legs tied to the bed, under constant guard.
Khader 'Adnan is one of hundreds of Palestinians from the West Bank held by Israel in administrative detention. According to figures provided by the Israel Prison Service (IPS), 396 individuals, including one woman, were being held in administrative detention on 30 April 2015. Israel is also holding a Palestinian resident of Gaza in detention as an unlawful combatant under a procedure that resembles administrative detention and has been used for holding Palestinians from Gaza in custody since Israel's 2005 disengagement from Gaza.
The number of administrative detainees has been on the rise since 2014. It grew considerably in June of that year and peaked in September 2014 with 477 administrative detainees held by Israel. Since then, there has been a slight decrease but at the end of April 2015, there were still more than twice as many administrative detainees than in the previous year.
Administrative detention is detention without trial, officially intended to prevent a person from committing an act that could threaten public safety. Unlike a criminal proceeding, administrative detention is not intended to punish the detainee for an offense that has been committed, but to prevent a future offense. The entire process is secretive: administrative detainees are not informed of the reason for their detention or the specific allegations against them. While they are brought before a judge to have the detention order approved, virtually all of the material submitted by the prosecution is classified, leaving the detainees with no knowledge of what evidence there is against them and no way to try to refute it. Israel's security establishment exploits the secrecy surrounding administrative detention procedures to jail people for offenses they are suspected of having already committed, in order to avoid exposing the evidence against them. This is a violation of international law, which stipulates that administrative detention should be used to prevent future danger.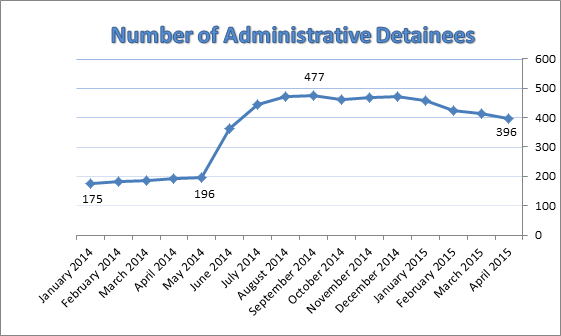 Furthermore, administrative detainees do not know when they will be released. Although the maximum period of every detention order is six months, the martial law that applies in the West Bank allows these orders to be renewed indefinitely. Over the years, security forces have placed thousands of Palestinians under administrative detention for periods ranging from several months to several years. Some Israeli citizens, including settlers, have also been held in administrative detention, for short periods of several months. At various times during the second intifada, Israel was holding more than 1,000 administrative detainees. According to IPS figures, on 30 April 2015, some 38% of the administrative detainees had been held for a period of between six to twelve months, and another 18% for one to two years. Twelve detainees had been held in administrative detention for over two consecutive years.
Yesterday, the media reported that the attorney general's office had announced that the state was planning to advance a softer version of a bill that would allow the force-feeding of security prisoners on hunger strike. According to the report, the softer version raises the bar for when a prisoner can be force-fed compared to the original version of the bill approved by the government a week earlier.
Force-feeding prisoners on a hunger strike against their will is prohibited, as it violates their dignity, their right to autonomy over their body, and their right to express protest by whatever means they choose. Statements made by the international medical community reflect a consensus that as a rule, force-feeding individuals who are not mentally incapacitated and who refuse treatment of their own free will is prohibited. For this reason, the Israeli Medical Association also strongly opposes the bill. B'Tselem once again calls on the government of Israel to refrain from taking drastic punitive measures against people protesting their unlawful detention, and instead change its administrative detention policy, which defies international law.